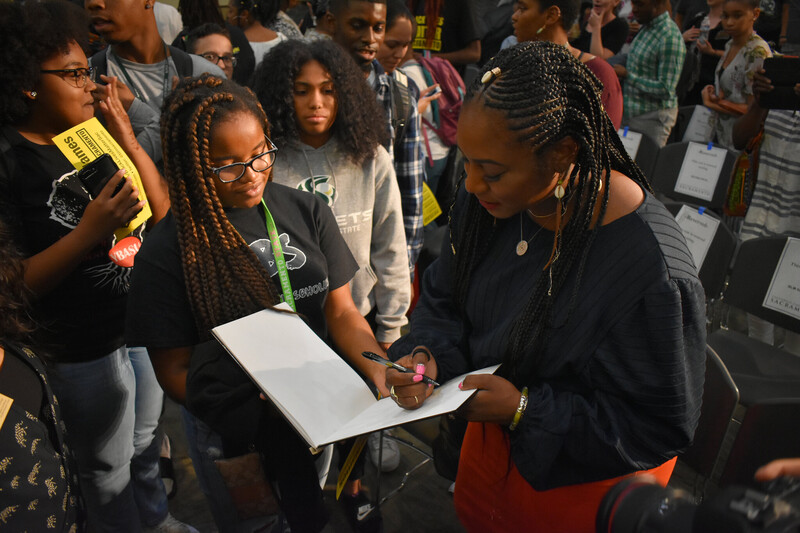 Alicia Garza, a co-founder of the Black Lives Matter Global Network, announced Tuesday that she has dropped out of a World Values Network online gala with Rabbi Shmuley Boteach, a prominent pro-Israel advocate.

Garza did not respond to questions from The Electronic Intifada before making the announcement of her non-participation in the scheduled 18 February event. On Twitter she did thank Palestinian American activist leader Linda Sarsour for explaining what those associated with Boteach's group "stand for."

In 2018 Garza had herself been highly critical of professional basketball player Draymond Green for his participation in a Friends of the Israel Defense Forces trip to Israel and occupied East Jerusalem. During that trip, Green participated in target practice with the Israeli "Border Police's counterterrorism unit."

Garza indicated at the time that she had turned down "at least three free trips to Israel." The previous year, Garza joined Angela Davis and other activists in signing a letter encouraging professional American football players not to join a propaganda trip to Israel.

Unsurprisingly, Garza supported the protest of professional American football player Colin Kaepernick when he took a knee to protest police violence against Black people. Boteach, on the other hand, found Kaepernick's stance to be "deeply disappointing." Yet now he sees fit to use Kaepernick's image in connection with the gala event's online auction.

Finally, as early as 2009, Garza voiced her concerns for the approximately 1,400 Palestinians killed by Israeli military forces operating in and above Gaza during the Israeli onslaught of 2008-2009.
Boteach's empty solidarity
Boteach's World Values Network is hosting its ninth annual Champions of Jewish Values International Awards gala with Boteach asserting it's "in honor of Black History Month and celebrating African American and Jewish brotherhood."

Those to be celebrated include the singer Dionne Warwick and the TV star Steve Harvey.

Harvey recently collaborated with Nuseir Yassin of the Facebook page Nas Daily to promote tourism to the United Arab Emirates in the aftermath of the Abraham Accords which normalized relations with Israel despite its apartheid practices.

Boteach wrote on 1 February in The Jerusalem Post that "it's time to renew African American and Jewish bonds of brotherhood" because pro-Israel activists are concerned that Black Lives Matter "unfairly targets the Jewish state, the only country in history to bring Black citizens into freedom from bondage."

Six years ago, Garza knew better. She knew to ask questions about racism in Israel against African immigrants.

Though a bit late, she has asked the right questions again and withdrawn her participation.
Falic family
Perhaps of particular concern to Garza is that the Falic family is co-chairing the event.

The family is a major funder of Israeli settlements that are illegal under international law.

They have also assisted fundraising for Lehava, an organization David Sheen described for The Electronic Intifada as "an anti-miscegenation group that works to prevent mixed marriages between Jews and Palestinians."

Simon Falic has stated that he opposes intermarriage.

The Falic brothers, as The New York Times noted in November, are the majority shareholders of the Psagot winery in the occupied West Bank. They have made large donations to both Benjamin Netanyahu and Donald Trump.

Their winery makes the Pompeo wine to honor former US Secretary of State Mike Pompeo for his efforts to advance Israel's illegal settlement enterprise.

In fact, Pompeo now occupies the photo spot on the program originally given to Garza. What Pompeo has to do with faux efforts to improve relations between the Jewish and African American communities remains to be seen.

As reported by The Electronic Intifada, the Falic family has also interacted at a Jerusalem party with Rabbi Ben Packer, a supporter of the extreme racist Meir Kahane.

Packer organized the Rachel Corrie pancake meal to mock a human rights activist killed by Israel's military, called for a death curse against the city of Durham, North Carolina, and befriended white nationalist Stephen Miller when Miller was a college student at Duke University.

Garza has done right by staying far away from a right-wing event with those promoting illegal settlements, annexation of at least part of the West Bank, and opposition to Israel's 2005 withdrawal from the colonized Gaza Strip.

The gala, following Boteach's years of backing the racist Donald Trump, makes a mockery of the efforts promoted by Black leaders and the wider Black community to advance racial justice and decolonization.
Tags