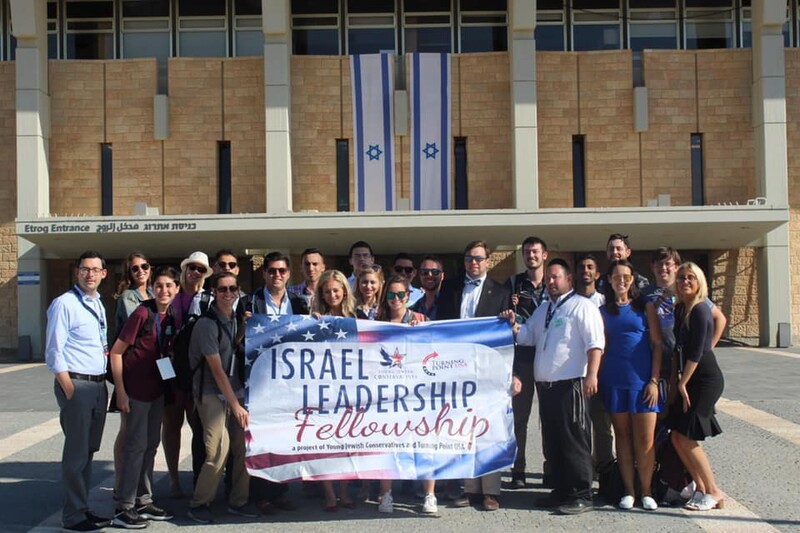 Ben Packer, the former "Rabbi on Campus" at the University of North Carolina at Chapel Hill and Duke University, attended a party in Jerusalem this month with prominent settlement funder Simon Falic and the former governor of Arkansas, Mike Huckabee.
Packer was helping to lead a two-week delegation of right-wing American organizations – Young Jewish Conservatives and Turning Point USA – to Israel and the occupied West Bank.
The tour wrapped up on Monday.
A Facebook post from a participant hints that some funding for the trip may have come from the Falic family.
An outspoken supporter of Meir Kahane, the late rabbi whose racist ideology demanded the expulsion of all Palestinians from their homeland, Packer years ago took anti-immigrant bigot Stephen Miller, now a senior adviser to President Donald Trump, around Hebron and East Jerusalem in the occupied West Bank.
A co-founder and director of Young Jewish Conservatives, Packer hosted Representative Dan Crenshaw of Texas at a March 2019 event.
The connections made on the delegation highlight the growing relationship between right-wing Americans focused on working with ultraconservative youths and their counterparts in Israel.
Far-right politicians such as Crenshaw and Huckabee are providing an assist.
Packer appears central to the relationships due to his contacts both in the US and Israel. His support for Kahane does not seem to impede his work. Indeed, it may well increase his credibility with the people he is connecting.
Crenshaw's office did not respond to a request for comment from The Electronic Intifada on his views of Packer.
Packer's supporters seem unconcerned by how Kahanist-affiliated groups Kach and Kahane Chai are on the US State Department's list of terrorist organizations.
Simon Falic, who spent an evening with the delegation, is known for his enormous funding of anti-Palestinian organizations and the settlement enterprise.
Earlier this month, the Associated Press reported that the Falic "family has donated at least $5.6 million to settler groups in the West Bank and East Jerusalem over the past decade" as well as to "far-right causes considered extreme even in Israel."
The AP also referred to Baruch Marzel, a former aide to Kahane who "continues to call for mass expulsions of Arabs," as a Hebron-based associate of Falic.
Marzel's wife Sarah is a founder of Hachnasat Orchim Hebron, an organization that hosts visitors to Hebron and provides snacks to soldiers operating in occupied Palestinian territory.
The Falics have given the organization some $600,000.
The presence of Huckabee at the gathering points to strengthening ties between Israel's most extremist settler advocates and evangelical Christians, some of whom are anti-Semitic and seek the hastening of apocalyptic "End Times."
Others are simply anti-Palestinian – or both.
Such anti-Palestinian messaging was conveyed in Washington earlier this month by Christians United for Israel.
Target practice
Surprisingly, Kayla Gubov, executive assistant to the president at the Foundation for Individual Rights in Education (FIRE), also announced her participation in the trip.
FIRE has worked on free speech issues in support of Students for Justice in Palestine and Marc Lamont Hill, a professor at Temple University.
Her participation in a trip led by a Kahanist – where she received arms training at the Caliber 3 facility in the occupied West Bank – may raise concerns for organizations advancing Palestinian rights that occasionally work in conjunction with FIRE.
Individual activists may well be less inclined to accept legal assistance from an organization which has an employee who has toured the occupied West Bank with a known Kahanist while actively engaging in target practice at an anti-Palestinian facility there.
Gubov appears in a short video of the trip that Packer is circulating on his Facebook page.
Participants in the delegation express support for Israel's settlements built in the occupied West Bank – a war crime – and describe Palestine as their "home" and "indigenous" land.
Packer and Gubov can be seen side by side in the right front row of a photograph taken outside the Knesset, Israel's parliament.
Gubov also appears to have visited the Psagot winery in the occupied West Bank, a settlement built on land confiscated from Palestinians.
Turning Point USA
Adjacent to Gubov in the Knesset photograph is Sophia Witt, Turning Point USA's director of Israel affairs.
A conservative organization working with college students, Turning Point USA hosted in Washington last month a Young Jewish Leadership Summit. Witt was a principal organizer.
Summit sponsors included the right-wing Heritage Foundation and the Zionist Organization of America.
Plugged into Republican corridors of power, Turning Point USA promotes right-wing social causes on campus and is now expanding its efforts to advance Israeli apartheid as a student cause.
Headed by Charlie Kirk, a 25-year-old ultraconservative who visited the White House this month to discuss social media strategy with President Donald Trump, Turning Point USA has repeatedly had to fire employees due to racist statements.
The recent conference featured an array of anti-Palestinian speakers, including Yair Netanyahu, Rabbi Shmuley Boteach and Congressman Dan Crenshaw.
Yair Netanyahu, the son of Israeli Prime Minister Benjamin Netanyahu, was heavily criticized in 2017 for spreading anti-Semitism against liberal Jewish philanthropist George Soros.
He has also stated a preference that "all the Muslims leave the land of Israel."
Young Jewish Conservatives and Turning Point USA met with him – Gubov and Witt can be seen in photos with Netanyahu.
Record of bigotry
Witt, like Packer, has her own troubling history of anti-Palestinian bigotry and Islamophobia.
She believes "a lot of Jews" are being "brainwashed" by the left into supporting government over God as she told Israeli outlet Arutz Sheva last November at the annual Zionist Organization of America gala.
Witt is, however, perhaps best known for bigoted statements to students first reported by Business Insider in December.
"There are pro-Israel organizations telling students to find common ground with the Palestinians," Witt asserted. "Screw that – I don't want to live in peace with you, you're a terrorist."
She reportedly added, "Stop unifying with terrorists."
Apparently trying to defend herself, Witt later claimed she was referring to Students for Justice in Palestine and Palestinians "who terrorize Israelis and students on campus" – thereby equating campus advocacy for human rights with violence.
"I don't want to live in peace with people who want me dead," she added.
Business Insider also quoted her as saying: "We absolutely need to expose Islam," before adding, "It's not just Islam, it's Muslims too."
Witt defended herself on Facebook by asserting that she was misquoted, but undercut the claim by liking an anti-Muslim quote from one of her supporters.
Gabriel Aviles, who identifies as Florida representative for Christians United for Israel, wrote on Witt's Facebook page, seemingly thinking he was helping her, that Islam is "demonic" and "not a religion."
"It is a geopolitical ideology that is focused on world domination and nothing more," he added.
Witt "liked" his comment with a heart symbol – hardly a sign of dissent.
Summit rhetoric
As for Witt's summit, news agency JTA reported that it was barred from entering the event at the Museum of the Bible, as it was closed to media.

Yair Netanyahu tweeted that it was a "great pleasure" to take part. He posted a photo of himself standing in front of a map of the Middle East which appears to display occupied territory as part of Israel. It certainly doesn't label the West Bank, Gaza Strip or Golan Heights.

In his speech, Matan Peleg, CEO of the far-right group Im Tirtzu, offered the unhinged claim that the boycott, divestment and sanctions movement is really just a money-making scheme, asserting that BDS leader Omar Barghouti is primarily interested in making money off the conflict.

Both Likud politician Benny Begin and academic Zeev Sternhell have referred to Im Tirtzu's activities as fascist.

Unsurprisingly, Peleg, whose group has received $70,000 from the Falic family, was among those the delegation met.

This was not the first such meeting for Peleg and Turning Point USA.

Peleg introduced Kirk at an Im Tirtzu event in Jerusalem earlier this year where Kirk referred to "horrible people" and "maniacs" from Breaking the Silence, a human rights organization best known for confronting Israeli soldiers and documenting human rights abuses in Hebron.

"One of the biggest mistakes Israel has made is getting out of the Gaza Strip," Kirk said. "It's become a terrorist jacuzzi."

The rhetoric may be simplistic, but with Trump in the White House it should not be doubted that the most extreme anti-Palestinian activists have the president's ear.

After all, Kirk was at the White House just days before the president inveighed against four women of color – Congress members Alexandria Ocasio-Cortez, Ayanna Pressley, Ilhan Omar and Rashida Tlaib – and insisted they should apologize to the Israeli people.

On Tuesday, Trump falsely told a Turning Point USA summit of teens that the Congresswomen had referred to "evil Jews." He stated the same lie on Friday.

Extreme voices such as Kirk's are creating a right-wing environment driving the president toward Israeli expansionism, but also making clearer than ever for Democrats the linkages between American anti-immigrant xenophobes and Israeli anti-Palestinian racists.

This is bound to have consequences for how grassroots Americans view Israel's subjugation of the Palestinian people – and may even galvanize more members of Congress than the four currently under racist attack by Trump and many of his Republican allies.
Update, 1 August:
Since publication of this article, Kayla Gubov has been removed from the listing of staff members on FIRE's website.
Tags