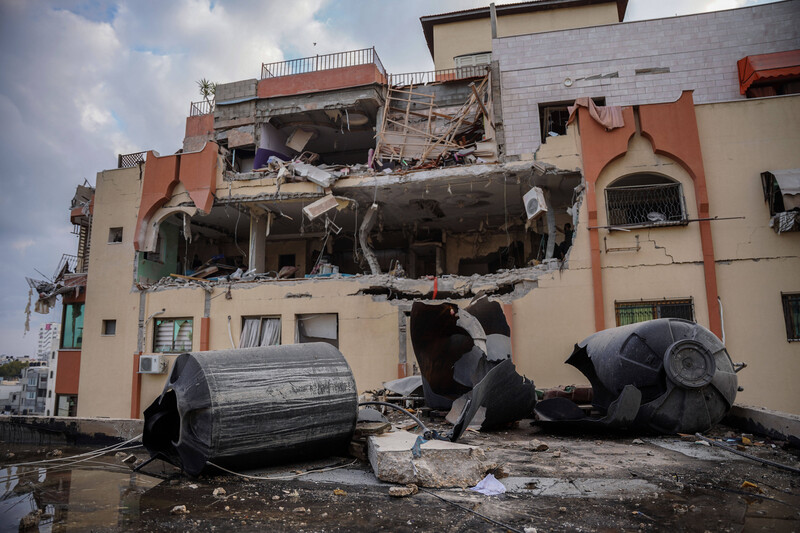 Itamar Ben-Gvir is running the show in Israel.

Just days ago, his Jewish Power party said it would stop participating in parliamentary votes because of the government's "feeble" response to the developing security situation with Gaza.

Now, Israeli Prime Minister Benjamin Netanyahu has attacked Gaza to which Ben-Gvir responded: "It's about time!"

Consequently, the Israeli newspaper Haaretz ran an editorial titled "Gaza Assassinations Were All About Israeli Politics."

Perhaps Netanyahu would have ordered such an attack without the pressure from Ben-Gvir, but this certainly gives the appearance that the anti-Palestinian national security minister is calling the shots.
Media coverage
The New York Times goes easy on Ben-Gvir in its initial coverage of the deadly attacks, referring to him as "the ultranationalist minister of national security" demanding that Israel resume – in the words of the newspaper – "its policy of targeted assassinations of militant leaders."
"Ultranationalist" is its euphemism for a man who has been convicted of inciting racism and supporting a terrorist organization.
But wording about terrorism is reserved in this Times article for Palestinians alone.
According to The Times: "Islamic Jihad, which Israel, the United States and many other Western countries classify as a terrorist organization, confirmed that three of its senior leaders were among the dead."
That language is routine from the paper of record.
There is, however, no routine mention of the fact that credible international, Israeli and Palestinian human rights organizations all regard Israel as practicing apartheid. That omission points to a profound anti-Palestinian bias at The New York Times.
Targeted?
Not for the first time, more such bias can be found in the article regarding so-called "targeted strikes" or "targeted assassinations."
Yet these are anything but targeted killings.
Yes, three targets were killed.
But The New York Times itself says that "at least 13 people had been killed and 20 others injured," attributing that total to Gaza's health ministry. Wording here about women and children being killed was removed, though the mention of children being killed was retained elsewhere in the article.
Such bystander civilian casualties – 10 in these attacks – are routine and certainly not the exception.
Two decades ago, the US State Department in its annual human rights report asserted that in 2003, "Israeli security forces targeted and killed at least 44 Palestinians, many of whom were terrorists or suspected terrorists. Israeli forces undertook many of these targeted killings in areas where civilian casualties were likely, killing 47 bystanders in the process, including children."
This goes on and on yet The New York Times repeatedly employs Israel's preferred "targeted" language for what is, in fact, the massacre of Palestinian families.
The photo caption is the first indication The Times will be employing Israel's preferred euphemisms, though the contradiction is right there in the wording: "The targeted strikes killed at least three leaders of the military wing of Islamic Jihad, along with some of their family members."
The words "targeted" or "targets" are employed five more times in the body of the article.
"In the strikes Tuesday, the Israeli military said that it had targeted and killed Khalil Bahitini, who it said had been responsible for launching rockets against Israel over the past month; Tareq Ezzedine, who was accused of directing attacks against Israelis in the occupied West Bank; and Jihad al-Ghanam, another high-ranking leader of the group."
"The military's chief spokesman, Rear Adm. Daniel Hagari, asked later about the casualties, told reporters that the military tried to minimize harm to civilians but that it was hard to do when the militant targets were 'operating day and night' among the general population."
"Two hours later, the military said that it was striking additional targets of Islamic Jihad, including what it described as weapons manufacturing sites and military compounds."
"In response, the Israeli Air Force targeted military sites in Gaza, killing a 58-year-old man, according to the health ministry in Gaza."
"But far-right members of the Israeli governing coalition complained that Israel's response had been too weak, and the ultranationalist minister of national security, Itamar Ben-Gvir, demanded that Israel take more aggressive steps, including resuming its policy of targeted assassinations of militant leaders."
Additionally, Lt. Col. Richard Hecht, a spokesperson for the Israeli military, is cited. "Colonel Hecht said that he was aware of the reports of civilian deaths, but noted that Israel had conducted a 'pinpoint' operation involving 40 aircraft."
This language is put forward with no human rights voices noting that the term "pinpoint" cannot accurately be applied to attacks that kill more than three times as many sleeping bystanders, including children, as actual targets.
Administrative detention
Another profound failing of the article comes in reference to the death in prison of Palestinian hunger striker Khader Adnan.
The Times writes: "Tensions in the region had been high after the death in Israeli custody last week of a Palestinian hunger striker who was a leader of Islamic Jihad. Violence has also been on the rise recently in Israel and the occupied West Bank. The death of the hunger striker, Khader Adnan, was followed by volleys of rockets fired at Israel from Gaza, and retaliatory strikes on the Gaza Strip by the Israeli Air Force."
Later, The Times states: "The operation, which the military called 'Shield and Arrow,' follows a short burst of violence after the death last week of Mr. Adnan, who had been on a hunger strike for 87 days to protest his detention."
"Protest his detention" is a very gentle way of describing his plight. In fact, as UN experts wrote, "He was protesting Israel's widespread policy of arbitrarily detaining Palestinians against fair trial guarantees and in abhorrent conditions."
Adnan himself had spent approximately eight years in Israeli prisons, most of them in administrative detention.
The UN experts, special rapporteurs Francesca Albanese and Tlaleng Mofokeng, added, "The systematic practice of administrative detention, is tantamount to a war crime of willfully depriving protected persons of the rights of fair and regular trial."
Nor did the article mention that Itamar Ben-Gvir, a supporter of the virulently racist Meir Kahane, had made prison conditions worse for Palestinians – vowing to halt "benefits and indulgences" – since taking over the prisons as minister of national security.
Perhaps time will tell if his policies contributed in some way to Adnan's death.
Journalists
The Committee to Protect Journalists (CPJ) released a special report on Tuesday highlighting the dangers journalists, particularly Palestinian journalists, face from the Israeli military.

"Over 22 years, CPJ has documented at least 20 journalist killings by members of the Israel Defense Forces. Despite numerous IDF probes, no one has ever been charged or held responsible for these deaths. The impunity in these cases has severely undermined the freedom of the press, leaving the rights of journalists in precarity."

Two of these journalists killed by Israeli forces were European foreign correspondents and the other 18 were Palestinian journalists.

Special attention is given to the nearly year-old killing of Al Jazeera journalist Shireen Abu Akleh which CPJ says is "part of a deadly, decades-long pattern."

CPJ makes a number of recommendations, including "open criminal investigations into the cases of three murdered journalists: Shireen Abu Akleh (2022), Ahmed Abu Hussein (2018) and Yaser Murtaja (2018)."

The organization also urges that Israel "guarantee swift, independent, transparent and effective investigations into the potentially unlawful killings of journalists, which constitute possible war crimes."

But such measures are extremely unlikely as is the recommendation that Israel "allow human rights organizations, as well as UN-appointed investigators – including UN special rapporteurs and the United Nations Independent International Commission of Inquiry on the Occupied Palestinian Territory and Israel – unrestricted access to Israel and the Palestinian territories to investigate suspected violations of international law by all parties."

Nor is the United States likely to meet CPJ's recommendation to "provide an urgently needed comprehensive public update on the status of the FBI's investigation into the killing of Shireen Abu Akleh, who was an American citizen. The investigation was reportedly launched in November 2022 and there has been no public accounting as of May 2023."

Senator Chris Van Hollen of Maryland is also pursuing additional information about the killing of Abu Akleh and apparently not making much progress with the US State Department.

The same unlikelihood of action applies to the "international community" and the recommendation that "allies of Israel, should hold Israel accountable to its international obligations to protect the safety of the press and for ending impunity for crimes against journalists in the Palestinian territories." Similar calls have been made for years. Yet American and European governments have continued to fund and abet Israel's entrenchment of apartheid policies.

As noted previously, newspapers such as The New York Times repeat again and again that the US and "other Western countries" regard Palestinian groups resisting occupation and dispossession as terrorist organizations, while failing to cite credible independent human rights groups on Israel's apartheid practices.

Meanwhile, those journalists who get too close to exposing Israeli violence, face – as documented in the CPJ report – the very real possibility of death at the hands of the Israeli military.
Tags