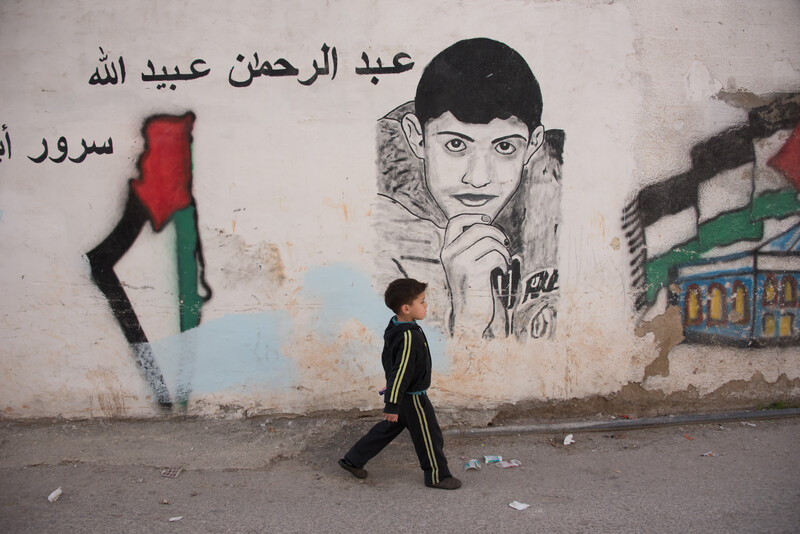 A Palestinian boy was shot in the face while walking home from school in occupied East Jerusalem last week. Malik Issa, 9, has lost vision in one eye as a result.
Two Israeli police officers have reportedly been interrogated over the boy's injury.
It is not the first time that a Palestinian boy suffered a permanent injury at the hands of occupation forces while doing something as mundane as walking home from school. That kind of thing happens all the time.
Routine brutality
Mahmoud Salah, 14, was shot in the leg by soldiers when he chased after a soccer ball near Israel's militarized wall in the Bethlehem area of the West Bank last May. One of his legs was amputated below the knee as a result.
A few months before that, another boy the same age as Mahmoud was shot by an undercover Israeli officer while running an errand in East Jerusalem. Doctors removed Muhammad Qawasmeh's spleen, and he was also injured in his stomach, kidney and diaphragm.
The human rights group Defense for Children International Palestine said it documented 55 cases of Israeli soldiers injuring Palestinian children with live ammunition between January and May last year.
But supposedly less-lethal weaponry also inflicts permanent and fatal injuries to Palestinian children's bodies. More than 230 children were directly hit by tear gas canisters fired by Israeli soldiers during Gaza's Great March of Return protests in 2018 alone.
Of the four Palestinians who were killed after being struck by tear gas canisters during protests in Gaza last year, two were children.
Those protests have been temporarily suspended but Israel's violence against Palestinian children goes on.
Muhammad Shtaiwi, 14, is on a ventilator, fighting for his life, after being hit in the head with a rubber-coated metal bullet fired by an Israeli soldier in the West Bank village of Kafr Qaddum earlier this year.
There is no way that Shtaiwi and his friends posed any threat to the soldiers who ambushed them, according to the journalist Gideon Levy, who visited the site where the boy was shot.
The Israeli military has not explained why it shot Muhammad.
Under siege
Back in Jerusalem, Israeli police shot Malik Issa with a sponge-tipped bullet – another "less lethal" weapon – while the boy was walking home from school in the neighborhood of Issawiyeh last week.
Parents in Issawiyeh have lived in fear for their children's safety for months as Israeli police have subjected the neighborhood to constant raids and harassment.
"Parents are scared to send their children to school," Muhammad Abu Hummus, a neighborhood community leader, told The Electronic Intifada last year.
There was "no justification whatsoever" for the crackdown in Issawiyeh, according to a representative of Ir Amim, a nongovernmental group that works toward equity in Jerusalem.
There appears to be no justification for shooting at the face of a boy as he walks home from school, just as there was no justification for the beating of Amir Darwish, 9, when he was arrested by undercover Israeli officers in Issawiyeh in 2012.
Life was never the same for Amir, and he has been subjected to additional arrests and abuse, his mother told the Israeli human rights group B'Tselem last year.
"Amir is an example of how children and adolescents grow up in Issawiyeh, with no hope for the future," Jihad Darwish, Amir's mother, said. "The authorities are constantly harassing us, punishing all the residents every day."
Amir's parents declined to file a complaint with the Israeli police. They had filed a complaint following the violent arrest of another son, and it had been mishandled, so they did "not see any point in filing another complaint," according to B'Tselem.
Whitewashing mechanism
Futility for the victims of rights abuses is something that can be said for Israel's internal investigations mechanisms more generally. B'Tselem describes Israel's internal probes as a whitewashing mechanism that insulates occupation forces from accountability.
Hundreds of Palestinians have been injured by sponge-tipped bullets fired by Israeli police in East Jerusalem in recent years, according to the Tel Aviv daily Haaretz. "Dozens have lost their eyes, while others have lost their sight as a result of being shot," the paper added.
Police are prohibited from aiming the sponge-tipped bullets at the upper body and at children altogether. Yet despite the hundreds of injuries, "not a single police officer has been charged with illegally shooting sponge-tipped bullets," according to Haaretz.
Life-changing injuries and the trauma of occupation are an everyday reality for Palestinian children in the West Bank, including East Jerusalem, and Gaza Strip.
Accountability for the violation of their rights – that's the rare exception.
Tags