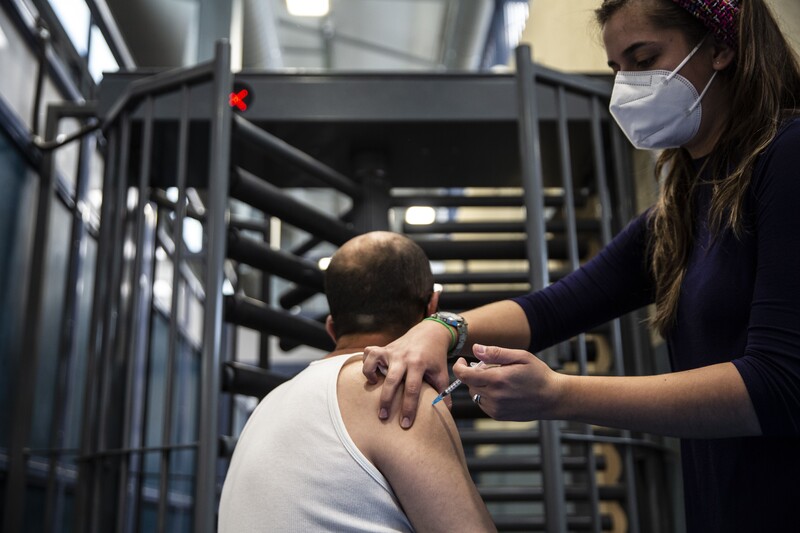 COGAT is back on its bullshit, as the kids like to say.

Earlier this week, the Israeli military body tweeted photos of Palestinian workers being vaccinated against COVID-19 at West Bank checkpoints.

COGAT, infamous for its mediocre and exploitative propaganda, stated that the vaccine initiative "is an important step in order to maintain public health and economic stability."

"Get vaccinated!" implored COGAT, which all too often delays or denies Palestinians' travel permits to access medical treatment.

However, the vast majority of Palestinians living under Israel's military occupation cannot get vaccinated, even if they wanted to.

While Israel boasts of its campaign to vaccinate all its citizens, it has refused to provide inoculations to Palestinians living under occupation, as required by the Fourth Geneva Convention.
Vaccinating Palestinians to serve Israel
Israel has recently begun providing vaccines to some 130,000 Palestinians who work at its factories and construction sites and in its settlements – the underpaid and exploited labor on which Israel's economy depends.

But Israel will not provide vaccines for the rest of the more than 5 million Palestinians living in the West Bank and Gaza Strip.

As one Palestinian told Reuters, "Even the Palestinian laborers whom they vaccinated, they did it to serve the Israeli community, not to look out for the well-being of the laborers."

Omar Shakir, a program director at Human Rights Watch, observed that "vaccinating only those Palestinians who come in contact with Israelis reinforces that, to Israeli authorities, Palestinian life only matters to the extent it affects Jewish life."

Meanwhile, ICUs at hospitals in some areas of the West Bank are currently operating at 100 percent capacity as cases of COVID-19 surge in Palestinian communities in the territory.

"Palestinian cities have introduced full lockdowns over the last two weeks to control soaring COVID-19 infections, even as neighboring Israel has begun to lift restrictions as it proceeds with one of the world's fastest vaccination campaigns," Reuters reported.
Medical apartheid
The disparity in access to COVID-19 vaccines is a stark illustration of Israel's regime of apartheid rule imposed from the Jordan River to the Mediterranean Sea.

"The Israeli regime implements laws, practices and state violence designed to cement the supremacy of one group – Jews – over another – Palestinians," the human rights group B'Tselem stated in a recent position paper.

The vaccine distribution is a shocking demonstration of how Israel engineers space differently for each group living under its unequal rule.

While Palestinians with Israeli citizenship or residency are eligible to receive vaccines from Israel, Palestinians holding West Bank IDs have been turned away from Israeli-run vaccination sites.

Medical apartheid in the territories under Israel's control is nothing new.

Physicians for Human Rights-Israel has said that disparities in health between Israelis and Palestinians result from the occupation directly.

A 2015 study by the group found that the life expectancy of Palestinians in the occupied West Bank and Gaza is about 10 years lower than that in Israel.

The same study found that infant mortality and maternal death rates were four times higher in the West Bank and Gaza than in Israel.

That same year, a study by UNRWA, the UN agency for Palestine refugees, pointed to Israel's siege as a factor for the infant mortality rate in Gaza rising for the first time in 50 years.

Palestinian human rights groups say that Israel's apartheid regime "for decades has led to the fragmentation and de-development of the healthcare system" of the West Bank and Gaza.

This has "denied Palestinians the right to the enjoyment of the highest attainable standards of physical and mental health."
Vaccines at the checkpoint
Palestinian health is deeply entwined with Israel's occupation. COGAT unwittingly demonstrates that in its tweets of Palestinian workers receiving vaccinations at military checkpoints, which it euphemistically refers to as "crossings."

Any vaccines that Palestinians do receive – whether from Israel or any other entity – would have to go through Israeli checkpoints.

Israel delayed the first transfer of vaccine doses to medical workers in Gaza as some lawmakers sought to condition the shipment on political concessions from Hamas.

It did so while transferring vaccines to other countries in exchange for their political support:

On Thursday, Palestinians in Gaza received 40,000 doses of the Russian Sputnik V vaccine.

The doses were a donation from the UAE reportedly secured by Muhammad Dahlan, the former Palestinian Authority intelligence chief turned warlord and a rival of PA leader Mahmoud Abbas within the Fatah faction.

Dahlan led a short and bloody civil war in Gaza following Hamas' victory in the 2006 Palestinian legislative elections. His forces were routed and Dahlan now lives in exile in the oil-rich Gulf state.

According to Reuters, Dahlan said that half of the shipment of vaccines to Gaza would be allocated to Palestinians in the West Bank.

The trickle of vaccines that have made it to the West Bank has not been distributed equitably by the Palestinian Authority, which has reportedly allocated them to Fatah party elites, media allies and their family members.

Whether Israel would even allow the transfer of the doses from Gaza to the West Bank – or whether COGAT finds any propaganda value in it – remains to be seen.

And so Palestinians living under military occupation will continue to wait as their health is treated as a political football by Israel, Dahlan and the PA while third states look on and do nothing.
Tags