Israeli forces shot and killed a 19-year-old Palestinian in the occupied West Bank village of Beit Rima, near Ramallah, during confrontations around dawn on Sunday.

The slain youth was identified as Ahmad Hazem Ata al-Rimawi.

The teen's father, Hazem Ata al-Rimawi, was reportedly released from Israeli prison only three months ago, after completing a 15-year sentence, the Ma'an News Agency reported.

Thousands participated in the younger al-Rimawi's burial later that morning, some chanting "There is no God but God" and "We want to live in freedom":

An image of Ahmad al-Rimawi circulated on social media after his death: One day earlier, confrontations broke out in the Hebron-area village of Beit Ommar in the southern West Bank during the funeral of Khalid Bahr.

Bahr, 15, was killed in the village in late October as he was running away from soldiers who accused him of throwing rocks at them.

Israel had withheld Bahr's body since his slaying.

Following the teen's funeral, Ma'an reported, "clashes erupted between Palestinian youth and Israeli forces at the entrance of Beit Ommar, after dozens of local youth threw rocks and empty bottles at the Israeli military post at the entrance of the town."

The agency added that the funeral was "preceded by a predawn Israeli army raid" earlier in the morning.
On Friday night Israel released the bodies of several more Palestinians slain by its forces.
In addition to Bahr, the remains of Firas Khadour and Muhammad al-Sarrarhin were transferred to Hebron.
Khadour, 17, was shot dead by soldiers who accused him of trying to attack Israelis with his car in September. But a passenger who was present during Khadour's slaying told a human rights group that the car had faulty brakes, causing the vehicle to crash into a bus stop at a West Bank settlement.
After the car was stopped, soldiers opened fire on it from multiple directions, killing Khadour and critically wounding the witness. No Israelis were physically injured during the incident.
Muhammad al-Sarrahin died in September after he was shot with live ammunition during an Israeli raid on the village of Beit Ula, near Hebron, in which both he and his father were detained.
Meanwhile on Friday, Israel "mistakenly" delivered the body of Sarah Tarayra to the northern West Bank city of Jenin, and the Palestinian Civilian Liaison coordinated to transport her remains to Bani Naim, her hometown in the south of the territory, Ma'an reported.
Tarayra, 27, was shot dead near the Ibrahimi mosque in Hebron's Old City in July, the site of several deadly incidents over the past 14 months. Israeli police claimed Tarayra was killed after attempting to stab soldiers at a checkpoint. No Israelis were reported injured during the incident.
Israel also returned the remains of Sari Muhammad Abu Ghurab from Jenin, Rahiq Shaji Birawi from Nablus, and Ansar Harasha from Tulkarem.
Abu Ghurab, 24, was shot and killed by soldiers on a highway in the northern West Bank in August.
Birawi, 19, was killed by soldiers at a Nablus-area checkpoint in October after she allegedly pulled out a knife while approaching soldiers. A video clip published by media showed Israeli forces firing around 30 bullets at her while she was lying on the ground several feet away from them.
Harasha, 25, was shot dead at a checkpoint after allegedly attempting to stab soldiers in June. No Israelis were injured during the incident.
Israel is still withholding the bodies of several other alleged Palestinian assailants. It says it will not transfer the remains of three Palestinians who it says were affiliated with Hamas.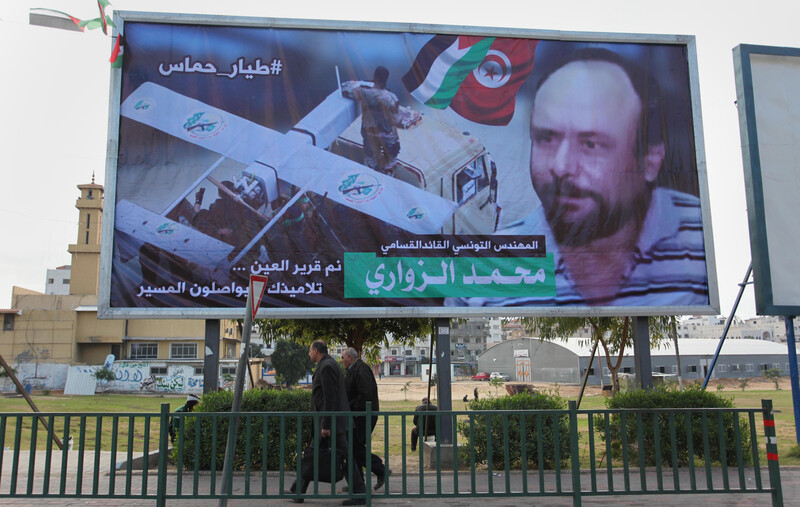 In Gaza on Monday, an Israeli tank fired on the territory after "what the army said was cross-border gunfire at Israeli forces along the border with [the] Palestinian coastal enclave," the Tel Aviv newspaper Haaretz reported.
The boundary incidents followed the announcement of Hamas' military wing that Muhammad Zouari, an aviation engineer assassinated in Tunisia on Thursday, had headed the group's drone development program.
Zouari joins a list of military figures who are widely believed to have been assassinated by Israel's foreign spy agency the Mossad across several Arab countries.
Hamas stated that Zouari had joined its Qassam Brigades 10 years ago.
Mousa Hafeth Abu Saalik, a 19-year-old fighter in the Qassam Brigades, was killed and two others were critically wounded in an explosion at a Hamas training site in the southern Gaza Strip on Friday.
An Israeli man was lightly wounded in a shooting attack near the settlement of Ofarim in the northern West Bank on Monday, the military stated.
Also on Monday the Israeli army raided what it said was an underground arms workshop in Hebron.
"The army say they found 12 lathes for arms making, hundreds of types of munitions and spare parts for different types of guns, including automatic rifles," Haaretz reported.
The workshop owner and his son were arrested, an army commander told the paper, adding, "I have never seen a workshop that makes so many arms, at such an accurate level and for so many different types of weapons."
The army claims that it has uncovered 40 munition factories and confiscated 420 different guns and munitions so far this year.
Tags