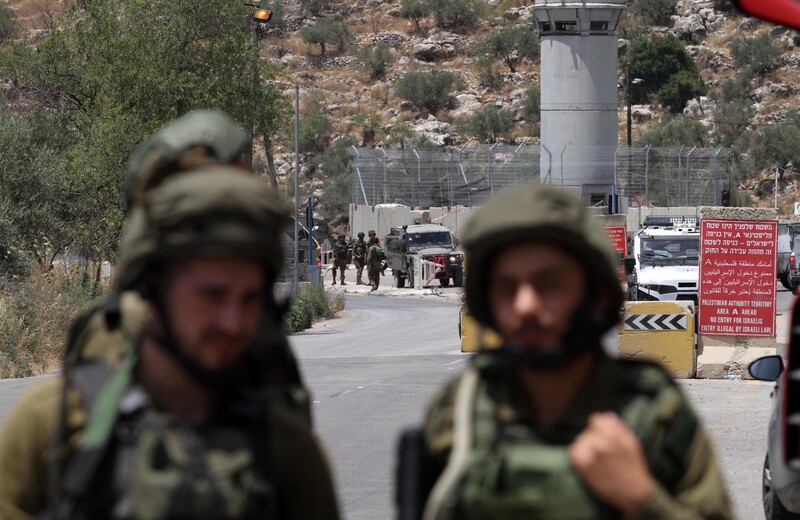 Israeli forces shot and killed a Palestinian woman at a military checkpoint in the northern occupied West Bank on Thursday.
The woman was identified as Ansar Hussam Harasha, 25, reportedly a married mother of two. An image of Harasha circulated on social media after her slaying:
An Israeli army spokesperson said that the woman was killed after she attempted to stab soldiers. No Israelis were injured during the incident.
The Palestine Red Crescent Society told media that Israeli forces prevented emergency medics from accessing the woman after she was shot.
An image of the scene published by media shows Harasha lying on the ground, a pool of blood near her head, as three Israeli soldiers stand nearby. A knife is seen on the ground a couple feet away from the woman.
Harasha is one of more than 200 Palestinians who have been killed since a surge of direct confrontation with Israeli forces began at the beginning of October last year. Twenty-eight Israelis, two Americans, a Sudanese national and an Eritrean asylum-seeker were killed during that same period.
Dozens of Palestinians were killed during protests, and many more were slain during what Israel says were attacks or attempted attacks, primarily against soldiers at settlements and checkpoints in the West Bank.
Such attacks have been waged by individual or small groups of Palestinians operating independently of command from resistance groups.
In some cases, Palestinians may not have been attempting any attack when they were slain. In many instances, no Israelis were injured during incidents in which Palestinians were shot dead.
Human rights groups have condemned Israel's reflexive use of lethal force when alleged attackers posed no immediate threat and could have instead been apprehended, calling it an unwritten "shoot-to-kill" policy encouraged by top leadership.
Young women slain
Last month, another young woman, 19-year-old Sawsan Ali Dawud Mansour, was shot and killed during an alleged stabbing at a checkpoint north of Jerusalem.
Israel transferred Mansour's body to her family days later, despite reports that minister Gilad Erdan had ordered the suspension of the return of bodies of Palestinians slain during alleged attacks.
Erdan made the order after seeing footage of a large number of people gathered around the Jerusalem cemetery where Alaa Abu Jamal, who was shot dead after killing an Israeli man at a bus stop in October, was buried last month. The minister accused the crowd of "incitement."
In late April, Maram Salih Hassan Abu Ismail, a young mother of two, was killed along with her 16-year-old brother at the Qalandiya checkpoint between Ramallah and Jerusalem.
The Israeli rights group B'Tselem condemned their slayings, saying that the siblings "were killed without any justification, when they clearly no longer posed mortal danger and could be stopped without killing them."
On Monday, a Palestinian teenager reportedly from the West Bank town of Salfit was detained after allegedly stabbing and lightly injuring a 19-year-old Israeli soldier in Tel Aviv.
Earlier that day, Israeli forces detained three Palestinians aged between 16 and 17 on suspicion of involvement in the stabbing of two elderly Israeli women in a settlement weeks earlier.
And on Sunday, Israel announced that it had apprehended six Palestinians it says belong to a "Hamas terror cell" which planned an explosion on a bus in Jerusalem in April.
A suspected operative died as a result of injuries sustained during the blast; more than a dozen Israelis were injured during the incident.
Coordinated arrests
The frequency of attacks has dramatically slowed since the beginning of this year.
The head of Israel's domestic intelligence agency, the Shin Bet, said last month that Palestinian security forces were acting on information received from their Israeli counterparts to thwart attacks.
The Israeli army has meanwhile said that Palestinian Authority forces "were responsible for 40 percent of arrests of terrorist suspects in the West Bank in recent months," as reported by the Tel Aviv newspaper Haaretz, which added, "The remaining arrests are carried out by the [Israeli army]."
Both Israeli and Palestinian forces have recently arrested a number of Palestinians for alleged "incitement."
On Thursday, a 22-year-old from Bethlehem was sentenced to a year in prison because of widely shared statements he made on Facebook in early October praising attacks on Israeli soldiers.
And in the pre-dawn hours on Thursday, Israeli forces raided a home of a Palestinian citizen of Israel who works as a reporter for Iran's al-Alam channel.
Bassam Safadi was arrested on suspicion of publishing "support for a terrorist organization and incitement to violence or terror," Haaretz reported.
Israeli military prosecutors meanwhile charged a Palestinian astrophysicist and university professor with incitement on Sunday, more than a month after his arrest.
The charges apparently relate to statements he made on Facebook and television against the Israeli occupation.
Imad Barghouthi's case has attracted global attention, and a petition signed by prominent academics from all over the world calls for his release.
Israel moves to revoke citizenship
On Wednesday, an Israeli court sentenced a 22-year-old Palestinian citizen of the country to 25 years in prison after he was convicted on charges relating to an alleged car-ramming and stabbing attack in October that left several Israelis injured.
Israel is also reportedly attempting to revoke the citizenship of Alaa Zayud, from the northern town of Umm al-Fahm, and to reject the renewal of the residency permit held by his father, who is married to an Israeli citizen but is not a citizen himself.
Sawsan Zaher, an attorney with the human rights group Adalah, told the Ma'an News Agency that the move to revoke Zayud's citizenship is a "racist" and "arbitrary" act.
"When someone is stripped of their citizenship, the state has essentially made it so you are not entitled to any rights and you do not exist anymore," she added.
Tags