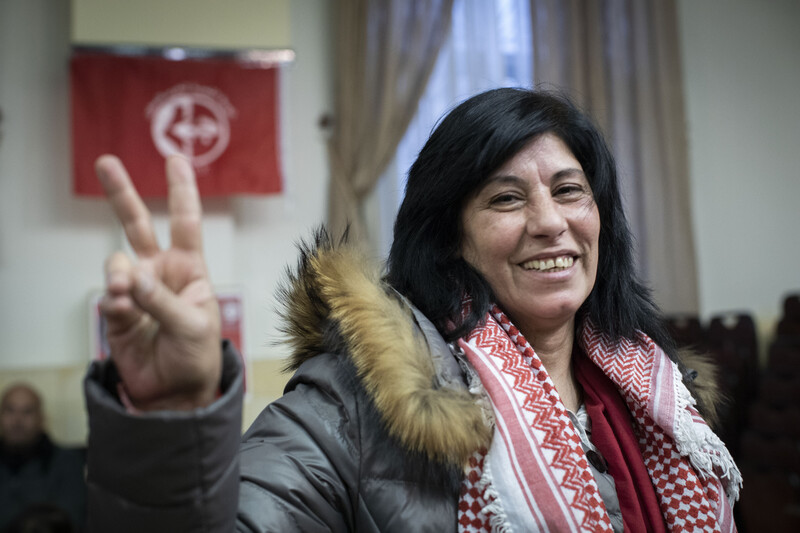 Palestinian groups advocating for accountability at the International Criminal Court face new smears by a think tank closely linked to the Israeli government.
The Jerusalem Center for Public Affairs published a document last week claiming that Palestinian groups have "weaponized" the international tribunal against the US and Israel.
One of the two authors of that document is the former director of Israel's ministry of strategic affairs. That ministry leads the state's efforts to target and sabotage advocacy for Palestinian rights, including the boycott, divestment and sanctions movement.
The ministry's underhanded efforts to spy on, smear and intimidate US citizens who support Palestinian rights were exposed in a documentary series produced by Al Jazeera and, after it was censored by Qatar, published by The Electronic Intifada.
Al-Haq, one of the Palestinian human rights groups targeted in the Jerusalem Center for Public Affairs document, condemned it as "misleading and inflammatory."
"In truth, the report contains little by way of content, and instead rehashes earlier smears," Al-Haq added. "[T]he report contains little information on the situation before the ICC, and instead opts to focus on tired and disproven claims of improper funding and conduct."
The JCPA document smears Al-Haq and other groups as "affiliated with terror organizations" in an attempt to discredit their cooperation with the ICC.
The court has been inching closer towards opening a formal investigation into war crimes perpetrated in the occupied West Bank and Gaza Strip. It is also poised to open an investigation into war crimes in Afghanistan, which could lead to indictments of US officials.
Whether those investigations move forward is a test of the impartiality and credibility of the ICC, which has only tried African nationals since its founding treaty, the Rome Statute, took effect in 2002.
Rights advocacy criminalized
To support its claims of affiliation with terror, JCPA points to staff of Palestinian organizations being arrested and detained by Israel.
A landmark study by Human Rights Watch published last year observes that Palestinians living under Israeli military occupation are denied their fundamental civil rights.
The report highlights the case of Khalida Jarrar, a leftist lawmaker who is being held following her arrest in late October last year. She is one of the public figures that the JCPA holds up as an example of human rights groups' affiliation with "terror."
Jarrar has been imprisoned twice previously in recent years and subjected to travel bans because of her membership in the Popular Front for the Liberation of Palestine, considered an "unlawful association" by Israel.
"Authorities never claimed that she had any personal involvement in armed activities," Human Rights Watch states.
"Peaceful opposition to the occupation could land you in jail," Omar Shakir, the director of Human Rights Watch's Jerusalem office, noted at the time of the report's publication.
Shakir himself was deported late last year by Israel, an act that Human Rights Watch said "reflects the authorities' intensifying assault on human rights."
Palestinian political organizing and human rights advocacy has long been criminalized by Israel.
Israel's military court system is notorious for failing to give Palestinians fair trials.
Last year, the Israeli military raided the offices of Addameer, a Palestinian prisoners' rights group which is also working with the ICC and is targeted by the JCPA.
"Israeli authorities have been sending a clear message to Palestinian civil society: anyone who dares to speak out about Israeli human rights violations in Israel and the Occupied Palestinian Territories risks coming under attack," an Amnesty International representative said at the time of the raid on Addameer's offices.
Derail investigation at ICC
"Stop demanding your rights or be criminalized" is the message that the JCPA intends to deliver as Israel, in partnership with the US, escalates its efforts to derail an investigation at the ICC.
Detailing the public advocacy undertaken by groups like Al-Haq and Addameer, the JCPA document only demonstrates their high level engagement with various international bodies and networks.
It does not make a convincing case that these organizations are fronts for "terror" when they're so busy meeting diplomats, hosting foreign delegations and participating in international law conferences.
But these activities are characterized as "lawfare" by JCPA in an effort to disparage them.
The ICC, whose chief prosecutor Fatou Bensouda is also targeted in the JCPA document, stated that "misinformation and smear campaigns do not change facts" concerning the court's conduct.
Conflating resistance with terrorism
The JCPA's true purpose is to make it harder for the Palestinian groups it targets to fund their work by portraying members of their boards and staff as terrorists.
JCPA names the foreign states who fund the work of the human rights groups it targets in the document.
Israeli efforts to "conflate legitimate Palestinian resistance and resilience with terrorist acts" so that Palestinian groups be excluded from funding are exposed in a recent paper by the research outfit Badil.
Last year, the European Union added to grant procurements a counterterror clause "that criminalizes the legitimate right of the Palestinian people to resist oppression," Badil states.
The clause requires grant beneficiaries and contractors to "ensure that there is no detection of subcontractors, natural persons, including participants to workshops and/or training and recipients of financial support to third parties, in the lists of EU restrictive measures" ("restrictive measures" referring to sanctions).
The clause resembles a vetting procedure that the US State Department assistance agency USAID has had in place in the West Bank and Gaza since 2002 to "help ensure that USAID funds and other resources do not inadvertently benefit individuals or entities that are terrorists, supporters of terrorists or affiliated with terrorists."
The EU clause "carries far-reaching implications" for Palestinian grant recipients, Badil states, and imposes "a framework that criminalizes certain Palestinian political parties."
Badil states that the clause "should be understood in the context of the increasing pressure Israel exerts on the EU" by portraying Palestinian civil society groups as "infiltrated by so-called 'terrorists in suits.'"
Meanwhile the EU lavishes funding on Israel's weapons industry and defense ministry, tacitly supporting the war crimes documented by the Palestinian groups villified as terrorists by the JCPA.
Al-Haq notes that the new smear campaign is only the latest attack it has faced since its founding in 1979:
"These have included death threats, in particular against a former member of staff named in the [JCPA] report, incitement to racial hatred, violence and attacks on its funding, with the ultimate goal of creating a coercive environment and 'shrinking space' wherein its work becomes impossible."
The mounting pressures and shrinking space in which to operate have made it more difficult for Palestinian groups, but has not deterred them.
Al-Haq said that it "will remain steadfast" in its support of the ICC prosecutor and its work for "justice, accountability, and an end to impunity in Palestine."
Tags