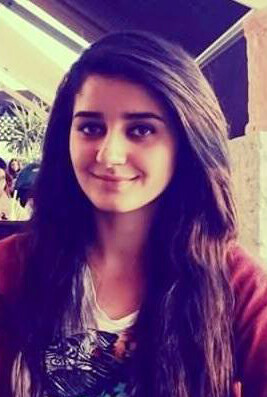 An Israeli military court judge's comments made during the trial of Palestinian university student Lina Khattab indicate that she is being used as an example to deter other youths from protesting the occupation, says Palestinian rights group Addameer.
Arrested outside Ofer military prison near the occupied West Bank city of Ramallah in mid-December, Khattab was sentenced last week to six months imprisonment and a 6,000 NIS (approximately $1,500 US) fine.
Khattab was accused of attending an illegal demonstration and throwing stones at an Israeli military vehicle.
According to Addameer, Israeli military law allows a maximum penalty of twenty years imprisonment for throwing rocks.
Scaring off students
"In the last couple of years, it was not so common to arrest women for throwing stones, but we believe this case is part of increasing attacks on peaceful resistance activities," Addameer director Sahar Francis told The Electronic Intifada contributor Charlotte Kates before Khattab's sentencing.
"They treated Lina as if she is so dangerous, such a serious security threat — this is what makes us believe that they are using her case in order to frighten students from being involved in activism," Francis added.
In a profile of Khattab's case on Addameer's website, the group says that comments made by the military court judge during the student's sentencing vindicate these qualms.
When Khattab's lawyer requested that his client be released on bail so she can continue her university studies, the military court judge claimed that the teen had committed a dangerous crime and that other Palestinians would not be deterred from such behavior if she were released.
"The judge's comments signify the military court's intent to use Lina [Khattab] as an example to deter other university students and youth from attending demonstrations, despite the lack of evidence against her," Addameer comments in its profile.
"This policy is widely used by the Israeli military courts who rarely release Palestinians on bail during trial and is also telling of political purposes of the courts to crush Palestinian resistance."
Coordinated testimony
Addameer adds that three witnesses who testified against Khattab — including the soldier driving the military jeep which the army claims was hit by a stone thrown by the student — were discovered during a court hearing to have coordinated their testimonies.
As a result, "the military judge requested the military prosecutor to reach a plea bargain with the defense instead of [continuing] with the trial," according to Addameer.
While the military prosecutors called for a two-year sentence, Khattab was sentenced to six months imprisonment, fined and given a six month suspended sentence for six years, reports Addameer.
Addameer states that the court also imposed an uncommon stipulation that if Khattab participates in any other similar offenses in the next three years, she will pay a 3,000 NIS ($766 US) fine.
Khattab is one of 22 Palestinian females, including four girls, currently in Israeli prison, according to Addameer.
They are held in inhumane conditions, suffer harassment and are denied family visits, says Addameer. Khattab's family has not been able to visit the teen, a first-year student at Birzeit University focusing on media and journalism.
Also a dancer with the El-Funoun troupe, Khattab and her family are refugees from Qalonia village in historic Palestine.
Tags