I appeared on WBEZ Chicago Public Radio's Worldview program yesterday to discuss the case of Rasmea Yousef Odeh, a Palestinian community organizer in Chicago who was indicted last month for allegedly lying on her citizenship application about a conviction in an Israeli military court more than 40 years ago.
Odeh faces up to ten years in prison and a maximum fine of $250,000, as well as revocation of her US citizenship, if she is convicted.
I was joined by Odeh's attorney and longtime friend Jim Fennerty, who met Odeh in Jordan in 1984, five years after she was released from Israeli prison. Odeh was imprisoned for ten years before being released as part of a prisoner exchange deal.
In the interview, Fennerty describes the brutal torture Odeh endured in Israeli prison, and how Israeli forces destroyed her family's home and arrested her family members shortly after her arrest for alleged involvement in Jerusalem bombings that killed two civilians.
"She's always denied the allegations, but how do you get a fair trial in an Israeli military court?" Fennerty states.
In her own words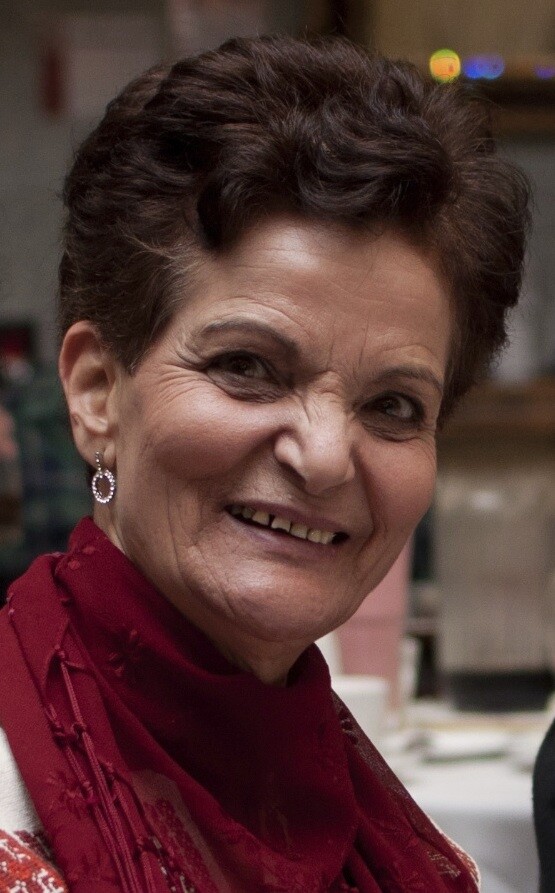 During the interview, one can hear Rasmea Odeh, who was born in Palestine in 1948, describe her life and work in her own words. Earlier this year, Odeh was interviewed in the same studio as I was yesterday, for a video profile that was produced when she was given the Mosaic Award for Outstanding Community Service from the Chicago Cultural Alliance.
Odeh discusses mentoring immigrant women as part of her work as associate director of the Arab American Action Network, a social services organization in Chicago. She is founder of the organization's Arab Women's Committee, which now includes 600 members who have become leaders in their own right, she says.
"She's really respected in the community and the women all love her, and she's empowered them so they can become more independent and she's just a wonderful person," Fennerty says in the interview.
Targeting activists
During the program I discuss how US authorities are targeting Palestinian and Palestine solidarity activists, and my own experience being visited by the FBI in 2010 and being served a subpoena to appear before a federal grand jury.
I explain that three years later, this investigation into material support for foreign terrorist organizations is apparently ongoing and that I, along with the 22 other activists who were targeted, are still in the dark. Fennerty adds that US attorneys recently said in court that they're going to decide within the next few months whether to issue any indictments.
"It's an ongoing investigation and we don't really know what the details are yet, and there's not any crime that's been specified that people are being investigated for," I explain. "There's a lot of indications to believe that this is about people's solidarity organizing, their political work, their first amendment-protected activities."
I add that while it seems that I was subpoenaed because of my involvement in Palestine solidarity organizing in Chicago, and not because of my journalistic work, the experience has nonetheless influenced my journalism and compelled me to examine domestic terror prosecutions more closely.
Long history of oppression
In the interview I briefly discuss the long history of oppression of Palestine-related organizing in the US which led to the FBI coming to my door in 2010 and the Department of Homeland Security coming to Rasmea Odeh's door last month, and will elaborate on it here.
This history goes back to the 1970s, following the waves of immigration of Palestinians to the US after Israel's military occupation of the West Bank and Gaza Strip in 1967, which has been bankrolled by the US.
As Al-Akhbar English reported earlier this year:
Long before 9/11, Arabs and Muslims have been on the receiving end of institutionalized racism from the American government and law enforcement agencies. The earliest example of this discriminatory policy is the little-known "Operation Boulder" initiative. Launched by the Nixon Administration in 1972, it was allegedly a response to the "terrorist threat" that followed the Munich Olympics operation carried out by Palestinian organizations.
As Boston University law professor Susan M. Akram noted in a March 2002 article in Arab Studies Quarterly, "Nixon Administration's 'Operation Boulder' [was] perhaps the first concerted US government effort to target Arabs in the US for special investigation with the specific purpose of intimidation, harassment, and to discourage their activism on issues relating to the Middle East."

Much of the secrets behind Operation Boulder were only recently discovered. What we know today is that the operation involved stringent reviews and background checks of Arabs, particularly Palestinians, by the FBI, CIA, State Department, and Secret Service. Moreover, much of the information was shared between the Israeli and American security services, as well as pro-Zionist organizations within the US.

At the program's zenith, background checks were made on 40 to 50 visa applicants per day and the operation was only terminated by the State Department in 1975 after objections were raised by the FBI. Despite the massive effort to monitor Arabs in general, only 23 visas for non-citizens were denied at the end.
Operation Boulder was in place long before the 11 September 2001 attacks, but would foreshadow the Bush administration's controversial Patriot Act.
"Witch-hunt"
In 1987, US authorities targeted seven Palestinian immigrants and a Kenyan in Los Angeles because of their activities educating Americans about US policy towards Israel and the Palestinians. These activists were dubbed the "LA 8."
The US government arrested the eight in 1987 and accused them of organizing in support of the Popular Front for the Liberation of Palestine, a Palestinian political party and armed resistance group, because of their first amendment-protected activities such as the distribution of political literature and organizing demonstrations. The attempt by the US to get them deported ultimately failed, but their case dragged through the courts for twenty years.
"From the beginning, we said that our case was a political one and that the government made us victims of a political witch-hunt," said Michel Shehadeh in 2007 after the government finally dropped all charges against him.
Political prosecution
In more recent years, there have been several other high-profile cases in the US against Palestinian, Arab and Muslim activists because of their work opposing US support of Israel or for providing aid to Palestinians living under Israeli military occupation.
This includes the Holy Land 5, five humanitarians currently serving lengthy prison sentences for their charity work in Palestine. The Holy Land Foundation was the largest Islamic charity in the US before it was shut down without due process with an executive order by President Bush in December 2001.
One of the government prosecutors of the Holy Land Foundation case is Barry Jonas, who was present in court when Rasmea Odeh was brought before a judge after her arrest last month.
A motion recently filed to exonerate the Holy Land Five states: "The defendants in the Holy Land Foundation case were prosecuted for one reason, and one reason only: that they are Muslim." The motion notes that virtually all of the prosecutions under the statute barring material support to foreign terrorist organizations have targeted Muslims and that non-Muslims alleged to have committed similar acts were not prosecuted.
From Operation Boulder, the attempt to deport the LA 8, the prosecution of the Holy Land 5, among many other cases, a pattern emerges: politically-motivated, selective prosecution which has the effect if not the intent of intimidating entire communities.
Tags