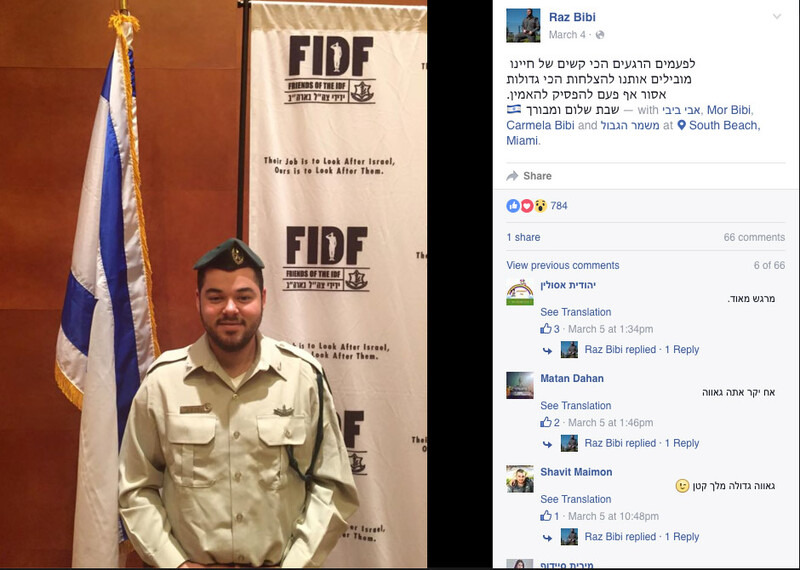 An Israeli court on Wednesday sentenced a Palestinian accused of wounding and seriously injuring an Israeli soldier during an alleged stabbing attack in Jerusalem to 17 years in prison and ordered him to pay approximately $10,000 in compensation to the wounded soldier.
The Palestinian, Yasir al-Tirweh, was shot and seriously wounded during the 21 June 2015 incident.
Al-Tirweh, from a village near the occupied West Bank city of Hebron, made a plea deal with the Jerusalem court.
The wounded Israeli soldier, Raz Bibi, "has several ongoing health problems as a result of the attack and is on a long-term rehabilitation program with no possibility of returning to his old position in the Border Police," according to The Jerusalem Post.
Bibi posted a photo on Facebook showing himself in uniform standing in front of an Israeli flag and a Friends of the Israel Defense Forces banner, presumably taken during the organization's fundraiser in Miami, Florida, earlier this month.
Friends of the IDF, a registered charity in the US, raises tens of millions of dollars each year to support Israeli occupation soldiers.
The outfit is among a dozen nonprofits being sued by a group of Palestinians and Palestinian Americans over their role in facilitating Israeli settlements and war crimes.
Bibi expressed disappointment after the sentencing of al-Tirweh, apparently wishing for harsher punishment. Meanwhile his fellow soldiers have enjoyed total impunity for the killing of nearly 200 Palestinians and the wounding of thousands more since a new phase of direct confrontation surged in the West Bank last October.
Family petitions high court
The family of a Palestinian boy who was shot dead by Border Police after allegedly trying to stab one of its soldiers is petitioning Israel's high court to demand that the police order an autopsy.
Mutaz Uweisat, from the Jabal al-Mukabir neighborhood of the city, reportedly grazed the hand of one of the Border Police soldiers before he was shot dead in an Israeli settlement in Jerusalem in October.
The boy's body has been withheld by Israel since then, as the authorities have refused to return the remains of several other slain Jerusalemites to their families.
The families have rejected Israel's conditions for returning the bodies. As the Tel Aviv newspaper Haaretz reported, "According to the petition, the police have agreed to release the body to the family on condition that it be delivered directly to the cemetery – without offering a chance for an autopsy."
The police asserted there was "no justification for an autopsy," stating that a lower court rejected the family's petition "and accepted the police's position that there was no suspicion whatsoever of wrongdoing in the death of the terrorist and that his death was justified."
The petition asserts that "Preventing an autopsy, even privately by the deceased's parents, methodically breaches the honor of the dead, the right of the family to honor and the right of [Uweisat's] family to know the reasons for his death, as well as the principle of the rule of law."
The home of the child's family was raided and searched after the incident, and several members were detained.
Children killed and detained
Dozens more Palestinian children have been shot dead since Uweisat's killing five months ago, most of them during alleged attacks on Israeli military forces, and more than 2,000 have been injured as of the end of January.
The number of Palestinian children being held by Israel has meanwhile "skyrocketed to the highest it has been in seven years," according to Defense for Children International - Palestine, with more than 400 boys and girls in Israeli detention.
Videos have emerged showing Israeli forces firing on Palestinians and killing them when they are lying on the ground and pose no immediate threat – including young children.
Human rights groups have condemned what amounts to an apparent shoot-to-kill policy, encouraged by Israel's top leaders.
Three killed in Hebron
Three more Palestinians were killed near Hebron on Monday.
Yusif Walid Tarayra, 18, was shot dead during an alleged car ramming attack shortly after Qasim Farid Jaber, 31, and Amir Fuad al-Junaidi, 22, were slain during a shootout with Israeli soldiers waiting at a bus stop near the Kiryat Arba settlement.
The two incidents left four soldiers injured, and Israeli forces raided the family homes of Jaber and al-Junaidi that same day.
A day earlier, soldiers shot a 14-year-old in the chest with a live bullet, seriously injuring the boy, in al-Mazraa al-Gharbiya village during confrontations that broke out when Israeli forces entered the area northwest of the West Bank city of Ramallah.
Another Palestinian, 24-year-old Nahid Fawzi Mutir, succumbed from his wounds sustained during confrontations in Qalandiya refugee camp near Ramallah two weeks earlier.
Mutir was shot and injured during a raid on the camp during which the military invoked the Hannibal Directive, an Israeli army protocol that authorizes massive use of force to prevent an Israeli soldier from being taken prisoner.
Another resident of the camp, university student Iyad Sajadiyya, was killed during the 1 March incident.
Intense confrontations broke out in Qalandiya after two soldiers, who reportedly entered the camp by mistake, became separated from their vehicle when it was set on fire.
Children killed in Gaza strike
And on Saturday, 6-year-old Isra Abu Khusa and her 10-year-old brother, Yasin, were killed when their home was hit during Israeli airstrikes on the northern Gaza Strip.
A pregnant woman and her 2-year-old daughter were similarly killed during an airstrike in southern Gaza in October.
In both cases, Israel claimed that it was targeting Hamas sites in response to rocket fire from Gaza.
As noted by journalist Ben White, Israel's own data show that Hamas has not fired a single rocket from Gaza since a 26 August 2014 ceasefire that ended 51 days of intensive bombing of Gaza that summer, during which approximately 2,200 Palestinians, including more than 500 children, were killed.
Yet Israel continues to violate that agreement on a daily basis.
Tags