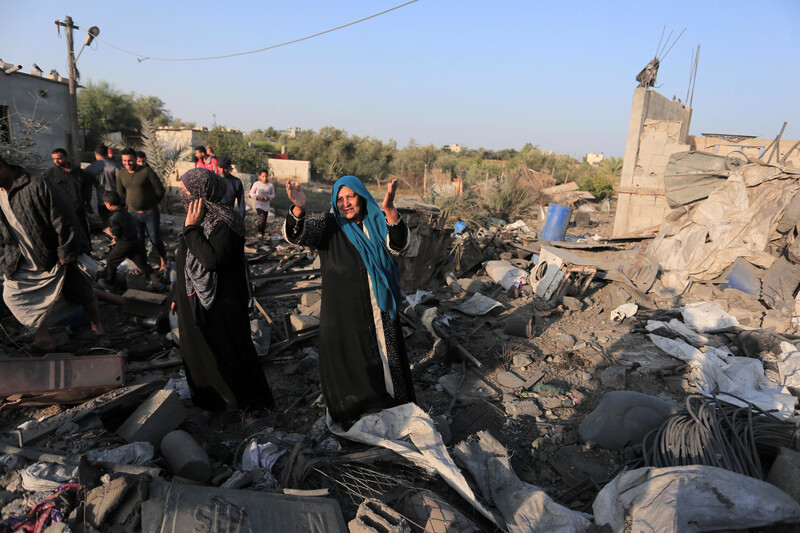 A truce was declared by Israel and Islamic Jihad early Thursday, bringing an end to 48 hours of violence across the Gaza-Israel boundary that teetered on the brink of a full-blown war.

Gaza's health ministry stated that Israeli forces killed 34 Palestinians during the fighting, nearly half of them civilians, including eight children and three women. No Israeli fatalities were reported.

Three members of the Ayyad family, among them a 7-year-old child, were killed as they were on a motorcycle in front of their Gaza City home on Wednesday, 13 November.

They were targeted as they were rushing to a hospital after a relative had been injured in a separate attack.

Israeli forces killed two boys in a strike on a carpentry shop in Gaza City that same day. Their father, who owned the shop, and two other men affiliated with Islamic Jihad's military wing were also killed.

The deadliest single incident in the 48 hours of bombardment occurred soon before the truce took effect on Thursday. Eight persons from the al-Sawarka family – five of them children – were killed and 13 injured when Israel fired four missiles at a pair of tin-roofed shacks in central Gaza.

Israel initially claimed that one of those killed was a commander of an Islamic Jihad rocket unit who was "hiding ammunition and military infrastructure" in his home.

An Israeli military spokesperson "had no information about the airstrike," the Associated Press reported, "but he said Islamic Jihad commanders store weapons in their homes, making them legitimate targets."

Reports later emerged indicating that the Israeli military had mistakenly targeted the home of a different man with the same name as the Islamic Jihad commander.

Even if it wasn't a case of mistaken identity, and weapons were present at the al-Sawarka homes, the laws of armed conflict would forbid Israel from striking them while civilians were present.

Article 57 of the Geneva Conventions states that an attack must be canceled or postponed if it poses a danger to civilians "excessive in relation to the concrete and direct military advantage anticipated."

Such indiscriminate violence characterizes Israel's military offensives in Gaza.

Israel triggered this latest voluntary confrontation in Gaza by firing a missile into the home of an Islamic Jihad military commander early Tuesday, killing him and his wife.

Benjamin Netanyahu, Israel's prime minister, claimed that the targeted man, Baha Abu al-Ata, was a "ticking time bomb," using the same phrase that Israel has used to justify its torture of Palestinian detainees.

While Israel supposedly outlawed torture 20 years ago, its high court ruled that the country's domestic intelligence agency can use torture in supposedly "ticking time bomb" circumstances to investigate Palestinian prisoners.

"Since then, Shin Bet interrogators have tortured hundreds of Palestinians, citing the 'ticking bomb' plea, and not one of them has been prosecuted," according to Amnesty International.

Similarly, Israel has no death penalty on the books. But extrajudicial executions have been a cornerstone of Israel's efforts to repress all Palestinian resistance in the territories it occupies and beyond.

The "ticking time bomb" loophole has no basis in international law, whether concerning the use of torture and ill-treatment of detainees or extrajudicial executions.

In a 2010 report, the UN special rapporteur on extrajudicial, summary or arbitrary executions discusses a hypothetical scenario in which a state sought to "justify the use of drones by invoking the right to anticipatory self-defense against a non-state actor."

Applying a ticking time bomb scenario to an extrajudical killing "threatens to eviscerate the human rights law prohibition against the arbitrary deprivation of life," according to the special rapporteur. Additionally, the killing of anyone other than the target – as in the case of the Abu al-Ata execution – "could result in state responsibility and individual criminal liability."

Abu al-Ata, asleep in his bed, was not participating in hostilities when Israeli forces fired a missile into his bedroom.

Canada, Germany, the European Union, US and UK and Democratic presidential candidates rushed to condemn rocket fire but not Israel's extrajudicial execution that triggered the violence, even as the Palestinian death toll mounted.

Netanyahu's "ticking time bomb" justification for executing Abu al-Ata was deflated by reports in the Israeli press that his assassination was approved two years ago.

"That he was killed now, defense officials said, wasn't because he had suddenly become more dangerous; it was mainly a question of opportunity," the Israeli daily Haaretz reported.

However, Netanyahu may have had other considerations in mind.

Another Israeli narrative took hold: that Abu al-Ata is the primary party responsible for instability along the Gaza-Israel boundary.

Not Israel's siege, now in its 12th year, plunging Gaza into poverty, despair and hopelessness. And not the thousands of bullets Israeli army snipers have fired at the bodies of unarmed Palestinians protesting these conditions and asserting their right to return to their homeland.

Israeli forces have killed more than 200 men, women and children during Gaza's Great March of Return protests since their launch in early 2018.

Israel even resorted to invoking the 11 September 2001 attacks in the US to justify its execution of Abu al-Ata.

It's all a ploy to obscure reality: Abu al-Ata and Palestinian fighters in Gaza like him are resisting a cruel and illegal siege, a half-century of military occupation, and more than 70 years of forced displacement and dispossession.

There will be no enduring security without justice for these wrongs endured for so long by Palestinians in Gaza, where every two in three persons is a refugee.

As this writer stated after the previous military escalation six months ago: without any meaningful change to the status quo in Gaza, a resumption of the deadly fighting is only a matter of time.

The choice, as ever, is in Israel's hands.
Tags