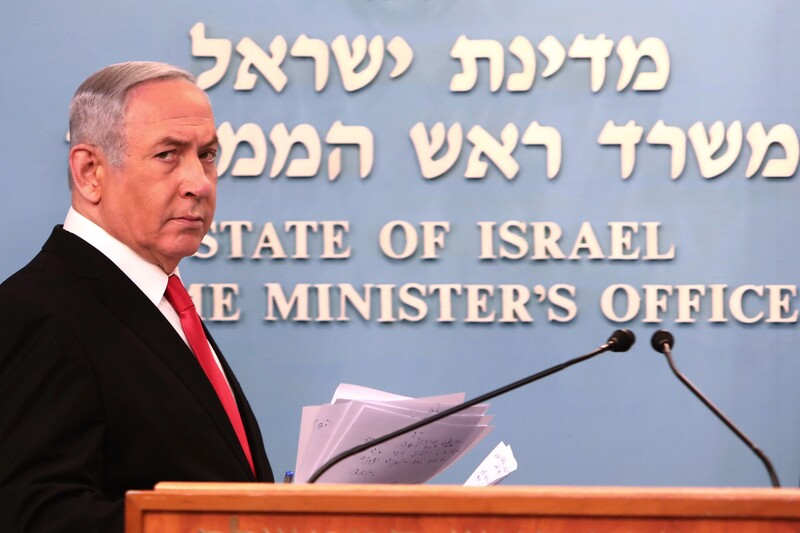 Lockdowns, travel bans and the shuttering of businesses are among the unprecedented restrictions governments are imposing worldwide in an effort to hamper the spread of a highly contagious new coronavirus.

But the real danger posed by the coronavirus must not be used to justify invasive surveillance that violates the right to privacy, civil liberties and human rights groups say.

A massive and hitherto unreported data collection scheme employed by Israel's domestic spy agency, the Shin Bet, was made public in recent days as Prime Minister Benjamin Netanyahu approved its use to stymie the spread of the coronavirus.

Netanyahu bypassed Israel's parliament to approve emergency measures allowing the Shin Bet to use mobile phone geolocation and other advanced surveillance technologies to track people who have violated quarantine orders and alert those who have been in their vicinity.

The directive would allow for the use of the data for 30 days.

The New York Times reported that the data in question has been secretly gathered for decades under the guise of combating terror.

"The existence of the data trove and the legislative framework under which it is amassed and used have not previously been reported," the paper stated.

The New York Times added that the Shin Bet "has been quietly but routinely collecting cellphone metadata since at least 2002."

The spy agency has not "disclosed details about what information it collects, how that data is safeguarded, whether or when any of it is destroyed or deleted, who has access to it and under what conditions, or how it is used."
"Vast range of metadata"
Israeli prime ministers have required cellphone companies to transfer to the Shin Bet "a vast range of metadata about their subscribers," according to the Times.

7amleh, a group dedicated to upholding the digital rights of Palestinians, said that such round-the-clock monitoring and tracking "is a violation of people's right to privacy."

The group added that Israel has long used the pretext of security to justify the use of surveillance technologies to track, monitor and control Palestinians in the occupied West Bank and Gaza Strip.

"This shows how oppressive policies and practices developed and used in contexts of occupation, also end up being used by the occupying power against its own citizens," 7amleh added.

Adalah, a group that advocates for the rights of Palestinians in Israel, called on Israel's attorney general to freeze the implementation of the emergency regulations.

"The government cannot bypass the legislature and hide behind a general state of emergency to commit such extreme human rights violations," Adalah stated.

Ayman Odeh, chair of the Joint List bloc in Israel's parliament, said "We know that what is called 'temporary' always turns into permanent, so we must immediately halt spying on citizens."

Human rights advocates in Israel took to Twitter to voice their concerns:

Chemi Shalev, a correspondent for the Tel Aviv daily Haaretz, accused Netanyahu of exploiting the coronavirus crisis to consolidate his authoritarian control.

Israel's justice minister, a member of Netanyahu's Likud party, shut down the judiciary days before the prime minister's corruption trial was due to begin.

Netanyahu has also moved to block the formation of Israel's new parliament.

According to Shalev, Netanyahu compelled the speaker of Israel's parliament, the Knesset, "to subvert the outcome of this month's elections by preventing the newly constituted Knesset from nominating a new speaker in his stead."
Racism
Netanyahu has also said in recent days that a parliamentary alliance between his rival Benny Gantz's Blue and White bloc and the Joint List, a coalition of Palestinian parties in Israel, would be a "disaster" or "danger" to the country.
The prime minister said on Sunday that "Gantz is galloping toward a minority government that's dependent on Balad, Heba Yazbak and supporters of terror, rather than join a national emergency government that will save lives."
Yazbak is a member of the Knesset belonging to the Balad party, on the Joint List, who Israel's Central Election Committee unsuccessfully sought to disqualify from the last election.
The campaign to disqualify Yazbak focused on statements she made on social media paying tribute to a Lebanese fighter long held prisoner by Israel. Her detractors also pointed to a post in which she celebrated the release of Ameer Makhoul from Israeli prison last year.
Makhoul, a Palestinian civil society leader in Israel, was sentenced to several years in prison on security charges based on a confession that his lawyers and family have said was obtained under circumstances of torture.
Palestinians in Israel make up some 20 percent of the population and are among those on the front lines in the country's hospitals. Nearly every one in five physicians in Israel, and one-quarter of its nurses and half of its pharmacists, are of Palestinian origin.
Israel inched closer towards a total lockdown as it reports 337 confirmed cases of COVID-19, the disease caused by the novel coronavirus.
The Palestinian Authority in the West Bank has reported 41 confirmed cases. The health ministry in Gaza continues to report zero confirmed cases.
While Israel has not yet reported any fatalities, its health minister warned on Tuesday that "we could have hundreds of people dying from the disease."
Neighboring Egypt reported two more deaths in the country on Tuesday, bringing its total number of fatalities thus far to six. Nearly 200 people have been diagnosed with the coronavirus in that country.
Jordan's King Abdullah meanwhile approved an emergency law that gives sweeping powers to enforce curfews, close businesses and impose movement restrictions.
Thirty-four confirmed cases of the coronavirus have been reported in Jordan, with no deaths.
All Jordanian citizens are ordered to stay in their homes barring emergencies beginning Wednesday.
The World Health Organization has recorded nearly 185,000 confirmed cases of the coronavirus as of Tuesday, more than 7,500 of them fatal.
Tags