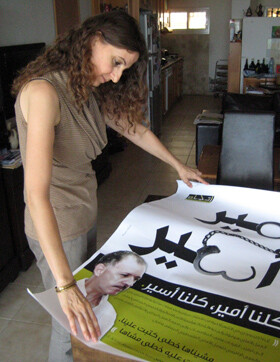 Two years ago, Janan Abdu's life changed forever.
"It's not [just] one issue, the political prisoners; it became our life," said Abdu, a prominent Palestinian human rights activist, mother of two daughters and wife of Ameer Makhoul, a Palestinian community leader serving a nine-year sentence in an Israeli prison.
"It's so hard because you live it every day. You live the pain, but you live the struggle. I don't have any choices. I don't have two or three choices. The one, only choice that I have is to struggle and to continue," Abdu said.
This weekend (6 May) marks the two-year anniversary of Makhoul's arrest. Makhoul was the director of Ittijah, the Union of Arab Community-Based Associations, a network for Palestinian organizations in Israel.
Sixteen agents of the Israeli internal security agency, also known as the Shin Bet or Shabak, arrested Makhoul during a 3am raid on his Haifa home in 2010. They confiscated his family's computers, cell phones and many personal effects, and proceeded to search the Ittijah offices.
"It was a traumatic arrest for [myself] and for my daughters. [They spent] two weeks not seeing their father. I lost my two parents during the month of [Ameer's] jailing and I wasn't able to even see Ameer or hug him. My daughter graduated from school without her father beside her. When you speak about the personal level, it's so hard," Abdu told The Electronic Intifada.
Incommunicado
Makhoul was held incommunicado in Israeli detention for 12 days and denied access to a lawyer. Three weeks after his arrest, he was charged with a slew of security offenses. The Israeli authorities claimed that Makhoul made contact with an agent with the Lebanese resistance movement Hizballah.
Despite having examined almost a dozen computer hard drives and more than 30,000 phone conversations, the Israeli authorities relied entirely on Makhoul's confession as the basis for its indictment against him. And this confession, his lawyers and family say, was obtained under circumstances of torture.
After six months in jail, Makhoul signed a plea agreement with Israeli state prosecutors on 27 October 2010. The deal involved a reduced list of charges, including contact with a foreign agent and spying for Hizballah, and carried a maximum sentence of seven to ten years in jail.
As a result of the plea deal, the charge of assistance to the enemy in a time of war, which carries with it a life sentence, was dropped. Makhoul was eventually sentenced to nine years in prison and one year suspended sentence in late January 2011.
Various international human rights groups strongly condemned Makhoul's treatment during his arrest, interrogation and imprisonment.
Jailed for defending rights
"Ameer Makhoul's jailing is a very disturbing development and we will be studying the details of the sentencing as soon as we can," Philip Luther, Amnesty International's Middle East and North Africa deputy director, said in a statement following Makhoul's sentencing ("Palestinian human rights activist jailed in Israel," Amnesty International, 30 January 2011).
"Ameer Makhoul is well known for his human rights activism on behalf of Palestinians in Israel and those living under Israeli occupation. We fear that this may be the underlying reason for his imprisonment," Luther continued.
Aid and solidarity groups that worked with Makhoul in his capacity as the director of Ittijah have also raised concerns about the fairness of his trial and the legitimacy of his sentence.
"We do not consider this trial as a transparent and clear trial that conforms with international standards, so anything that comes out from such a process, it's difficult to consider this a fair verdict," said Mieke Zagt, program officer for ICCO, an inter-church anti-poverty organization based in the Netherlands.
Zagt explained that while knowing the true motives behind Makhoul's arrest and detention may never be known, his treatment has had a tangible impact on other human rights activists.
"Definitely it has an impact on many people around Ameer. It's really frightening people, and we felt until now that people feel intimidated by this process," she told The Electronic Intifada.
"We want to keep the spotlight on him. We need to remember him, especially for what he symbolizes. The fact that he addresses Palestinian unity, [that] he is reaching out to inside [Israel], the Diaspora, West Bank, Gaza, makes him special and it's also something that inspired us."
Putting a face and name to prisoners
"Ameer represents a man fighting for his rights and the rights of all the Palestinian people. We thought it was important to put a face and name to the prisoners," said Maria Manrique, an activist with the Palestine Solidarity Platform in Seville, Spain, which has campaigned around Makhoul's case.
"His work began to be a threat to the Israeli government's plans to expel [the] Arab community outside [of] Israel. Throughout Ameer's judicial process [it] was demonstrated once again that justice and military courts in Israel are a farce. And above all, we had the absolute conviction that Ameer had not committed any crime, therefore people got involved to ask for his freedom," Manrique told The Electronic Intifada.
According to Janan Abdu, international solidarity is crucial in the struggle for the rights of not just Makhoul, but of all Palestinian political prisoners.
"It's so important that the families feel that they're not alone, that it's not just their personal problem or issue because it's not. Truly, it's not. The family pays the individual price by the jailing, but all the families are part of the Palestinian people and the collective of prisoners," Abdu said.
"The Palestinian political prisoners who are in jail, they are not criminals, they are not thieves, they are not killers. They are taking part in the struggle for freedom, for the liberation of Palestine from [Israeli] colonization and the continuous occupation. To be a Palestinian political prisoner is to be a political prisoner for freedom."
"They need our support"
Speaking at a conference in Jerusalem, attended by more than 150 activists and relatives of Palestinian political prisoners, 50-year-old Mukhles Burgal, a former prisoner who spent time with Makhoul in prison, also expressed the importance of showing solidarity with Palestinian prisoners.
"We all have to do something really strong [for] them. They need our support," Burgal, who spent 28 years in prison, said. "We knew about all the activities supporting us as political prisoners, and that had a very good effect on us."
He added, "All the time you feel that you are in a war and you have to exist. To exist it doesn't mean that you exist by yourself, but [with all the] people around you."
At the moment, approximately 2,000 Palestinian prisoners are conducting an open-ended hunger strike to protest their mistreatment and lack of basic rights in Israeli jails. The campaign is the latest in a string of large-scale hunger strikes that began in late 2011, in protest of worsening prison conditions.
Recently, Palestinian prisoner Khader Adnan spent 66 days on hunger strike in protest of his imprisonment under an Israeli administrative detention order — without charge or trial — before being released in April.
Another prisoner, Hana al-Shalabi, also spent weeks on hunger strike, before being forcibly transfered to the Gaza Strip.
"Adnan has reaffirmed an important principle of resistance to colonialist regimes: when the people, or individuals, who are their victims remain resolute, the world will react. Sympathy turns into solidarity, and that in turn can nurture a growing movement of support for the struggle which is capable of shaking the foundations of the colonialist system," Ameer Makhoul wrote in a letter from Gilboa prison in March.
"One of the major strengths of the campaign to support Adnan was that it told his personal human story, as well as of his life in politics and his struggle, in a manner that successfully conveyed both his suffering and his resolve. Adnan's story also embodied the essence of the Palestinians' experience and their quest for their rights and freedom, and serve to expose Israel's essence for what it really is," Makhoul continued.
"The case of Adnan proves that victory over the colonialist project is not a mission impossible. It is possible. And it has renewed and strengthened the hope that the Palestinian people are capable of energizing their free will — the will for victory."
"We are persons and families"
Janan Abdu said that while she hoped her husband would be released from prison as soon as possible, she is realistic and knows that keeping him in jail is a priority of the Israeli government.
"The [Israeli] state wants Ameer to stay the full nine years in prison. What is so important, I think, is not to give up and to continue in our struggle and campaigning on the international level and locally," she said.
"I do believe that intensive and continuous campaigning for Ameer and for other political prisoners has to affect Israel. Maybe at the beginning it won't, but as the apartheid of South Africa ended, it could be that this regime will end also.
"This treatment has to be stopped. We are not statistics. We are persons and families."
Jillian Kestler-D'Amours is a reporter and documentary filmmaker based in Jerusalem. More of her work can be found at http://jkdamours.com.
Tags