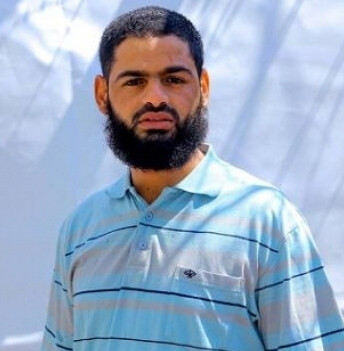 Update:
Muhammad Allan woke from his coma on Tuesday for the first time since falling unconscious last Friday. The Ma'an News Agency reported that the prisoner "immediately pledged to resume fasting if Israel did not resolve his case within 24 hours, Palestinian officials said," and that he would request all medical treatment to be stopped and that he would refuse water.
Israel's high court is due to consider a petition for Allan's release tomorrow.
"A doctor at the hospital where Allan is being treated told the court that he had not appeared to suffer irreversible damage but would probably not survive if he resumed his hunger strike," Ma'an added.
The Israeli publication Haaretz reported that it was told by one of Allan's lawyers that the prisoner had previously "expressed willingness to stop the hunger strike if the state would agree to release him for Eid al-Adha, the Muslim feast of the sacrifice, that falls toward the end of September – two months before the end of his administrative detention order."
Original post:
The life of Palestinian prisoner Muhammad Allan is in danger as the hunger striker remains in a coma. Doctors said on Monday it is unclear whether he has suffered irreversible brain damage.
Allan is being held at Barzilai Medical Center in Askalan (Ashkelon) in the south of present-day Israel. He was put on life support on Friday when he fell unconscious after 59 days of hunger strike in protest of his imprisonment without charge or trial — a practice known as administrative detention — since his arrest last November.
Doctors at Barzilai told the Israeli daily Haaretz on Monday that Allan remains in stable condition and is receiving vitamins and nutrients intravenously, but no protiens or calories.
Hospital officials told Haaretz that doctors would begin to "reduce the amount of sedatives in his system and attempt to wake him to see if he is capable of breathing on his own."
Israel's high court is to hold a hearing on Wednesday to consider a petition for the immediate release of Allan on medical grounds. The Israel Prison Service rejected a request last week to free the hunger striker despite his decline in health.
The Israeli government announced that it would release Allan if he agreed to be deported for a period of four years.
Allan's lawyer, Jamil al-Khatib, said that "we are categorically refusing that proposal," the Ma'an News Agency reported.
Al-Khatib told Ma'an that the offer was made before Allan's health condition badly deteriorated.
Al-Khatib and another attorney, Sawsan Zahar from the human rights group Adalah, also petitioned Moshe Yaalon, Israel's defense minister, for Allan's release, according to Haaretz. The appeal was also sent to the attorney general and chief military prosecutor.
Dawn raid
Muhammad Allan is a 31-year-old lawyer from the village of Einabus near the northern occupied West Bank city of Nablus. He was arrested on 6 November when approximately 30 Israeli soldiers raided his family's home at dawn. They took him to his Nablus office, where they searched his papers and files, according to the prisoner rights group Addameer.
Allan was handed a six-month administrative detention order claiming that he is an activist with Islamic Jihad, a Palestinian political party and resistance group. Instead of facing charges for a specific crime, however, Allan was ordered held on the basis of secret evidence.
It was not Allan's first time being detained — he was arrested in 2006 and sentenced to three years in prison, and then was detained again in 2011 and interrogated for 15 days before he was released, according to a profile of Allan by Addameer published in the Arabic-language Quds news site.
Allan's prior imprisonment was part of the judge's basis for renewing his administrative detention order in May for a further six months, additionally claiming that Allan remained active with Islamic Jihad.
On 16 June, Allan launched his open-ended, full hunger strike, refusing vitamins, salts and supplements, and consuming only water.
After he began his strike, the Israeli prison authorities transferred him to and from several different detention centers and eventually to the intensive care unit in Soroka hospital.
When doctors there stated their refusal to force-feed Allan, he was transferred to Barzilai hospital on 10 August, where he was shackled to his hospital bed and placed under guard.
In a letter to his family, Allan stated that "Administrative detention is a return to slavery and the slave, and thus I refuse to be a slave at any point. The truth is that I now savor hunger as long as the goal is freedom in the absence of law in Israeli courts, and so I found myself having to fight this battle."
The Israeli prison administration announced on 7 August that it intended to request a court order to force-feed Allan, but until now the measure has not been implemented.
Israel's parliament, the Knesset, legalized force-feeding last month. The legislation was condemned by the Israel Medical Association, which is challenging the new law in court.
The force-feeding bill is intended to prevent future capitulation to Palestinian prisoners, who have in recent years won demands after long hunger strikes that grabbed international attention.
Urgent appeals
Addameer and Physicians for Human Rights-Israel warned that force-feeding Allan could kill him, as it did several other Palestinian prisoners when Israel used the measure against them in the 1980s.
Amnesty International issued an urgent action alert encouraging appeals to the Israeli authorities regarding Allan, and the National Lawyers Guild has demanded his release.
The Palestinian BDS National Committee, which calls for boycott, divestment and sanctions measures against Israel, called for the intensification of campaigns against Israeli and international companies complicit in Israel's violations of Palestinian prisoners' rights.
Hundreds protested in Askalan on Sunday night, calling for Allan's release.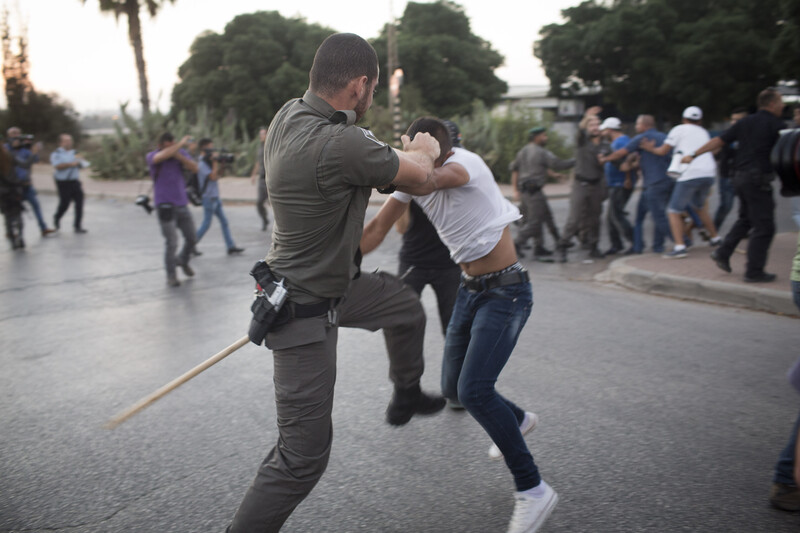 Protesters arrived in four buses outside Barzilai hospital, where they were planning to hold a vigil, but were blocked by Israeli forces for half an hour, the web publication +972 reported.
"When the activists made their way to the hospital, the police approached them with pepper spray and used skunk water cannons … to disperse the crowds," +972 added. Several arrests were reported.
Siblings Samer and Shireen Issawi announced their solidarity hunger strikes from inside Israeli prison over the last two days. Shireen Issawi, like Allan, is a lawyer. Her family told The Electronic Intifada last year that Shireen was targeted by Israel because of her leadership in prisoner support campaigns.
At the beginning of July, Israel was holding 5,442 Palestinians, nearly 400 of them under administrative detention. A further 1,000 Palestinians were being held for entering Israel illegally, according to statistics compiled by the Israeli rights group B'Tselem.
Tags