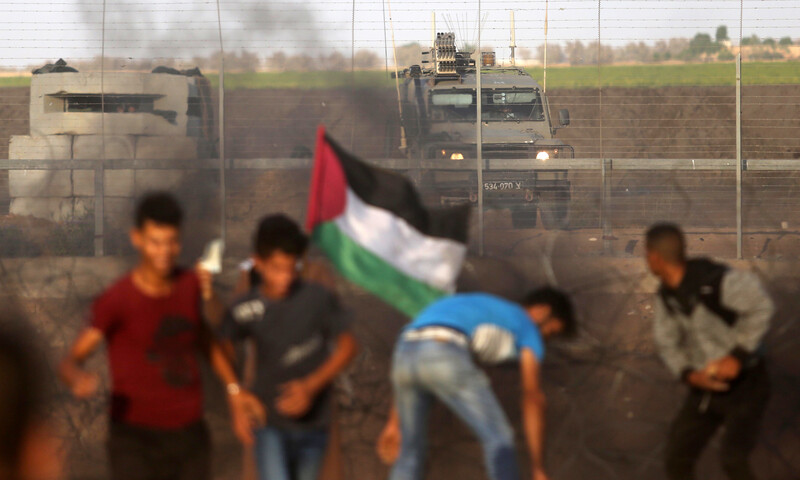 Israeli forces fatally shot two Palestinian youths during Great March of Return protests in southern Gaza on Friday.

Gaza's health ministry identified one slain youth as Bilal Mustafa Khafajeh, 17, shot in the chest east of Rafah.

A photo of the teen circulated on social media after his death:

On Saturday morning, the health ministry announced the death of 16-year-old Ahmad Misbah Abu Tuyour, from injuries he sustained the day before, also east of Rafah.

Palestinian media circulated this video said to show the moment Abu Tuyour was shot, far from the boundary fence with Israel and presenting no conceivable danger to anyone.

More than 130 Palestinians have been fatally injured during protests, now in their 24th week.
Tear gas drone downed
During Friday's protests Palestinians downed an Israeli army tear gas drone:

Palestinian media outlets also reported that kites launched from Gaza carrying flaming tires set fire to what they described as a communications tower used by the Israeli military east of Rafah: An Israeli fighter plane hit what it said was a Hamas observation post in northern Gaza on Friday after a grenade was allegedly thrown at soldiers. A second observation post was hit elsewhere in Gaza, according to the Israeli daily Haaretz.

Also on Friday two Palestinians were injured when warplanes struck a group in northern Gaza allegedly launching incendiary kites into southern Israel.

Palestinians in Gaza have generally refrained from launching incendiary kites and balloons after an informal ceasefire last month brought an end to two days of intensive Israeli bombing in the territory, and the launching of dozens of rockets from Gaza into southern Israel.

The launching of flaming objects from Gaza has caused hundreds of fires and destroyed thousands of acres of land, according to Israeli sources.

The escalation in hostilities in early August came as Hamas and Israel were said to be nearing a deal to end the 11-year-siege on Gaza negotiated by the UN and Egypt.
Breaking the siege
Earlier this week Yahya Sinwar, the leader of Hamas in Gaza, said that his faction and other resistance groups in the territory would break the siege by any means necessary and within the coming weeks.
Sinwar credited the Great March of Return protests and the launching of burning kites and balloons for building new pressure on Israel and drawing international attention to the siege on the territory.
"With all the might of our people, we succeeded in redirecting the internal pressure so that it exploded in the face of the occupation," Sinwar said. "This difficult challenge became an opportunity to advance the right of return and to stand against the conspiracies aimed at liquidating the Palestinian cause."
Sinwar also said that international efforts to broker a long-term truce were ongoing, but that Hamas was not willing to sign up to something that required political concessions on basic Palestinian rights or failed to lift the siege and ensure economic development for Gaza.
He also addressed the possibility that the current ceasefire could break down.
"We do not want war, but this does not mean we are not ready to confront any aggression," Sinwar said, adding that "we and the other resistance factions are in a state of maximum readiness."
Referring to Israeli estimates that a full-scale invasion of Gaza could cost the lives of a thousand Israeli soldiers, Sinwar asserted that "this estimate is modest."
This week a UN humanitarian official warned that Gaza faces "a potentially catastrophic breakdown in essential service delivery" as emergency fuel reserves neared depletion and funding for new supplies had not been secured.
"Over a decade of blockade and unresolved internal political divisions have stripped people of their rights and left over two-thirds of the population dependent on humanitarian aid," the UN's Jamie McGoldrick stated.
This article was updated following news of the death of Ahmad Abu Tuyour.
Tags