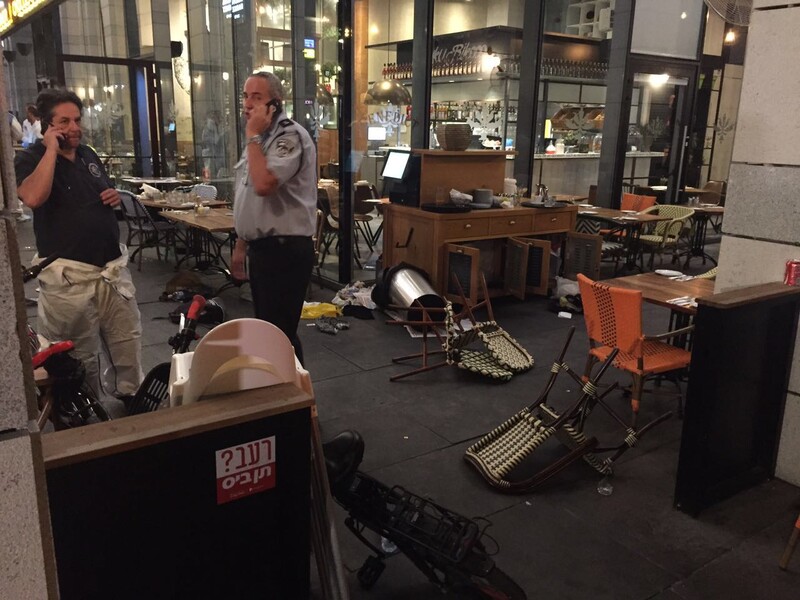 Israel imposed collective punishment measures and its leaders threatened more to come after two Palestinian men opened fire in a busy upscale Tel Aviv square Wednesday night, killing four Israelis and injuring several more.

Those killed have been identified as Ido Ben Ari, who had served in the Israeli army's elite Sayeret Matkal commando unit; Ilana Naveh, a 39-year-old mother of four; 32-year-old Mila Mishayev, who was waiting at a cafe for her fiancé when she was shot; and Michael Feige, 58, a sociologist and anthropologist considered an expert on Israel's settler movement and whose scholarship focuses on Israeli collective memory and political myth.

Oren Yiftachel, Feige's colleague at Ben-Gurion University, told the Israeli publication YNet: "An anthropologist and sociologist of Israeli society … [Feige] was a true democrat, a rarity in that regard. He had the ability to understand all sides, and that's what made him such a good anthropologist. This is a great loss to our university."

Sixteen others were wounded during the attack; three were still in hospital in moderate condition on Thursday, the Tel Aviv newspaper Haaretz reported.

The alleged Palestinian gunmen, identified as cousins Muhammad Ahmad Mukhamara and Khaled Muhammad Mukhamara from the town of Yatta near the occupied West Bank city of Hebron, were also wounded before being apprehended.

Israeli media broadcast security camera footage of the incident, showing the two alleged gunmen, dressed in suits, opening fire in a restaurant:

One of the men was shot and injured by a security guard and another was apprehended at the residence of a police officer who had inadvertently invited the man into his nearby home while he was trying to flee, at that point unarmed, according to Haaretz.

Video from the scene shows one of the alleged attackers lying on the ground after he was shot as an onlooker urges police officers to shoot at his head and execute him.

A police spokesperson told the Palestinian Ma'an News Agency that one of the alleged shooters was in critical condition and the other in mild condition and both were being treated.

The pair were reportedly armed with what are known as Carlo submachine guns, a "homemade" imitation of the Swedish-made Carl Gustav weapon. A similar weapon was used during an attack February in Jerusalem, during which an Israeli Border Police combatant and the three Palestinian suspects were slain.

Wednesday's attack took place across the street from Israel's defense ministry and military headquarters.

The far-right politician Avigdor Lieberman, who rose to prominence by advocating the expulsion and execution of Palestinians, took up the ministry's reins at the end of May.
"Fanning the flames of violence"
The Tel Aviv incident is one of the deadliest since October, when a new phase of direct confrontation between Palestinians and Israeli forces began. More than 200 Palestinians and approximately 30 Israelis, as well as two Americans, a Sudanese national and an Eritrean asylum-seeker, have been killed since then.
Nearly three-quarters of those Palestinians killed were shot dead during alleged attacks or attempted attacks at Israeli settlements and checkpoints in the West Bank. Human rights groups have condemned Israel's use of lethal force as a matter of first resort, saying it amounts to a "shoot-to-kill" policy encouraged by Israel's top leadership.
The Israeli human rights group B'Tselem condemned the Tel Aviv attack and called "once again on politicians and leaders to act responsibly and avoid fanning the flames of violence."
Ahmed Tibi and Osama Saadi, Palestinian citizens of Israel who are members of Israel's parliament, the Knesset, decried attacks on civilians and blamed the Israeli government for "ongoing incitement through acts of repression, expulsion, liquidation and expropriation," adding that "only ending the occupation will bring peace."
"My heart goes out to the families. An attack against innocent people is always reprehensible, there can be no justification for shooting civilians in the street," stated Ayman Odeh, the leader of the Joint Arab List bloc in the Knesset.
Tel Aviv mayor Ron Huldai took a similar stance, stating on Israel Army Radio, "We might be the only country in the world where another nation is under occupation without civil rights," adding, "You can't hold people in a situation of occupation and hope they'll reach the conclusion everything is alright."
Huldai called for dialogue but said that "We have to show our neighbors that we have true intentions to return to a reality of a smaller Jewish state with a clear Jewish majority" – an affirmation of Israel's Zionist state ideology that denies Palestinians their basic rights.
"Will go down in history"
Several Israeli ministers meanwhile took a much more severe tack.
Bezalel Smotrich, a lawmaker with the Jewish Home ultra-nationalist party, regretted that the alleged Palestinian attackers were not slain, and condemned praise of the shootings made on a Twitter account purportedly belonging to Ismail Haniyeh, the top Hamas leader in Gaza.
"The first stage of deterrence is that when a terrorist heads off to kill Jews he understands that he will not leave the arena alive," Smotrich said in a video posted on his Facebook page.
Smotrich called on the Israeli defense minister to carry out extrajudicial executions of Hamas leaders.
"The sand timer for their own heads is starting to count down, and such people deserve to die," Smotrich said.
Defense minister Lieberman said, "I certainly have no intentions of settling for lip service," while his deputy Eli Ben-Dahan stated that for Palestinians in Yatta, the town from which the alleged attackers hailed, life "won't carry on as usual."
Ben-Dahan has previously described the Palestinian population living under Israeli occupation as inherently inferior to Jews. "To me, they are like animals, they aren't human," Ben-Dahan said in 2013.
Israel's intelligence and energy minister Yisrael Katz said that residents of Yatta must undergo "a preventative 'root canal' treatment that will go down in history."
Collective punishment measures like those urged by Israeli leaders are war crimes under international law.
Israeli forces have already raided Yatta and closed all its entrances, preventing Palestinians from freely moving in and out of the town.
Approximately 100 high school students from Yatta were briefly detained by Israeli forces on Thursday as they tried to leave the town to attend their final exams.
Israel meanwhile froze more than 83,000 permits allowing Palestinians living in the West Bank and Gaza to enter Israel and occupied East Jerusalem to visit family and pray at al-Aqsa mosque during the month of Ramadan, which began a few days ago.
Two additional army battalions including "hundreds" of infantry and elite intelligence units are reportedly being deployed to the West Bank following the shooting attack.
Lieberman also ordered the suspension of the return of slain Palestinians' bodies to their families and has reportedly asked the attorney general "to look into the possibility of shortening the legal process to allow faster home demolitions of terrorist homes," Haaretz reported.
Such punitive demolitions of the homes of relatives of suspects are a form of collective punishment Israel uses exclusively against Palestinians.
Israel's public security minister and Prime Minister Benjamin Netanyahu have reportedly made inquiries into reestablishing a cemetery for Palestinians accused of attacking Israelis, rather than returning their bodies to their families.
For decades Israel buried Palestinians in closed and secret "cemeteries of numbers".
Praise and condemnation
The Tel Aviv attack was praised by Hamas, whose spokesperson said it pointed to the failure of Israel to eradicate Palestinian resistance, as well as by Fatah, the dominating party in the West Bank, which described it as an "individual and natural response" to the occupation.
But Mahmoud Abbas, leader of the Palestinian Authority in the West Bank, said on Thursday that his administration has "affirmed repeatedly that it rejects all operations targeting civilians from any side, no matter what the pretexts."
The attack was condemned by United Nations Secretary-General Ban Ki-moon, who added that he "is shocked that the leaders of Hamas have chosen to welcome this attack and some have chosen to celebrate it."
"Those responsible for these murders must be brought to justice. Those who praise this attack must be condemned," weighed in EU foreign policy chief Federica Mogherini.
Both the US State Department and the presumptive Democratic Party presidential nominee Hillary Clinton condemned the attack, with Clinton stating, "I stand in solidarity with the Israeli people in the face of these ongoing threats, and in unwavering support of the country's right to defend itself."
No Palestinian group has claimed responsibility for the attack, and all indications are that the Mukhamara cousins were acting independent of command from any organization.
Musa Mukhamara, the head of Yatta's town council and a distant relative of the alleged shooters, told Haaretz that the two were not members of any armed group.
"We are very surprised, and the only explanation to what happened is that the two were influenced by what has recently transpired," Mukhamara said, referring to the number of Palestinians in the Hebron area killed by Israeli forces in the past several months.
Dena Shunra contributed Hebrew translation.
Tags