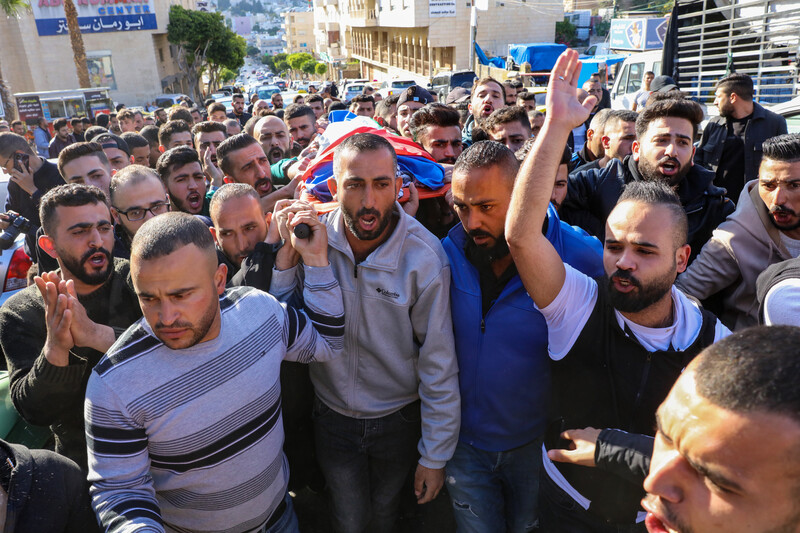 Israeli occupation forces shot and killed a teenage boy in Tuqu, a village near the West Bank city of Bethlehem, on Friday.

The previous day, a Palestinian man was shot and killed at close range in what may amount to an extrajudicial execution.

Defense for Children International-Palestine said that Mustafa Amer Ali Sabbah, 15, was shot in the heart with live ammunition on Friday afternoon. He was the 19th Palestinian child killed by Israeli forces so far this year, the rights group added.

The official Palestinian news agency WAFA said that the boy was killed during confrontations with the Israeli military.

The military attempted to justify the killing of the teen by telling Israeli media that "he had been involved in previous rioting."

Earlier on Friday, Israeli forces raided the northern West Bank city of Jenin, reportedly confiscating weapons and arresting a Palestinian accused of involvement in armed resistance.

Residents confronted the raiding soldiers, leading to the injury of two Palestinians, Al Jazeera reported.
Security forces officer killed
On Thursday, Israeli forces shot and killed Ahmad Yaqoub Taha, 39, on a road near the West Bank city of Salfit.

Video of the incident appears to show Taha getting out of a car and lunging toward an officer before falling to the ground. The video shows a soldier apparently firing at Taha several times while he was on the ground and presumably posed no immediate danger. The Times of Israel, citing the Israeli military, said that Taha drove into the opposite lane of a highway "and tried to ram his car into civilians and security forces" at a junction near the West Bank settlement of Ariel.

"The suspect then got out of his car while allegedly brandishing a knife, before being shot dead by troops," the publication added.

No Israelis were injured during the incident but a Palestinian bystander was reportedly lightly injured.

Taha was reportedly a member of the Palestinian Authority security forces.

Suleiman Taha, the slain man's brother, expressed disbelief towards Israel's claim that Taha had attempted an attack.

"This is a father of two small children, a man working in the security forces who was very committed to his work," Suleiman told the Tel Aviv daily Haaretz.

"Claims that he tried or planned to carry out an attack doesn't make sense," he added.
Uptick in violence
On Monday, Israeli forces killed two Palestinians in separate incidents.
With four Palestinians killed this week, the number of fatalities is once again on the rise after a lull towards the end of Ramadan and during the Eid holiday that follows the fasting month.
Israel was reportedly under pressure from the Biden administration in Washington to de-escalate after police were documented assaulting Ramadan worshippers at Jerusalem's al-Aqsa mosque.
Armed groups in Lebanon and Gaza fired rockets towards Israel following the assaults at al-Aqsa, stoking fears of a regional war that did not come to pass.
Additional deadly violence in the West Bank, however, appears all but guaranteed as Israel informed the family of an imprisoned Palestinian accused of killing a soldier that it intends to demolish their home in the northern West Bank city of Nablus.
A demolition order has already been imposed on the family of another Palestinian who Israel says was involved in the October shooting attack.
Punitive home demolitions are a form of collective punishment prohibited under international law.
Last year, Israel punitively sealed or destroyed 11 homes belonging to the families of Palestinians accused of attacks, according to the UN monitoring group OCHA. Hundreds more Palestinian-owned structures were razed or seized on the pretext that they were built without a permit.
Three Palestinians died from injuries sustained during a punitive home demolition raid in Kafr Dan village near Jenin in early January.
More than 100 Palestinians have been killed by Israeli police, soldiers and armed civilians since the beginning of the year, according to The Electronic Intifada's tracking.
Twenty Israelis and foreign nationals were killed by Palestinians in the same period or died from injuries sustained previously.
Tags