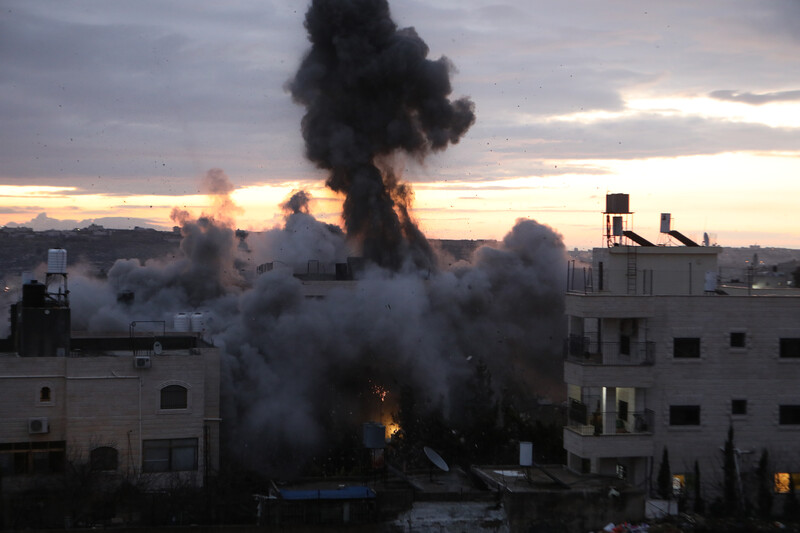 Israel's parliament passed a bill this week that will allow the state to revoke citizenship and permanent residency from and forcibly transfer Palestinians allegedly involved in "terrorist acts."
The law will impact Palestinians in Israel and occupied East Jerusalem who are convicted of offenses under Israel's 2016 "counter-terrorism law" who have received monetary benefits from the Palestinian Authority in the West Bank.
Another bill on its way to becoming law will allow Israel to deny citizenship and revoke permanent residency from family members of Palestinians accused of offenses under the "counter-terrorism" legislation.
The Tel Aviv daily Haaretz noted in an editorial that "this proposal will stipulate for the first time that collective punishment is legal."
The new law and bill will expand the means by which Israel renders Palestinians stateless based on "breach of loyalty" to the state.
In December, Israel expelled Salah Hammouri, a Jerusalem-born Palestinian human rights lawyer, to France on the pretext of "breach of loyalty" to the occupying power. Hammouri was detained without charge or trial in the months leading up to his forcible removal from his homeland.
Hammouri said upon his arrival in Paris that Israel's goal is to "empty Palestine of its citizens."
International law prohibits an occupying power from requiring the civilian population to show allegiance to it.
Adalah, a group that advocates for the rights of Palestinians in Israel, said that the newly passed law "further undermines the precarious status of Palestinians under the Israeli regime."
The rights group characterizes Israel's "counter-terrorism" law as containing "broad and vague definitions of terrorism and terrorist organizations" which may be exploited "to criminalize legitimate political action by Palestinian citizens of Israel" as well as those in the West Bank and Gaza.
"It is liable to result in serious human rights violations and to further undermine democratic principles in Israel," Adalah added.
Israel invoked the draconian law when it blacklisted several prominent Palestinian human rights groups in the West Bank in 2021 and raided and ordered shut their offices last year, generating international condemnation.
The law passed this week is yet another piece of legislation that discriminates against Palestinians.
Israel has not revoked the citizenship of Jewish Israelis involved in serious crimes.
In 1996, Israel's high court rejected a request to revoke the citizenship of Yigal Amir, who assassinated Yizhak Rabin, the prime minister, one year earlier.
Last year, that same tribunal ruled that citizenship can be revoked over offenses constituting a "breach of loyalty," even if doing so renders a person stateless.
Israel's 2008 "nationality law" defines a "breach of loyalty to the State of Israel" as committing or assisting a "terrorist act," engaging in acts that the state considers treason or espionage, or acquiring citizenship or permanent residency in Iran, Afghanistan, Libya, Sudan, Syria, Iraq, Pakistan, Yemen or the Gaza Strip.
According to Adalah, in the more than 30 cases in which the revocation of citizenship was considered since the law was enacted, none involved a Jewish Israeli citizen.
Meanwhile, since occupying the eastern sector of Jerusalem in 1967, Israel has revoked the residency of more than 14,500 Palestinians in the city as it seeks to engineer its demographics to ensure a Jewish majority.
Punitive home demolitions
Israel's interior minister is reportedly considering revoking the residency status of the father of a Palestinian man who was apparently executed by an off-duty police officer after striking Israelis with his car at a bus stop in an East Jerusalem settlement last week.
Three Israelis, including two children, were killed and several more were injured in the crash.
Israel is treating the incident as an attack. But relatives of Hussein Qaraqe, the driver, told Israeli media that he was heavily medicated and had been hospitalized after having a psychotic episode earlier in the week. They deny that his actions were politically motivated.
Israel has already sealed the Qaraqe family's home ahead of its demolition – a punitive measure approved by Israel's high court in violation of the prohibition of collective punishment under international law.
Last year, Israel punitively sealed or destroyed 11 homes belonging to the families of Palestinians accused of attacks, according to the UN monitoring group OCHA. Hundreds more Palestinian-owned structures were razed or seized on the pretext that they were built without a permit.
At least five Palestinian homes have been sealed or destroyed on punitive grounds already this year. Three Palestinians died from injuries sustained during a punitive home demolition raid in Kafr Dan village near Jenin in early January.
On Thursday, Israeli occupation forces destroyed a home belonging to the family of Muhammad Kamel al-Jabari, a Palestinian who was killed after fatally shooting an Israeli settler in Hebron last year.
Al-Jabari's wife and three children, all under the age of 18, were displaced as a result of the home demolition, which was unanimously approved by three Israeli high court judges after a legal challenge.
Israel is also expanding punitive home sealing and demolition beyond the families of Palestinians accused of fatal attacks.
The Israeli human rights group HaMoked said that the Israeli military informed the family of a 13-year-old boy who is accused of shooting and injuring two Israelis last month that it intends to seal their home in Silwan, a neighborhood in Jerusalem.
HaMoked said that rather than Israel's stated motivation of deterring future attacks, the collective punishment measures are instead aimed at "appeasing the government's extremist constituencies."
Israel likely clings to the fiction that these demolitions are meant as a "deterrent" and not as revenge because the prohibition on collective punishment and reprisals in international law is crystal clear.
To state openly that the motive is punitive would be to confess to a war crime.
United around Jewish supremacy
Adalah, the Palestinian human rights group, has previously said that the new Israeli government's coalition agreements amount to a declaration of intent to commit crimes under international law.
The government's guiding principles begin with the assertion that "the Jewish people have an exclusive and unquestionable right over all areas of the land of Israel."
Regarding the new law that allows Israel to revoke the citizenship and residency rights from Palestinians accused of "terror" offenses, Adalah said that it is "yet another measure that explicitly and exclusively targets Palestinians in pursuit of [Israel's] commitment to establish two separate legal systems based on Jewish supremacy."
Opposition party lawmakers voted in favor of the bill alongside those belonging to Israel's extreme-right coalition.
Sami Abou Shahadeh, a Palestinian lawmaker in Israel, noted the sweeping support among Zionist parties on both sides of the aisle, despite bitter disagreements over the fate of Israel's judiciary and other matters currently rocking the country.
"When it comes to racism, Jewish supremacy, apartheid and strengthening the illegal colonial occupation, they're all united," Abou Shehadeh said.
"There's no solution without dismantling the colonial occupation and apartheid," he added.
Tags