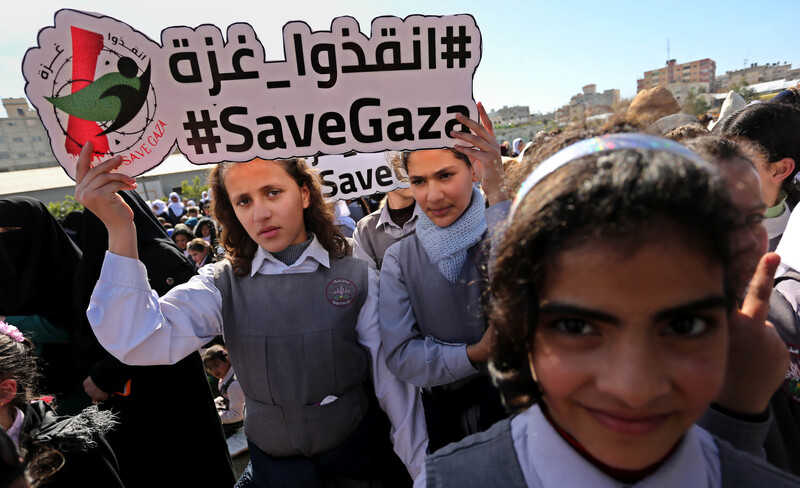 A nation ranked the eighth most powerful in the world has tightened the medieval siege it has imposed on a population of mainly refugees, half of them children, for more than a decade.
Prime Minister Benjamin Netanyahu announced on Monday that his government would close Gaza's sole commercial crossing, preventing all exports from and imports to the territory, with the exception, at Israel's discretion, of food and medicine.
Gaza fishermen, who already contend with Israeli navy fire while earning their bread, are now confined to sailing six nautical miles out to sea, rather than the nine that were permitted by Israel for the season.
The stated reason for the Israeli move is the ongoing rebellion among the two million Palestinians it has effectively imprisoned, in partnership with Egypt, in a densely populated strip of land roughly the size of Chicago.
Israel, a nuclear power outfitted with the world's most sophisticated fighter jets and weaponry, is increasingly frustrated that it has been unable to stop the flaming kites and balloons that have been launched by Palestinians in Gaza.
The low-tech balloons and kites, costing mere pennies to manufacture, have caused, Israel claims, hundreds of fires in southern Israel, burning hundreds of acres of land and incurring millions in damages.
With the balloons and kites, Palestinians in impoverished and isolated Gaza have managed to disrupt normal life on the other side of the boundary, reminding Israel that it cannot make their lives absolutely miserable and bear no consequence for it.
The tactic emerged during the Great March of Return protests now entering their fourth month. The protests are aimed at breaking the blockade imposed by Israel after Hamas won parliamentary elections in the West Bank and Gaza in 2006 and then took full control of the Strip in 2007 following an attempted US-backed putsch aimed at forcing it out of power.
Israeli control
The siege is an intensification of Israel's policy of closure on Gaza dating back to the beginning of the occupation in 1967.

Israel already has full control over and tightly restricts all goods that come in and out of Gaza, including materials used to rebuild homes and other infrastructure destroyed by its military in multiple assaults over the past decade.

Two-thirds of Gaza's population are refugees, primarily from areas in southern Israel where those fires now rage. The Great March of Return is also a demand by refugees to exercise their right to return to the lands from which their families were expelled before, during and after the establishment of the state of Israel in 1948.

Israel refuses to allow Palestinian refugees to return to their lands on the grounds that they are not Jews.

Israel's tightening of its chokehold on Gaza is a blatant act of collective punishment, a violation of article 33 of the Fourth Geneva Convention, and thus a war crime.

Israel blames Hamas for the kites and balloons, but by suspending exports and imports the state is taking aim at Gaza's economy and the whole of its population.

"They are burning grasslands and fields on a daily basis," Israeli defense minister Avigdor Lieberman complained regarding the flaming kites and balloons.

"In agreement with the defense minister, we will act with a heavy hand against the Hamas regime in the Gaza Strip," Netanyahu stated.

Yet Israel has waged war on Gaza's agricultural sector for years.
War on Gaza agriculture
According to Gaza's agriculture ministry, some 2,000 acres of pasture land have been damaged this year alone by herbicides sprayed by the Israeli military.
Israel has been spraying Gaza farmland with herbicides since 2014, destroying livelihoods and exposing people and the environment to toxins. Some 3,500 acres have been damaged by spraying during that time, according to the ministry.
"The chemicals used for spraying stay in the soil for months and even years, and may have negative health consequences for people who consume contaminated crops and/or inhale the herbicide," the International Committee of the Red Cross told the Israeli newspaper Haaretz.
Israel caused half a billion dollars of direct and indirect damage to the farming sector during its 2014 assault on Gaza by destroying infrastructure such as irrigation wells and greenhouses as well as killing livestock.
Agriculture is just one of Gaza's productive sectors that has ground to a near halt over the past decade.
Gaza now has one of the highest unemployment rates in the world. Its population is largely reliant on humanitarian aid.
The dire economic situation has had a profound effect on society with rising numbers of suicides, rising divorce rates and rising abuse of drugs.
"The situation in Gaza is like that of a dying man who they now decide to just shoot straight in the head," Dr. Maher al-Tabaa of the Palestinian Chamber of Commerce and Industry in Gaza told Haaretz.
Nearly 150 Palestinians have been killed by Israeli forces during the Great March of Return protests that began on 30 March.
Thousands more were injured by live fire, imposing an acute crisis on Gaza's chronically strained healthcare sector.
Israel has tried every means it has to stamp out the determination of Palestinians in Gaza to be free. No matter how novel its cruelty, and how powerful its military arsenal, it has never succeeded.
Great harm will be inflicted as Israel escalates its efforts to break Gaza into submission.
How much more suffering will Israel's international allies tolerate before taking meaningful action to bring it to an end?
Tags