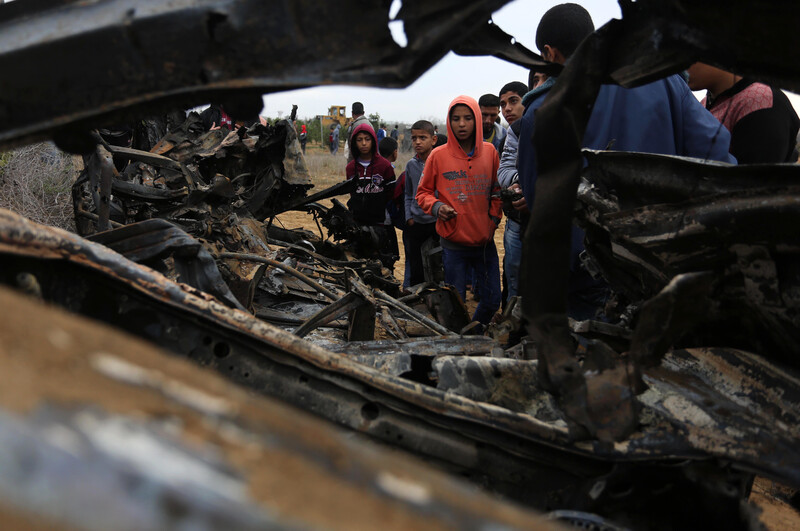 At least 10 Palestinian fighters have been killed since a busted commando operation in Gaza broke a ceasefire between Israel and resistance factions on Sunday night.

An Israeli military officer was killed and another moderately wounded in Sunday's botched operation that left a Hamas military commander and six other fighters dead:

Palestinian groups fired hundreds of rockets towards Israel Monday night – described by Israeli media as the largest ever projectile barrage from Gaza.

The Qassam Brigades, the armed wing of Hamas, stated that resistance fighters targeted a bus transporting soldiers east of Gaza with a Kornet anti-tank guided missile. A 19-year-old soldier was severely injured, according to reports.

The group said that the strike was in response to the killing of seven fighters on Sunday.

Video shows the direct strike on the bus as Israeli soldiers deployed to the outskirts of Jabaliya in northern Gaza:

Israeli official channels had earlier claimed falsely that the targeted vehicle was a "commuter bus" for civilians. A man was found dead in the rubble of a home, where a woman was also found critically injured, and a second woman was seriously injured when missiles fired from Gaza hit residential buildings in Ashkelon, according to early reports.

Video shows fire in a building that was hit:

Most of the rockets landed in open areas and others were intercepted, Israeli media reported.

Videos uploaded to social media show damage to Israeli homes struck by rockets from Gaza:

The Israeli military hit more than 70 sites in Gaza on Monday, including residential buildings and a hotel that Israel claims was used by Hamas for administrative and training purposes.

Photos show a residential building in Gaza City before it was bombed and, on the left, after it was obliterated by Israel, which claimed that it was used by Hamas' military intelligence:

Israel also targeted the headquarters of the Hamas-affiliated Al-Aqsa TV in a heavily populated area of Gaza City: The Israeli military stated on Twitter that "The Hamas propaganda department has directed attacks, instructed how to do them, and broadcasted incitement and violence for years."

The military added: "Tonight, the IDF made sure that this station won't broadcast again."

Al-Aqsa resumed broadcasting from another location shortly after the bombing briefly took it off the air.
Israel has previously targeted Al-Aqsa TV buildings and killed its personnel in Gaza. The Committee to Protect Journalists has stated that Al-Aqsa's affiliation to Hamas does not make it a legitimate military target.

The University College of Applied Sciences in Gaza City was also damaged by bombing: Three Palestinians were killed on Monday, including two members of the armed wing of the leftist Popular Front for the Liberation of Palestine. They were identified as Muhammad Zakariya al-Tatari, 27, and Muhammad Zuhdi Odeh, 22.

Hamad Muhammad Musa al-Nahhal, 23, was killed by Israeli forces east of Rafah, according to Gaza's health ministry. He was reportedly a member of the armed wing of Islamic Jihad.

The Israeli military warned Monday night that Hamas will "feel the power of the IDF's response in the coming hours."

COGAT, the bureaucratic arm of Israel's military occupation, made an oblique threat against Gaza's residents that it would use the same deadly force targeting civilian infrastructure that it used in 2014:

It deleted its threats from its English-language pages: Israel's security cabinet reportedly green-lighted an escalation of force against Gaza late Monday: The Qassam Brigades stated that resistance groups would widen the scope of their shelling in response to the targeting of homes and other civilian infrastructure.

Palestinian fighters launched a new volley of rockets towards Israel following the bombing of Al-Aqsa TV headquarters.

Abu Obeida, the pseudonymous Qassam Brigades spokesperson, said that "Ashkelon is just the beginning" and that a million Israelis would be in the range of resistance factions' missiles if the aggression on Gaza continued.

The new round of deadly violence was prompted by an apparently botched Israeli undercover raid three kilometers into Gaza Sunday evening.

Qassam commander Nour Baraka was killed during an intense exchange of fire that ensued after the discovery of the Israeli commando unit, which reportedly retreated by helicopter under the cover of airstrikes.

The Qassam Brigades claimed that Israel's air force struck a commando vehicle as a means of destroying evidence:

The resistance group published a photo of what it said was communications equipment found in the back of a vehicle used by the commandos: Video shows a burned-out vehicle and devices left behind by the commando unit: Israeli officials claimed that the military operation was "likely an intelligence-gathering mission gone wrong, rather than an assassination attempt on Baraka, as Hamas initially claimed," as reported by Times of Israel.

The Israeli military made such a denial on Twitter:

"This action – an operation that was apparently exposed – wasn't an assassination attempt," Tal Russo, former commander of the Israeli military in the Gaza region, said. "We have other ways of assassinating people and we know how to do it much more elegantly."

Israel has habitually violated ceasefires with Palestinian resistance groups in Gaza. Several Palestinians, including children, were killed in Gaza after the most recent truce between Israel and resistance factions, before Sunday's botched operation.

Israeli assassinations of Palestinian political and military figures have previously provoked major military confrontations with high Palestinian civilian casualties.
Ten years ago almost to the day, an Israeli raid on Gaza that killed six members of Hamas ended a months-long ceasefire, leading to Israel's "Operation Cast Lead" that killed more than 1,400 Palestinians.

On Monday, Nickolay Mladenov, the UN's Middle East envoy, stated on Twitter that his office was "working closely with Egypt and all concerned to ensure that Gaza steps back from the brink," obscuring the fact that it was an Israeli commando operation in Gaza that precipitated the new round of hostilities.

"The escalation in the past 24hrs is EXTREMELY dangerous and reckless," he added. "Rockets must STOP, restraint must be shown by all! No effort must be spared to reverse the spiral of violence."

Similarly, the European Union stated that the "escalation of violence" in and around Gaza was "very alarming," but failed to note that Israel began it by launching its raid into Gaza.

Before Israel broke the ceasefire on Sunday, its forces had killed 234 Palestinians in Gaza since the launch of mass protests demanding an end to the 11-year blockade on the territory more than seven months ago.

According to the Gaza-based rights group Al Mezan, 174 of those killed were fatally injured during demonstrations, "including 33 children, one woman, two journalists, three paramedics, and six persons with disability, including one child."

Nearly 12,500 Palestinians have been wounded, almost 7,000 by live fire. Israel continues to hold the bodies of 11 of those killed, including three children.
Tags