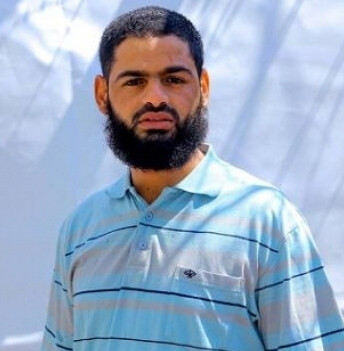 Israel's high court suspended the administrative detention order on Muhammad Allan, who maintained a hunger strike for more than two months in protest of his imprisonment without charge or trial since last November.
The Arabic-language Quds news site reported that Allan ended his strike after the court's suspension of the detention order.
The court's decision came after an MRI showed that Allan had suffered brain damage as a result of his protest. Allan had refused to take anything but water during his strike, insisting on either freedom or death.
The court ordered that Allan, a lawyer from the Nablus area of the occupied West Bank, must remain in intensive care and under observation for the time being. News reports suggested that the court may decide in coming days whether to fully lift the detention order on Allan.
"Israel's high court had said earlier that if the hunger striker's brain damage is irreversible then it is likely the administrative order will be completely revoked," Agence France-Presse reported.
Allan will be able to receive visitors at the Barzilai Medical Center in the south of present-day Israel, where he has been held for more than a week, "as a patient, rather than as a detainee, in accordance with regular hospital orders," according to the Israeli newspaper Haaretz.
The high court was petitioned to release Allan given his grave medical condition. A hearing on Monday was postponed until Wednesday so the court could review his medical files.
Allan had gained consciousness on Tuesday after falling into a coma four days earlier and immediately pledged to renew his strike.
But Allan's cognitive function deteriorated Wednesday morning, and he had become confused and his thinking incoherent, according to Haaretz.
Barzilai hospital director Hezi Levi said that it was not yet clear if the damage is reversible.
Long struggle
Allan was arrested during a dawn raid on his family's home on 6 November and was held under a six-month administrative detention order issued by a military court on the basis of secret evidence.
The prisoner began his hunger strike on 16 June after his detention order was renewed for another six months.
After he began his strike, the Israeli prison authorities transferred him among several different detention centers and eventually to the intensive care unit in Soroka hospital.
When doctors there stated their refusal to force-feed Allan, he was transferred to nearby Barzilai hospital on 10 August, where he was shackled to his bed and placed under guard.
The Israeli prison administration announced on 7 August that it intended to request a court order to force-feed Allan, but the measure was not used against him.
Allan was placed on life-support on 14 August after he lost consciousness.
Court's "complicity"
The Palestinian Prisoners Club stated on Wednesday that "We see in its decision the high court's complicity with the political and security echelon in Israel."
Israel's minister of public security, Gilad Erdan, stated on that same day that he rejected all proposals to release Allan, saying that it "would be a prize for the hunger strike he initiated and may lead to mass hunger strikes among the security detainees, after they discover a new tool with which to extort the State of Israel."
Erdan was a primary champion of the force-feeding bill passed by Israel's parliament, the Knesset, in July, and referred to the hunger strike tactic as "a new type of suicide terror attack."
Palestinians have in recent years won demands after long hunger strikes that grabbed international attention and rejuvenated solidarity with political prisoners.
Israeli extremists attacked Palestinians who had attempted to hold a vigil outside the hospital where Allan was being held on Sunday.
Video also shows them waving Israeli flags and celebrating the slaughter of Palestinian children in Gaza.
At the beginning of July, Israel was holding 5,442 Palestinians, nearly 400 of them under administrative detention. A further 1,000 Palestinians were being held for entering Israel illegally, according to statistics compiled by the Israeli rights group B'Tselem.
The United Nations political affairs chief, Jeffrey Feltman, criticized Israel's practice of administrative detention on Wednesday and called for all detainees to be promptly charged or released.
He also told the Security Council that Israel's recent moves to impose up to 20 years imprisonment for throwing stones and to force-feed prisoners worsened an "already precarious human rights situation."
Tags