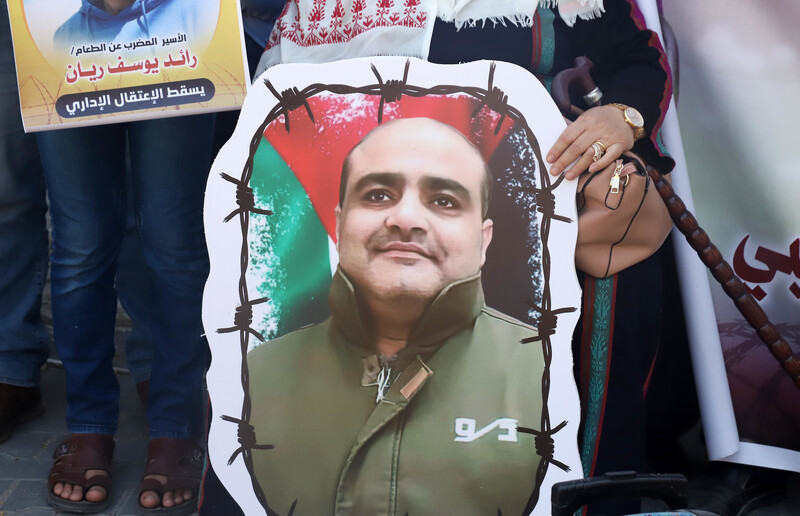 An Israeli court issued a guilty verdict against a charity worker from Gaza who has been on trial for six years over "terror" financing charges based on secret evidence and an alleged coerced confession.

The district court did not find Mohammed El Halabi guilty of "assisting the enemy," the most serious charge against him, according to his lawyer, who said that he would appeal the conviction at Israel's high court.

But in its 254-page classified ruling, the court finds El Halabi guilty of transferring millions of dollars to Hamas, the political party and resistance group that oversees Gaza's internal affairs.

The Times of Israel reported that "in a condensed version released to the press, the Beersheba District Court leaned heavily on [El Halabi's] confession to Shin Bet security agents, which he has since withdrawn."

Israel accused El Halabi of diverting funds from the international Christian charity World Vision, where he served as director of its Gaza office.

The charity has stood by El Halabi throughout his protracted trial involving more than 160 court hearings.

Multiple international audits have found no evidence that the father of five, hailed as a "humanitarian hero" by the United Nations before his arrest, diverted funds to armed groups in Gaza.
"Disappointment"
World Vision issued a statement regarding its "disappointment" over El Halabi's conviction on Wednesday.
"We have previously expressed our significant concerns about this case, as noted in our prior statements," the charity said.
"In our view there have been irregularities in the trial process and a lack of substantive, publicly available evidence," World Vision added.
"We support [El Halabi's] intent to appeal the decision, and call for a fair and transparent appeal process based on the facts of the case."
The charity said that it hoped to resume its "work helping Gaza's most vulnerable children" that has been disrupted as a result of Israel's prosecution of El Halabi.
Israel convicted El Halabi despite international outcry over his arrest and prosecution.
Upon his arrest at Erez checkpoint on the northern Gaza-Israel boundary, El Halabi was denied access to a lawyer for 50 days and held incommunicado.
The UN Office for the High Commissioner for Human Rights has "continuously raised serious concerns" in El Halabi's case over "cruel, degrading and inhuman treatment that may amount to torture."
The UN office has also stressed the "lack of fair trial guarantees, including disregard of the presumption of innocence and lack of impartiality of the court, extensive use of secret evidence and classification of court proceedings undermining the right to a defense."
Israel's only piece of evidence is an alleged confession made "seemingly under duress" that the prosecution has referred to in public hearings, while the content of this alleged confession is being kept in secret from the public, the UN office adds.
The Australian government, which provided around a quarter of World Vision's budget in Gaza between 2014 and 2016, commissioned an external audit that "found no evidence of diversion of funds and no material evidence that El Halabi was part of or working for Hamas."
Despite this, Australia suspended its funding to World Vision in Gaza, which in turn suspended its operations in the besieged territory until the conclusion of El Halabi's trial.
A former regional manager with the charity told media that the $50 million that El Halabi is alleged to have diverted "is completely incomprehensible, given that nowhere near that amount of money was committed to the programs in Gaza in the 10-year period in question."
Nevertheless, World Vision commissioned an auditing and a legal firm to review its spending, reportedly at a cost of $7 million.
The exhaustive year-long investigation turned up "no sign of any missing funds, and no evidence" that El Halabi was "working for Hamas – in fact, they reported that he consistently sought to distance the organization from them."
"Miscarriage of justice"
It would seem that international attention was not enough to ensure El Halabi anything resembling a fair trial. In the absence of any threat of consequence, Israel proceeded with what Omar Shakir, a program director with Human Rights Watch, called "a miscarriage of justice."

"Holding El Halabi for six years based largely on secret evidence has made a mockery of due process and the most basic fair trial provisions," Shakir added.

"He should long ago have been released. To continue to cruelly detain him is profoundly unjust."

During his trial, El Halabi turned down numerous plea deals, refusing to admit guilt for a crime he insists he did not commit and, in the process, tarnish the reputation of World Vision.

An Israeli judge, pressing El Halabi to accept a plea deal in 2017, told him that he has "little chance" of being found not guilty.

The Australian outlet ABC reported at the time that "sources close to El Halabi's legal team" said that "they believe the prosecution does not have the evidence to back up the explosive claims" against the aid worker.

A plea deal would have prevented Israel from having to prove its claims against El Halabi in court.

Failing to secure a plea deal, Israel instead resorted to convicting El Halabi on the basis of secret evidence. After his conviction hearing on Wednesday, El Halabi's lawyer said that the court's ruling is secret and he can only review it in the presence of intelligence officers.

Israel's manufactured case against El Halabi would anticipate the "terror group" designations it made against several prominent Palestinian human rights and social services groups based in the West Bank last year.

Israel accuses the groups of funneling funds to the Popular Front for the Liberation of Palestine.

The PFLP is a leftist political party and resistance group that, like Hamas, is proscribed by Tel Aviv as well as the US and EU because it has refused to recognize Israel and renounce armed resistance against the occupation and colonization.

EU diplomats told Israeli media last week that the secret evidence presented by Israel is not "compelling enough" to demonstrate its claims that the groups transferred funds to the PFLP.

All six targeted organizations have been working in Palestine for many years and have strong international ties.

In both the terror designations against organizations in the West Bank and the persecution of El Halabi, the aim appears to be isolating Palestinians by cutting off humanitarian aid and international funding, thus consolidating Israeli control.
Tags