Samer Issawi was greeted by family and supporters at his Jerusalem-area village today after his release from Israeli prison, where he has been held for 17 months. Issawi was released as part of an agreement with the Israeli prison authorities reached in April after Issawi refused food for 266 days.
Issawi had rejected attempts by Israel to have him deported as part of a release deal, according to the human rights group Addameer.
First arrested by the Israeli military in 2002 during its large-scale invasion of the West Bank dubbed "Operation Defensive Shield," Issawi was sentenced to thirty years in prison on charges of possession of weapons and involvement in armed resistance in Jerusalem.
He was one of hundreds of Palestinian prisoners released in late 2011 in exchange for an Israeli soldier held captive in Gaza. However, Issawi was arrested just a few months later after visiting Kufr Aqab, a nearby village within the municipal boundaries of Jerusalem; Israel claims that he violated the 2011 release deal by leaving the city.
According to Addameer, Issawi faced twenty years' imprisonment by an Israeli military court which requested that he complete his previous sentence on the grounds of secret information not accessible to him or his lawyer. Issawi was also sentenced in a Jerusalem court to eight months' imprisonment.
Issawi's father told The Electronic Intifada contributor Maath Musleh shortly after his son's second arrest:
"What is Jerusalem for the Israelis?" wondered Tareq [Issawi]. "Whenever it suits them, they change their definition of Jerusalem! Kufr Aqab is within the jurisdiction of the municipality of Jerusalem. Do they consider it Jerusalem or West Bank?"
Protests
Samer Issawi began refusing food shortly after his second arrest in a protest that would last 266 days.
Since fall 2001, Palestinians in Israeli prisons have launched individual and mass hunger strikes to protest indefinite detention without charge or trial, denial of family visits and other basic rights.
Demonstrations in support of Issawi's hunger strike were held throughout Palestine and a protest tent in Issawiyeh, Issawi's village, was destroyed by Israeli forces more than 20 times, Maath Musleh reported for The Electronic Intifada earlier this year.
Issawiyeh has been the site of frequent demonstrations and raids aimed to crush the protest movement in the village, which has had its land recently confiscated for an Israeli "national park" and waste dump.
Issawi's family members were also subjected to punishment, including the arrest of his sister Shireen.
The Bethlehem-based Ma'an News Agency reported today that in recent days Israeli forces had raided Issawi's family home and summoned his father and brother for interrogation by intelligence agents, and banned the family from holding celebrations upon Issawi's release.
Issawi's brother Fadi was killed by Israeli forces in 1994 and another brother, Medhat, has spent 19 years in Israeli detention, while his sister Shireen "was detained for the duration of 2010," according to Addameer.
The photography collective ActiveStills reported that 2,000 supporters were in Issawiyeh today to greet Samer Issawi upon his long-awaited return.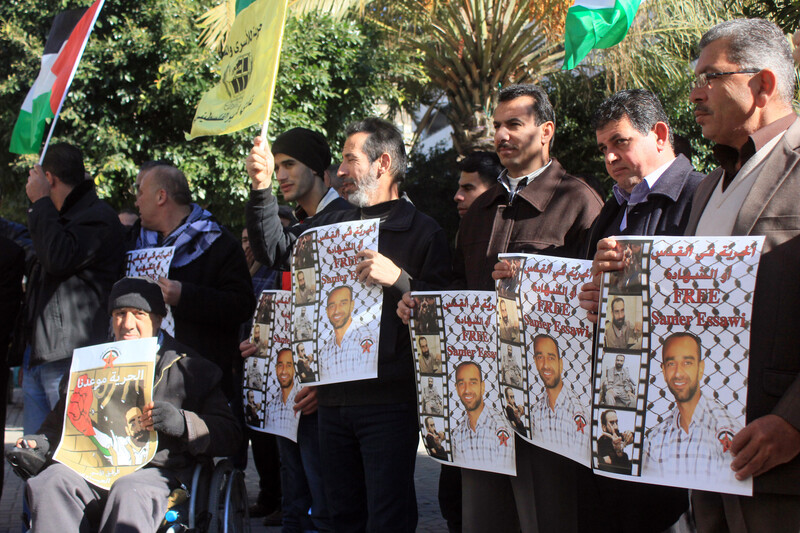 Issawi's supporters also gathered in Gaza:
However, the ongoing electricity crisis in Gaza meant that some of Issawi's supporters there couldn't follow live coverage of his homecoming:
Tags