Palestinian human rights groups are pressing the UN General Assembly to urgently adopt a resolution calling for a ceasefire in Gaza and to consider revoking Israel's seat at the world body.
The UN General Assembly is holding an emergency session on Thursday ahead of a vote the next day on a draft resolution from Arab states calling for a ceasefire as the death toll mounts in Gaza.
More than 7,000 Palestinians have been killed in Gaza since 7 October, including more than 2,900 children, Gaza's health ministry said on Thursday.
Fewer than 100 trucks carrying humanitarian aid have entered Gaza since Saturday, far less than what entered the territory on a daily basis before 7 October and nowhere near what is needed amid a worsening humanitarian catastrophe.
UNRWA, the largest humanitarian agency in Gaza, said on Wednesday that its fuel stocks needed to maintain operations "are almost completely exhausted, forcing life-saving services to come to a halt."
Al-Haq, Al Mezan and the Palestinian Center for Human Rights called on the General Assembly to "adopt sanctions against Israel," saying that member states have an obligation to prevent genocide.
World powers have so far failed to establish even a temporary lull in hostilities to deliver urgently needed aid while Israel maintains a complete siege on Gaza.
Egyptian sources told Reuters that increasing aid will be linked "to Hamas' willingness to free hostages" – an admission that Palestinians in Gaza are being deprived of life essentials as a form of collective punishment.
On Wednesday, the UK charity Oxfam said that starvation was being "used as a weapon of war" against Palestinians in Gaza.
Also on Wednesday, China and Russia vetoed a draft resolution put forward by the US on Saturday after it vetoed a draft resolution from Brazil last week.
"The initial US text shocked many diplomats with its bluntness in stating Israel has a right to defend itself and demanding Iran stop exporting arms to militant groups," Reuters reported on Thursday.
"It did not include a call for humanitarian pauses for aid access. But it largely toned down the final text that was put to the vote."
The draft resolution from the US was apparently yet another attempt by Washington to buy Israel more time for its campaign of revenge and extermination in Gaza and to undermine efforts towards deescalation.
Meanwhile, John Kirby, a White House national security council spokesperson, said on Tuesday that a ceasefire "really only benefits Hamas."
China's ambassador to the UN, Zhang Jun, told the Security Council after Wednesday's vote that "the draft does not reflect the world's strongest calls for a ceasefire, an end to the fighting, and it does not help resolve the issue."
Russia accused the US of "putting up a draft resolution that represented Security Council authorization of a ground offensive in Gaza by Israel 'while thousands of Palestinian children will continue to die,'" according to Reuters.
A Russian draft that called for a humanitarian ceasefire and a withdrawal of Israel's evacuation order affecting the northern half of Gaza did not secure enough votes.
A high-level delegation of Hamas leaders met with Russia's foreign minister in Moscow on Thursday to discuss "means of stopping Zionist crimes supported by the United States and the West in Gaza," the Islamist resistance group said.
Meanwhile, an editorial in China Daily, that country's most widely distributed English-language newspaper, said that the US was the "real obstacle" to a ceasefire.
The editorial added that the draft vetoed by Russia and China at the Security Council was "tantamount to paving the way for large-scale military actions and giving the green light to further escalation of the conflict."
US reportedly delaying ground invasion
The US and other states are reportedly urging Israel to delay a ground invasion into Gaza.
The Wall Street Journal reported that Israel agreed to a delay "until US air defense systems can be placed in the region, as early as later this week," according to Reuters.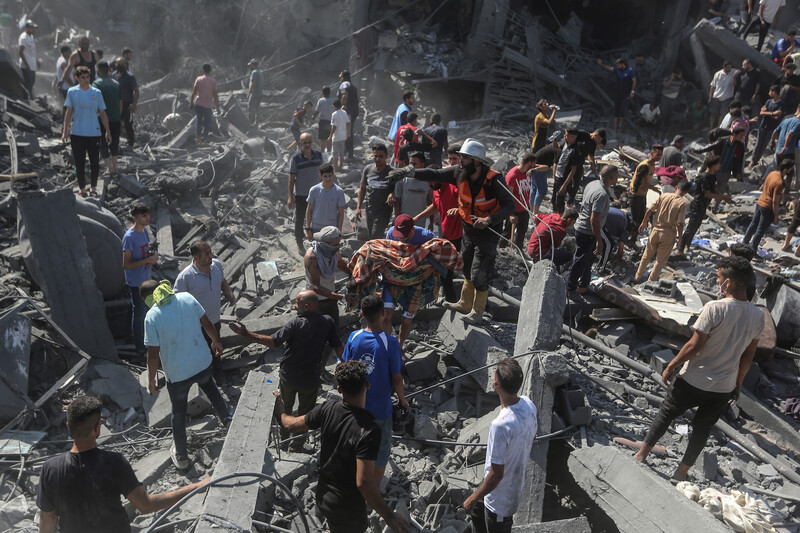 US President Joe Biden spoke with Israeli Prime Minister Benjamin Netanyahu on the phone on Wednesday to discuss efforts to secure the release of Americans being held captive in Gaza, the White House said. They also reportedly discussed allowing foreign passport holders to leave Gaza.

Twelve American citizens are among the more than 200 captives taken to Gaza on 7 October, according to Israeli authorities.

More than half of the captives "have foreign passports from 25 different countries, including 54 Thai nationals," Reuters reported, citing the Israeli government.

On Thursday, the Qassam Brigades, the armed wing of Hamas, said that the number of captives killed in Israeli strikes had risen to 50.

Qassam has released four captives – an American mother and daughter and two older Israeli women – and has repeatedly declared its intention to release the other civilians it is holding when conditions on the ground allow.

On Thursday, the Palestinian health ministry in Gaza published a list of everyone who has been killed in Israel's military campaign in Gaza. The list includes the names, ages and ID numbers of the dead.

On Wednesday, Biden cast doubts on the casualty figures from the ministry, with Kirby doubling down on the president's comments the following day.

"I'm sure innocents have been killed, and it's the price of waging a war," Biden said. "I have no confidence in the number that the Palestinians are using."

Biden's comments were widely repudiated as a form of genocide complacency as one Palestinian family after another is exterminated by Israel with weapons provided by the US.

Figures from Gaza's health ministry "are generally proven to be reliable," Omar Shakir, a program director with Human Rights Watch, told The Washington Post on Tuesday. Israel has meanwhile prevented foreign correspondents from entering Gaza and has killed more than 20 journalists in the territory.

The acutely dangerous situation in Gaza has prevented fieldworkers with Palestinian human rights organizations from conducting preliminary investigations as they have done during previous Israeli military campaigns.

The Euro-Med Human Rights Monitor said that Biden's "skepticism sets a dangerous precedent, potentially emboldening Israel to intensify its extreme violence and perpetuate an intentional information blackout."

The State Department, meanwhile, canceled a press briefing shortly after the family of a prominent Al Jazeera correspondent was killed in an Israeli airstrike in Gaza yesterday.
US "direct role"
The US appears to be "playing a direct role in Israeli decision-making," Mouin Rabbani states in an analysis published by the human rights watchdog DAWN on Wednesday.
The main task of US forces deployed around Israel, according to Rabbani, is to ensure that the Israeli military "does not launch a ground offensive in Gaza unless and until it has a strategy and objectives that Washington believes are attainable."
Last week, Biden asked Congress to pass a massive weapons package for Israel and Ukraine.
The White House said that it anticipates some of the supplementary $3.5 billion that it is requesting Congress to approve will be used "to address potential needs of Gazans fleeing to neighboring countries."
The document that the Biden administration sent to Congress adds that "this crisis could well result in displacement across border [sic] and higher regional humanitarian needs, and funding may be used to meet evolving programming requirements outside of Gaza."
Lara Friedman, president of the Foundation for Middle East Peace, said that it was "hard to see how this is anything other than the Biden [administration] giving a green light to an outcome that will amount to direct ethnic cleansing."
Josh Ruebner, who teaches at Georgetown University and is an expert on US-Israeli relations, said that "the US is about to fund the second Nakba," referring to the 1948 ethnic cleansing of Palestine.
The US has pushed for humanitarian corridors for Palestinians fleeing Gaza to Egypt.
Egyptian President Abdulfattah al-Sisi and Jordan's King Abdullah have jointly said that they would not accept the forced displacement of Palestinians in Gaza and the West Bank to their countries as sought by Israeli leaders who seek to maximize the amount of Arab land under its control with as few Arabs as possible.
Tags