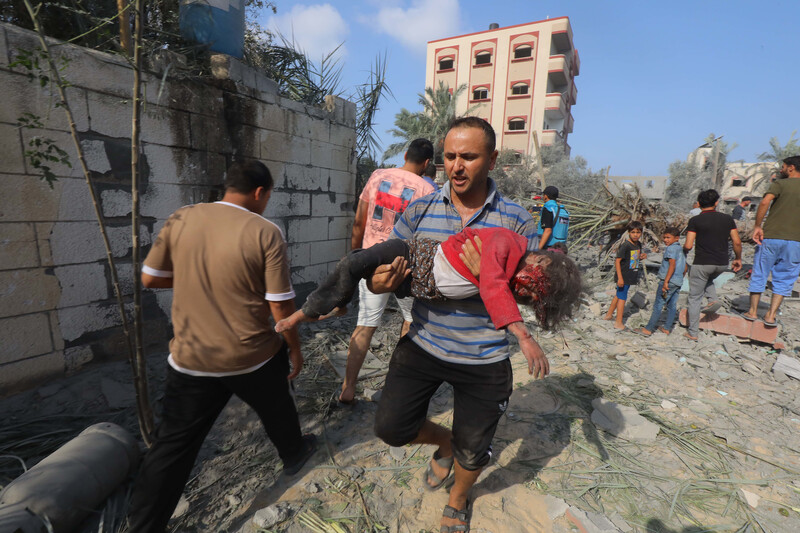 Three prominent Palestinian human rights groups are demanding that the UN Security Council immediately call for a ceasefire in Gaza and pressure Israel to end the deliberate, targeted attacks on civilians that have killed thousands of Palestinians over the past two weeks.

The groups – Al-Haq, Al Mezan and the Palestinian Center for Human Rights – say that the Security Council's failure to call for a ceasefire "has greenlit ongoing atrocities," including the massacre at Gaza City's al-Ahli hospital on Tuesday.

That no such call from the world body has been made "has not only been shocking for us and the broader Palestinian civil society but has also constituted a missed opportunity to halt the accelerating loss of civilian life."

Last Wednesday, the US vetoed a draft resolution introduced by Brazil calling for humanitarian pauses to deliver urgently needed aid to Gaza.

A new draft resolution circulated by the US mission to the UN "notably does not include [a] call for ceasefire, cessation of hostilities, or even humanitarian pauses," Al Jazeera journalist Rami Ayari reported on Saturday.

The draft resolution instead focuses on condemning the 7 October attack led by Hamas and "Israel's inherent right of individual or collective self-defense." The text "demands the immediate and unconditional release" of all of the more than 200 captives held by Hamas.

Gaza is not mentioned until paragraph 9 of the draft resolution, where it calls for "the continuous, sufficient and unhindered provisions of essential goods and services to civilians in Gaza."

The resolution proposed by the US meanwhile focuses on strengthening sanctions on Hamas and calling on Iran to cease its support of what it calls "armed militias and terrorist groups threatening peace and security across the region."

Instead of addressing the root causes for the century-long conflict in Palestine, or calling for accountability, the US draft stresses "mutual recognition" and a two-state solution – in other words, more of the same failed policies.

It is inconceivable that the US draft would pass the Security Council.

But draft resolution appears yet another attempt by the US to undermine efforts to de-escalate and buy Israel more time for its campaign of revenge and extermination in Gaza.
"Unimaginable magnitude of severity"
Meanwhile, Israel continues to kill Palestinians in Gaza, bringing down their homes on their heads, with no restraint from its powerful friends.

The Palestinian human rights groups state that Israel's complete siege on Gaza and statements made by Israeli leaders demonstrate that "Israel is deliberately inflicting on the Palestinian people conditions of life calculated to bring about its physical destruction in whole or in part" – an act of genocide.

"With civilian infrastructure under constant attack and hospitals running out of electricity," the Palestinian groups say, "the humanitarian crisis in the Gaza Strip has reached an unimaginable magnitude of severity."

The groups are also demanding that the Security Council pressure Israel to allow the transfer of life essentials to Gaza and for third states and international bodies to "take concrete steps to ensure the revocation of the Israeli decision to cut off water, electricity and food in Gaza."

Additionally, the groups call on the Security Council to demand that Israel immediately and unconditionally allow for the evacuation patients from Gaza for medical treatment and that it lift the siege imposed on Gaza since 2007 and end its "illegal occupation as a continuing act of aggression since 1967."

The Palestinian groups also demand that the Security Council take action to hold Israel to "its responsibility in protecting civilians in the occupied West Bank, including Jerusalem, and to stop the complicity of the Israeli military in settlers' terror against Palestinian people."

They also call on the Security Council to "acknowledge the root causes underpinning the ongoing Israeli military aggression": Israel's apartheid regime in service of settler colonialism and the denial of the Palestinian people's right to self-determination, including the right to return of Palestinian refugees.

The groups say that decades of Israeli impunity have "culminated in this week of horrific violence, war crimes and incitement to genocide."

Al-Haq, Al Mezan and the Palestinian Center for Human Rights are also calling for urgent international intervention to protect Palestinians in the northern half of Gaza.

On 13 October, Israel ordered more than one million Palestinians in the north of Gaza, including Gaza City, to evacuate to the southern and central districts of Gaza.

Since then, the groups say, "Israel has continued to relentlessly carpet-bomb the entire Gaza Strip by air, land and sea, including the southern districts, where most Palestinians have sought shelter."

"Nowhere is safe in Gaza," they say – an irrefutable fact demonstrated by reports of new massacres each day throughout the territory, and footage and testimony from the ground.

The Palestinian groups say that "Israel's 'evacuation order' was indeed intended to forcibly displace hundreds of thousands of Palestinians and bring them closer to the border with Egypt."

It is a longstanding Zionist aspiration to expel indigenous Palestinians from the Gaza Strip to Egypt's Sinai as part of Israel's wider goal of occupying as much Arab land as possible, with as few Arabs as possible.

Comments made by Secretary of State Antony Blinken during his emergency tour of the region last week indicate that the US would go along with that plan if it weren't for the total opposition of its other regional allies Cairo and Amman.

The latter understands that if there was a mass expulsion of Palestinians from Gaza to Egypt, a forced exodus of Palestinians from the West Bank and possibly Israel itself to Jordan would surely follow.

On Saturday, Israeli warplanes dropped leaflets on Gaza's northern areas warning residents that remaining in those locations "puts your lives at risk."

"Those who choose not to evacuate … could potentially be identified as accomplices in a terrorist organization," the leaflet states.

Tens of thousands of Palestinians remain in the northern half of Gaza and are "either unwilling or unable to evacuate."

These include "the wounded and sick, medical personnel, humanitarian workers, people with disabilities, the elderly, children and women, including women in an advanced stage of pregnancy," according to the Palestinian human rights groups.

Several medical facilities in Gaza – including al-Shifa, the largest hospital in the territory, and al-Quds hospital, which Israel threatened to bomb on Friday – have said they are unable to evacuate and that their staff will "continue to treat thousands of wounded."

"Many Palestinians who evacuated south have also returned to northern Gaza," the rights groups add, "citing the incessant Israeli attacks in southern Gaza and the lack of adequate shelter and facilities as the main reasons behind their decision."

Al-Haq said that Israel's warning to Palestinians in the northern half of Gaza and "its explicit indication that it may consider the remaining civilians … to be military targets should be considered a dire red flag."

International law requires the distinction between the civilian population and combatants at all times.

"Under international humanitarian law, civilians must be protected whether they move or stay," the UN stated in relation to the warning leaflets on Sunday.
Urgent need for fuel
A coalition of dozens of Palestinian organizations have called on third states and international bodies to ensure that humanitarian aid and relief be delivered across Gaza, including the north and Gaza City.

"This must be done by adhering to the humanitarian principles of neutrality, independence, impartiality and humanity," the coalition said.

The handful of trucks that entered Gaza via Egypt on Saturday and Sunday are "insufficient to satisfy the most urgent needs" of civilians in Gaza.

The aid deliveries on Saturday did not reach people in the northern areas of Gaza. Nor did the deliveries on Saturday and Sunday include fuel needed to keep power generators running at Gaza hospitals, where patients' lives are in imminent danger if fuel is not urgently delivered.

"Ambulances and civil defense crews cannot move without fuel," the three Palestinian human rights groups said. "Households also need fuel to be supplied with water."

UNRWA, the UN agency for Palestine refugees, said on Sunday that its fuel supply will run out in three days.

"Without fuel, there will be no water, no functioning hospitals and bakeries," UNRWA head Philippe Lazzarini said. "Without fuel, aid will not reach those in desperate need. Without fuel, there will be no humanitarian assistance."

The Washington Post reported that the exclusion of fuel from the delivery of aid on Saturday – the first delivery to Gaza in two weeks – "was an apparent concession to Israel."

UN agencies must adhere "to humanitarian principles of neutrality, independence, impartiality and humanity" and must not condone or abet Israel's forcible transfer by distributing aid only in the southern areas of Gaza, the Palestinian rights groups said. The director of the Indonesian Hospital in northern Gaza made an urgent plea for medical supplies, medicine and fuel late Sunday, Al Jazeera reported.

The Palestine Red Crescent Society meanwhile reiterated its appeal for international action to prevent the bombing of al-Quds hospital in Gaza City, which Israel threatened to do again late Sunday.

The Red Crescent also said that it received 15 trucks "loaded with medical aid, food and water" from its Egyptian counterpart on Sunday evening.

These shipments did not contain fuel and remain a drop in the ocean of Gaza's needs.

Gaza's health ministry reiterated on Sunday that the delay in the transfer of fuel to Gaza would bring a health and humanitarian disaster.

It said that 1,100 patients who require kidney dialysis, 38 of them children, face an imminent threat to their life.

The ministry issued an urgent appeal to gas station owners in Gaza and to anyone else who had a supply of fuel to bring it to the territory's hospitals immediately to help keep generators running.
Nearly 1,900 children killed in Gaza
As of 2 pm local time, Gaza's health ministry reported more than 4,650 Palestinians, including 1,873 children, killed in the territory, and some 14,000 injured.

"Given the unretrieved bodies still trapped under the rubble, we have reason to believe that this figure will further drastically rise in the next few days," Palestinian human rights groups said on Sunday.

More than 250 Palestinians, including 117 children, were killed in the past 24 hours, the health ministry said on Sunday evening. Ashraf al-Qedra, the health ministry spokesperson, said on Sunday that the ministry has recorded 574 massacres in Gaza since 7 October, and that 40 percent of the fatalities recorded were children. Al-Qedra added that 1,450 people remain under the rubble, including 800 children.

Al-Qedra said that medical teams have observed severe burns on the bodies of the wounded and killed that it says indicate the use of unusual weapons by the Israeli military.

He said that 54 healthcare workers in Gaza have been killed since 7 October and 90 others injured.

Ten hospitals in Gaza are now out of service.
UNRWA said on Sunday that 29 of its staff in Gaza have been killed since 7 October, though it didn't say who killed them. UNRWA said that half of them were teachers.
Twelve people sheltering at its facilities have been killed, UNRWA said. More than 400,000 people are sheltering at 91 UNRWA installations in the southern half of Gaza.
Nearly 160,000 people were sheltering at UNRWA facilities in the northern half as of 12 October, when Israel ordered the evacuation of those areas.
"UNRWA is not able to assist those persons at this time and does not have information on their needs and conditions," the agency said on Sunday.
At least 91 Palestinians, including 27 children, have been killed by Israeli occupation forces and settlers in the West Bank since 7 October, according to the UN.
An Israeli soldier was killed near the boundary with Gaza, both the Qassam Brigades, the armed wing of Hamas, and Israeli media reports said on Sunday.
"Overall, about 1,400 Israelis and foreign nationals have been killed in Israel, according to the Israeli authorities, the vast majority on 7 October," according to the UN.
Israeli authorities say that at least 212 people are being held captive in Gaza after they were taken near the Gaza boundary on 7 October.
"Israeli media reported that, as of 22 October, the names of 767 of these fatalities have been released. Of those whose ages have been provided, 27 are children."
Roshdi Sarraj, a journalist and co-founder of Ain Media, died in an Israeli airstrike in Gaza on Sunday, bringing to 19 the number of journalists confirmed killed in Gaza since 7 October, according to the Committee to Protect Journalists.
Huda al-Sousi, a contributor to The Electronic Intifada, was reported by friends and family to be among the thousands of lives lost in Gaza.
The lives taken by Israel in Gaza continue to be reported and remembered on social media:
Tags