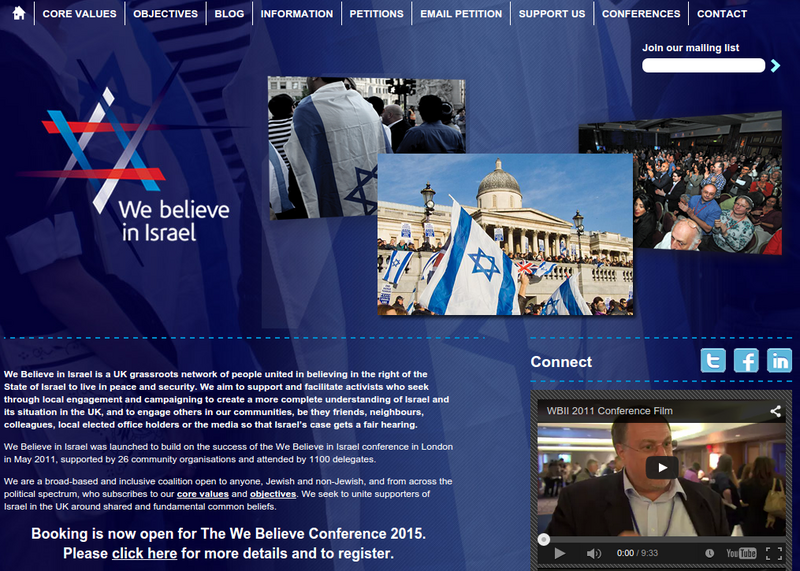 Organizers of a major pro-Israel conference taking place in London this weekend have been vetting the political views of those registered to attend.
I know since, as a researcher examining the pro-Israel lobby in the UK, I signed up to attend, making no attempt to conceal my identity.
But those behind the 22 March "We Believe in Israel" conference, staged by a body of the same name which declares itself the "grassroots" arm of the UK's major pro-Israel lobby group BICOM (the Britain Israel Communications and Research Centre), wrote to me to say my "application" to attend had not been accepted.
Conversely, organizations with links to the transnational Islamophobia industry appear to have been welcomed with open arms.
Persona non grata
According to its self-description, the event (expected to attract up to 1,500 people) will be "broad-based and inclusive" and "open to anyone, Jewish and non-Jewish, and from across the political spectrum, who supports the right of the State of Israel to live in peace and security."
But I appear to have been designated persona non grata because I believe that peace and security need to be sought by investing in justice, not hasbara (propaganda), and will only be achieved when the Israeli state ceases to trample over Palestinians' human, political and civil rights.
The refusal letter I received cited my "work on Spinwatch, in particular your report against BICOM." This was a reference to a 2013 report I co-authored with colleagues from UK-based lobbying transparency and research group Spinwatch titled "Giving Peace a Chance?"
That study was indeed highly critical of BICOM. It concluded that its activities serve only to "encourage a skewed perception of the conflict amongst elites" by maintaining the façade that Israel is struggling to make peace while simultaneously "insulating them from pressure to support Palestinian rights" (in line with the desires of its main funder, billionaire Poju Zabludowicz).
It was fairly pointless to ban me. Merely browsing the seminar topics is enough to confirm that this conference is seeking to achieve the same thing but on a wider scale. This suggests renewed efforts by BICOM in the battle for public opinion which, as Asa Winstanley reported for The Electronic Intifada in 2013, the organization had previously neglected in favor of shoring up an elite consensus in support of Israel.
MP and former education minister Michael Gove, a prominent neoconservative in the British government, will be a keynote speaker this weekend.
Defending the status quo
There are three out of almost eighty scheduled sessions which appear to allow some room for moral conscience. One is called "The Elephant in the room: what do we not talk about when we talk about Israel?" Another is entitled "Is Israel building a shared society?" A third is on "Israel's use of force in armed conflict" — notably framed in terms of "your views" and "Jewish values" rather than international law.
There is abundant evidence of Israel's repression, censorship, discrimination and the routine massacres inflicted on Palestinians (especially in Gaza). But regardless of that, at a conference called "We Believe In Israel," it is a foregone conclusion these sessions will determine that, while Israel is "not perfect," ultimately its decades of flouting international law should be overlooked.
At the last conference in 2011, such issues were succinctly shut down with the line "every country has dilemmas" (time code 4:35 in the video below).
Rather than genuinely engaging in efforts to further peace, justice and human rights, the overriding emphasis is of course on propaganda strategies to defend the status quo.
The vast majority of the sessions focus on public relations ("Defending Israel to different audiences;" "Shaping the perspectives of pre-university students;" "Powerful persuasion through emotional engagement;" "Speak up in public for Israel" and "Defending Israel: words to use, words to lose") or influencing decision makers ("Effective lobbying;" "Impact on your local council's decision making;" "How to lobby your MEP;" "Writing skills for Israel advocates" and the list goes on).
Other sessions like "Strategies for combating the assault on Israel's legitimacy" leave room for more repressive tactics. For example, "Should we use the law to fight boycotts?" will be run by Jonathan Turner of UK Lawyers for Israel, a group which has been working in conjunction with the Zionist Federation and StandWithUs to repress the boycott, divestment and sanctions (BDS) movement on UK university campuses by issuing legal threats.
Nationalists and Islamophobes
It is perhaps not surprising that an organisation engaged in defending Israel's ongoing dispossession and oppression of the Palestinians would want to ban critics from its events. But it does suggest that BICOM has something to hide. In a program dominated by right-wingers and featuring a number of groups with strong links to the transnational Islamophobia industry, there's a lot to choose from.
Could it be that BICOM knows that the vaguely progressive veneer provided by the participation of liberal Zionist group Yachad wears off when juxtaposed next to the European Coalition for Israel? The latter group defines the occupied West Bank and Gaza Strip as merely "disputed."
Or is BICOM conscious that its embrace of the hard-right UK Independence Party (whose "Friends of Israel" group will run a session alongside Conservative, Liberal Democrat and Labour equivalents) rather undermines the supposedly "progressive case" for Israel that will be made at another of the conference's sessions?
Perhaps the close involvement of the Israeli embassy (listed as a key conference partner) and, it seems, the Israeli government (which has representatives on the anti-BDS Fair Play Campaign Group session and elsewhere) makes too much of a mockery of the "grassroots" claim of the conference.
Does BICOM realize that the presence of Harif makes the Community Security Trust's session on the so-called "new anti-Semitism" look, to say the least, inconsistent? Harif has on several occasions hosted Bat Ye'or, the ideologue behind the Islamophobic "Eurabia" conspiracy theory.
Is BICOM embarrassed by the fact that another participating organisation, the US-based Middle East Forum (MEF) has provided financial support via its Legal Project to prominent European Islamophobes like Dutch anti-Islam politician Geert Wilders and Peder Jensen aka "Fjordman," the blogger who most inspired Norway's far-right mass-murderer Anders Breivik?
Or is BICOM afraid to appear hypocritical, given the conference session on how the Palestinian Authority supposedly incites hate? Both MEF and the Henry Jackson Society, a British neocon think tank also on the programme, receive money from the Abstraction Fund, run by the "sugar mama of anti-Muslim hate" Nina Rosenwald.
Asking the wrong questions
BICOM is clearly mimicking the "big tent Zionism" (and secrecy) of previous UK pro-Israel events which have responded to the suggestions of the influential 2010 Reut Institute report "Building a political firewall against Israel's delegitimization."
Mild criticism is to be allowed, indeed encouraged, on the understanding that it has PR advantages and will never be more than a talking shop or create real change.
But anyone who seeks to address the roots causes of Israel's oppression of the Palestinians is to be marginalized. Questioning or challenging Israel's entrenched system of ethnic privilege is to be recast as "delegitimization."
A session run by Michael Dickson of StandWithUs will ask "what's right and wrong with Israel's Public Relations?" In answer to his question, what's wrong with it is the basic premise that people in Britain should engage with the human suffering in the Middle East by acting as PR agents for the highly militarized rogue state that causes much of this suffering, rather than actually trying to contribute towards a just and peaceful political solution.
Judging from the list of participants running sessions at this conference, the only thing "right" about Israel's public relations is the overwhelmingly right-wing politics of most of those involved.
Tags