Israel's high court froze the administrative detention of Muhammad al-Qiq on Thursday afternoon, citing his critical medical condition.
Al-Qiq, a 33-year-old journalist, has been on hunger strike for 72 days protesting his detention without charge or trial.
But al-Qiq rejected the court's decision, saying he viewed it as an attempt to undermine his resistance to "the immoral and inhumane administrative detention."
Amany Dayif, the director of prisoner affairs at Physicians for Human Rights-Israel, told The Electronic Intifada that the court ruling did not end al-Qiq's administrative detention. "He's in between: he's not free but he's not entirely in administrative detention either."
Administrative detention is a practice in which Israel imprisons people, almost always Palestinians, without charge or trial and it is renewable indefinitely. There are currently 660 Palestinians in administrative detention.
The high court ordered al-Qiq to remain in the Israeli hospital for observation and treatment. In a separate ruling on Thursday, the high court ruled to allow al-Qiq's shackles to be removed.
But al-Qiq said he will continue his strike until "martyrdom or freedom." Al-Qiq has refused all medical treatment and nourishment during his strike.
The Quds news outlet published this photo on its Instagram account showing al-Qiq, bearded and thin, in his hospital bed: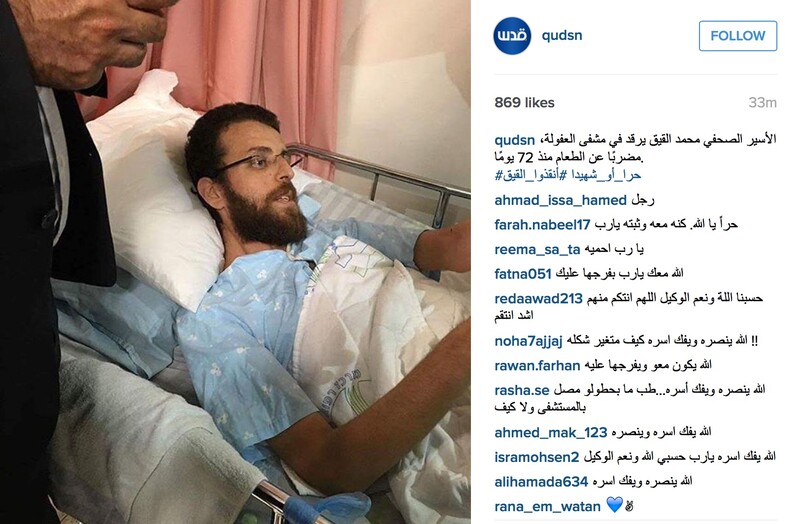 "Bad decision"
Thursday's ruling mirrors that taken in the case of hunger striker Muhammad Allan.
Last year, Israel's high court froze Allan's administrative detention after tests showed that he had suffered brain damage as a result of his more than two-month long protest.
Less is known about al-Qiq's condition as he has refused all examinations.
Qadura Fares, the head of the Palestinian Prisoner's Society, told Ma'an News Agency that the ruling was a "bad decision," adding that he doubted al-Qiq would accept it.
But Fares hoped that al-Qiq would use the ruling as an opportunity to accept medical treatment until further negotiations.
Mahmoud Mahamid, a doctor with Physicians for Human Rights-Israel, visited al-Qiq on Thursday morning before the court ruling.
Mahamid reported that al-Qiq reiterated his refusal to be examined or treated until he was released from administrative detention.
Mahamid also reported that hospital's ethics committee had decided to treat al-Qiq against his will but the hospital staff had refused to treat him by force.
"I am very concerned by his condition but encouraged by the refusal of the medical team to force treat him," Mahamid said in an emailed statement from his organization.
The ethics committee decision to treat al-Qiq against his will on Thursday reversed its decision the previous day not to forcibly treat al-Qiq in accordance with medical ethics.
Several international declarations, including the World Medical Association's Tokyo Declaration, forbid physicians from taking part in torture and other cruel, inhuman or degrading procedures against detained persons, including providing nourishment against the person's will.
Another Palestinian prisoner on hunger strike was transferred to HaEmek hospital in the northern city of Afula on Thursday due to his deteriorating condition.
Kayed Fawzi Yousef Abu al-Rish, 46, has been on hunger strike for 20 days protesting his administrative detention.
Tags