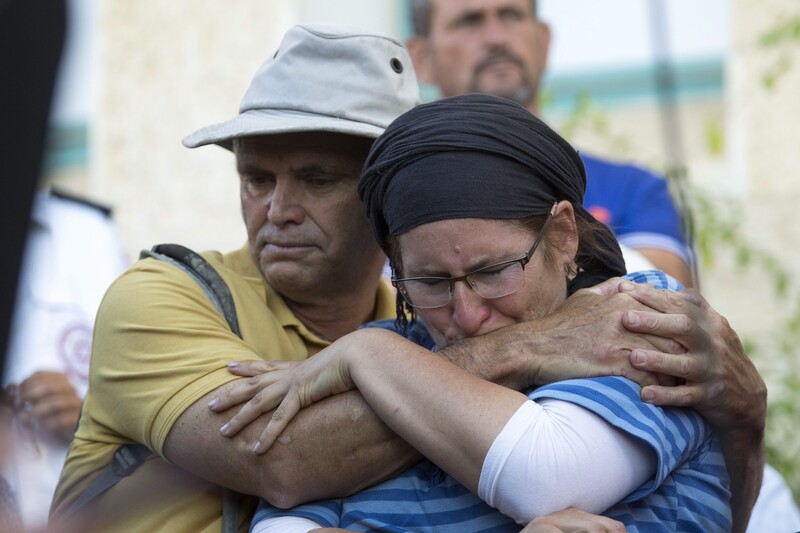 On Thursday morning, a 19-year-old Palestinian youth stabbed to death a 13-year-old Israeli girl who was sleeping in her home in a West Bank settlement.
In a separate incident on Thursday, two people were injured in a stabbing in the north of present-day Israel.
Both assailants were shot dead.
Hallel Yaffa Ariel, 13, was asleep in her home in Kiryat Arba, a settlement in the southern occupied West Bank, when 19-year-old Muhammad Tarayra jumped the settlement's fence and broke into her home, stabbing her more than a dozen times.
The New York Times reported that Tarayra then locked himself in the girl's house for some time while settlers, including the girl's father, tried to track down who had breached the fence.
When they forced their way into her home, Tarayra stabbed one of the settlers before being shot dead.
Hallel was rushed to a hospital, where she died a short time later. The State Department has confirmed the girl was a US citizen.
Vows of revenge
In response to the killing, the Israeli army began implementing what have become habitual measures of collective punishment, including sealing off Tarayra's home village, Bani Naim, indefinitely.
Israeli Prime Minister Benjamin Netanyahu also announced that he would revoke the work permits of Tarayra's relatives and demolish his family's home.
"The horrifying murder of a young girl in her bed underscores the bloodlust and inhumanity of the incitement-driven terrorists that we are facing," Netanyahu said in a statement.
Such revenge demolitions are only used against Palestinians, never against the families of Israeli Jews who perpetrate acts of violence.
Collective punishment is a war crime under international law.
Uri Ariel, Israel's agriculture minister who has in the past called for building a Jewish temple in place of Jerusalem's al-Aqsa mosque, blamed Palestinian Authority leader Mahmoud Abbas for inciting violence.
Despite such routine accusations from Israeli leaders, the Israeli army continues to cooperate closely with Abbas' PA security forces to control the Palestinian population under occupation.
"Our vengeance is [continuing] to build on this land," Ariel, who is Hallel's relative, warned in a video interview with The New York Times.
Ariel told Israeli media that "There will be Israeli sovereignty from the Jordan River to the Mediterranean Sea," meaning that Israel would never end its occupation of the West Bank.
"We have to employ very tough deterrence measures, such as expulsion of families, ending monetary aid, seizing money," he said. "By doing this, and by carrying out a fitting Zionist response by construction and planting, we will bring about more quiet in the region."
All of Israel's settlements in the occupied West Bank are illegal under international law. The Rome Statute defines settlement and population transfer by an occupying power as one of the crimes that falls under the remit of the International Criminal Court.
Settlement construction, maintenance and doing business in them are activities that "dispossess and harshly discriminate against Palestinians," according to Human Rights Watch.
Speaking at a graduation ceremony for the Israeli air force on Thursday, Israeli President Reuven Rivlin echoed Ariel.
"We will uproot the terrorists and those who dispatch them," Rivlin vowed. "We will insist on continuing to build our lives here, without terror, with the continuing commitment to cement our national home, and strengthen Israel."
Far-right Israeli lawmakers, Naftali Bennett and Yehuda Glick, spoke at Hallel's funeral on Thursday.
Malachi Levinger, the head of the council for the Kiryat Arba settlement, one of the most militant colonies in the West Bank, promised to build more homes.
In contrast to such vows for even harsher treatment of Palestinians, Tel Aviv mayor Ron Huldai made a rare admission, after a shooting attack by two Palestinians killed four people in his city earlier this month, that endless military occupation was at the root of ongoing violence.
Cousin killed
Following the killing of Hallel Ariel, Israeli forces raided Tarayra's home and arrested his father.
In a video interview, Tarayra's mother told The New York Times her son's cousin Yousif was killed by Israeli forces three months ago.
When Israeli forces raided their family home, they confiscated pictures of Yousif. Muhammad Tarayra has reportedly been grief-stricken over his cousin's death.
Yousif Walid Tarayra, 18, was killed in March during an attack near Kiyrat Arba that left four soldiers lightly injured.
"I didn't know my son could be courageous enough to go inside [a settlement] and do an operation," Muhammad Tarayra's mother told The New York Times in a video report.
Media have looked to Tarayra's Facebook posts for clues as to what motivated his attack.
He recently praised 18-year-old Majd al-Khudour, who was killed after ramming her car into a bus stop near Kiryat Arba a week ago.
Last Friday, Israeli forces opened fire at the teenage driver after she crashed her car near the entrance of Kiryat Arba. Some witnesses believed it could have been an accident.
Video of the incident shows al-Khudour's red car speeding across several lanes of traffic and charging into people waiting for the bus.
Her slaying came shortly after Israeli forces fired on a car full of teenagers returning home from a night of swimming and celebrating Ramadan, killing 15-year-old Mahmoud Badran.
The Israeli army later admitted it had made a mistake.
Netanya
Later on Thursday, two Israelis were injured in a stabbing in Netanya, reportedly carried out by 46-year-old Wael Abu Saleh, from the West Bank city Tulkarm.
Abu Saleh was shot dead by a civilian, Haaretz reported. A man and woman were treated for their wounds.
Over the past nine months, 33 Israelis, two Americans and more than 210 Palestinians have been killed in ongoing violence.
Tags