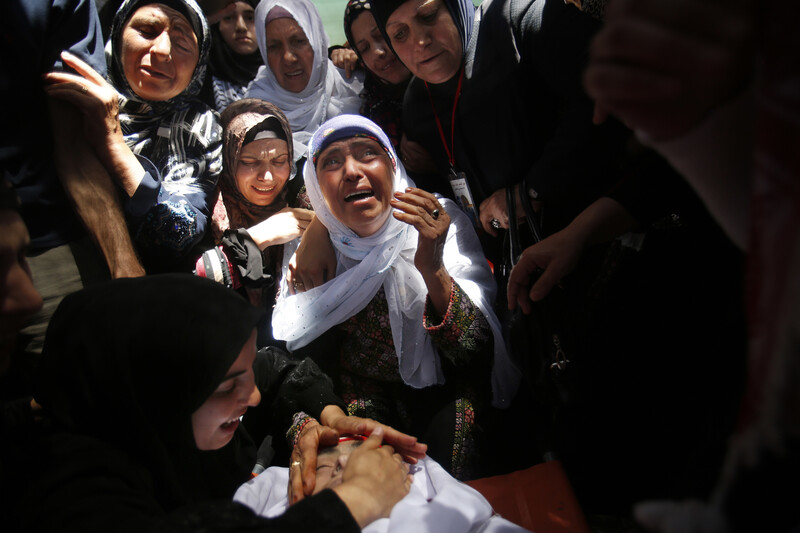 Israeli soldiers opened fired on a car of young Palestinians returning from a late-night pool party celebrating Ramadan, killing 15-year-old Mahmoud Badran and injuring four others.
The army has admitted the Palestinians were bystanders, saying they were "mistakenly hit" while soldiers were responding to reports that Palestinians were throwing rocks and firebombs on a highway that runs between Israeli settlements in the occupied West Bank and the town of Modi'in.
But the mayor of Beit Ur al-Tahta, Mahmoud's home village, said the boys' vehicle was not attacked when it was on Highway 443, but on a smaller road that isn't used by Israeli drivers.
The highway was built on land expropriated from Palestinians in the occupied West Bank but is reserved for Israelis.
Mahmoud's father told the Tel Aviv newspaper Haaretz that the car his son was in was driving on an underpass beneath Highway 443 when it was fired on.
"As they approached the passage, a car stood on the bridge, next to a man with a gun who opened fire on the vehicle," the elder Badran said.
"As far as I could understand, some of the passengers jumped out of the vehicle and some remained inside, and were hit, including my son who was very seriously wounded and died a short time later."
The Palestinian news website Quds tweeted these photos of Mahmoud.
A total of seven people were in the vehicle when it was fired on. Three of the injured passengers were taken to a Palestinian hospital in Ramallah and another to an Israeli hospital.
The Palestinian Red Crescent Society said that soldiers prevented paramedics from attending to the injured Palestinians for over 90 minutes.
The Palestinian health ministry reported that the three teens treated at the Palestinian hospital had bullet wounds in the head and chest.
Israeli soldiers detained the other two passengers, according to their father.
The Israeli army has opened an investigation into the shooting, but such investigations have been criticized for habitually whitewashing incidents in which Palestinians are killed or injured.
According to the Israeli army, an Israeli and two tourists were injured at 1am on Tuesday after a firebomb and rocks were thrown onto Highway 443. A group of soldiers arrived at the scene and reportedly chased after a stone thrower. That is when they shot at Mahmoud Badran's car.
The Palestinian Authority has called the shooting a "coldblooded assassination."
"The most loveable person"
In a separate incident, a 22-year-old man with Down syndrome died Sunday evening from wounds sustained when Israeli forces raided his hometown of Sair in the occupied West Bank over a month ago.
Arif Jaradat was shot in the abdomen on 4 May when Israeli forces raided his village.
He is the 14th Palestinian from Sair to be killed by Israeli forces since last October.
Jaradat's father, Sharif, told Agence France-Presse that his son went outside when he heard villagers confronting soldiers.
"He got about 10 meters from the soldiers and put his hands in the air," Sharif Jaradat said.
He added that his other sons were there and shouted to the soldiers in English and Hebrew not to shoot.
"There were seven soldiers there; they started to leave but one came back and fired," Jaradat said.
Arif Jaradat was treated at al-Ahli hospital in Hebron, where he died on Sunday.
On Monday, Jaradat's family held a funeral attended by dozens of relatives and neighbors.
"He was the most loveable [person] in the village," his father told AFP.
Beaten by mob
On Saturday night, a mob of bystanders in Tel Aviv beat an unconscious man they believed to be a Palestinian who had intentionally crashed his car into a restaurant.
The man, who later died, reportedly had a heart attack at the wheel, causing him to lose control of his car and crash into the crowded restaurant.
In addition to the driver, who was in his 50s, two customers were killed and six were injured in the accident.
According to reports, customers pulled the unconscious driver from his car and immediately began beating him.
Tags