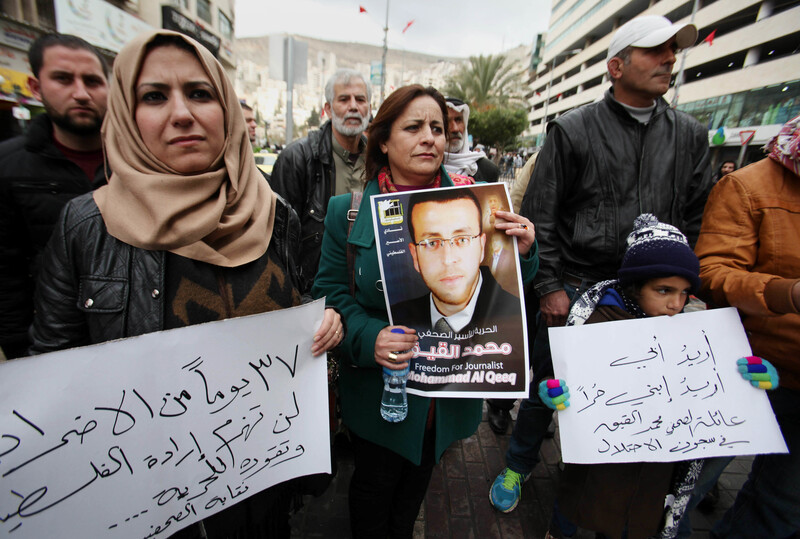 Israel is preparing to force-feed a hunger striking prisoner, the Palestinian Authority warned on Tuesday.
Muhammad al-Qiq, 33, who has been on hunger strike since 24 November, would be the first prisoner to be force-fed since the practice was legalized by Israel's parliament, the Knesset, last July.
Issa Qaraqe, the Palestinian Authority head of prisoners' affairs, said that Israel was forming a medical team consisting of three doctors, a psychiatrist and a social worker who will inject fluids into al-Qiq intravenously.
Al-Qiq, who works for the Saudi television channel Al Majd, was arrested on 21 November 2015 and has been held without charge or trial under administrative detention on the basis of secret evidence.
The journalist, from the village of Dura near the occupied West Bank city of Hebron, was moved to hospital in Afula, a city in the north of present-day Israel, after he lost nearly 50 pounds and could no longer walk.
Previously he had been held in isolation at the Ramle prison clinic.
His wife Fayha Shalash told reporters that al-Qiq is now vomiting blood.
Qaraqe said that al-Qiq slipped into a temporary coma over the weekend.
Hunger strikers
Another hunger striker reported to be in critical condition, Abdullah Abu Jaber, is being held in the Ramle prison clinic.
Abu Jaber, a Jordanian national, was sentenced to 20 years in prison in 2000 for allegedly detonating a bomb on a bus in Tel Aviv.
Abu Jaber demands that Israel transfer him to a Jordanian prison for the remaining years of his sentence. Abu Jaber suspended his strike for three days at the end of December, but reinstated his protest when Israel reneged on its promises to meet his demands, his lawyer told reporters.
Qaraqe said that Israel has also threatened to force-feed Abu Jaber.
Abu Jaber is one of two dozen Jordanian nationals being held in Israeli prisons, according to Fedaa, a group supporting Jordanian prisoners in Israel.
Palestinian prisoner Kifah Hattab was also on a hunger strike that lasted 50 days, demanding that he be treated as a prisoner of war. Hattab, who is serving two life sentences, reportedly ended his strike on Tuesday after reaching an agreement with Israeli authorities.
Force-feeding
In August of last year, Israel made moves to force-feed Muhammad Allan, who nearly died after his two-month hunger strike in protest of his detention without charge or trial. But doctors said they would refuse to carry out the controversial procedure on Allan.
In a letter to Israeli Prime Minister Benjamin Netanyahu last summer, the World Medical Association denounced force-feeding as "degrading, inhumane treatment, amounting to torture."
The Israel Medical Association also denounced the practice, and said that physicians who carried it out would be liable for prosecution abroad.
Gilad Erdan, the Israeli minister who pushed for the force-feeding law, referred to the hunger strike tactic as "a new type of suicide terror attack."
Several high-profile hunger strikes have been undertaken by Palestinian prisoners in recent years, many of them protesting being held without charge or trial under administrative detention orders issued by a military court.
In 2012, in the midst of a mass hunger strike with several demands, including the end of administrative detention, Israel's public security minister at the time, Yitzhak Aharonovich, admitted the practice was overused.
At the time, approximately 300 Palestinians were being held under administrative detention.
That number has soared to 660 in the last three months.
Israel is holding approximately 6,800 Palestinian political prisoners, according to the rights group Addameer.
Tags