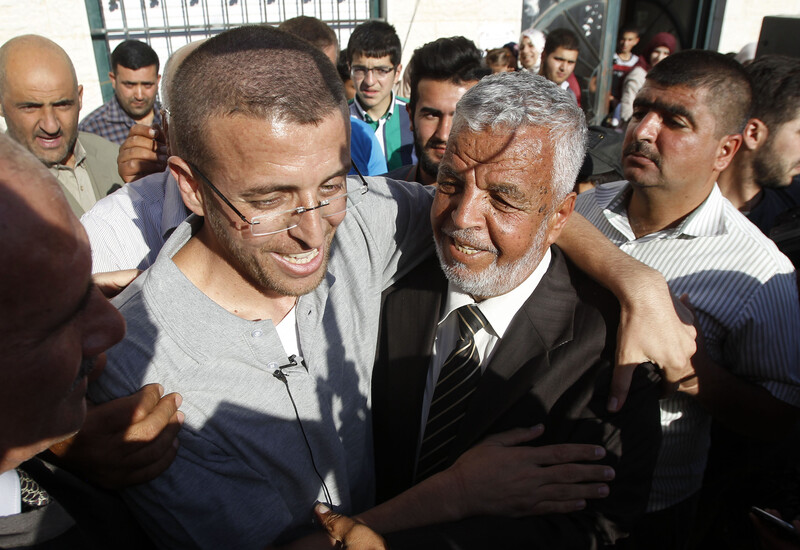 Israel once again arrested Palestinian journalist Muhammad al-Qiq on Sunday.
Al-Qiq, 34, came close to death last year, as he waged a 94-day hunger strike in protest of his detention without charge or trial. He ended his strike in February last year after reaching an agreement with Israel that his administrative detention order would not be renewed. He was released in May after completing five of the six months he was ordered held.
Administrative detention orders, indefinitely renewable, can be up to six months long.
On Sunday night, al-Qiq, along with relatives of Palestinians slain by Israel, was reportedly on his way home from a protest in the occupied West Bank city of Bethlehem when his party was stopped at a checkpoint near Ramallah and detained. The group was released an hour later, except for al-Qiq, who was arrested.
A spokesperson with Israel's domestic spy agency the Shin Bet told media that al-Qiq was arrested "on the basis of suspicions of involvement in incitement to terrorism against Israel and renewed activity with Hamas."
Al-Qiq's wife told Palestinian media that he immediately began a hunger strike upon his arrest.
The Shin Bet told The Jerusalem Post that al-Qiq's arrest "was a part of a major effort to undermine Hamas' military infrastructure in the Ramallah area."
Nearly two dozen Palestinians were arrested that same night, six of whom were said to be Hamas members, including Ahmad Mubarak, a member of the Palestinian Legislative Council, and writer Walid al-Houdali, the Ma'an News Agency reported.
Before his arrest, al-Qiq had participated in a protest calling on Israel to return the bodies of slain Palestinians.
Israeli forces fired tear gas, sound bombs and rubber-coated steel bullets at the protesters, who marched alongside Israel's concrete wall that encircles Bethlehem while carrying Palestinian flags and mock coffins.
As of Tuesday, al-Qiq had not been issued any charge or administrative detention order.
Tags