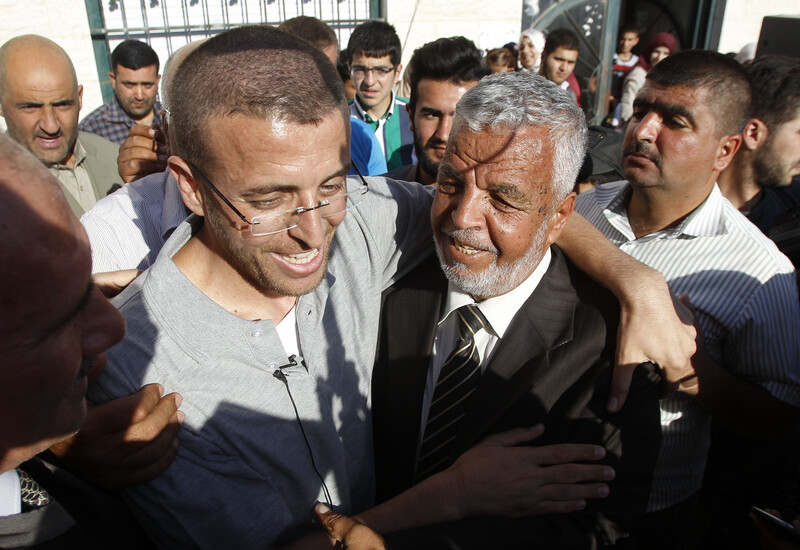 An Israeli checkpoint near the occupied West Bank city of Hebron was the unlikely scene of celebration on Thursday as Muhammad al-Qiq, the 34-year-old Palestinian journalist who nearly lost his life while on hunger strike, was welcomed home by his family and supporters.
"Today is a day of victory for the Palestinian people," al-Qiq said as he greeted well-wishers. He added that his battle was part of a broader struggle, praising the steadfastness and will to resist of Palestinians in the West Bank and Gaza Strip.
Al-Qiq said that his hunger strike "opens the door to other administrative detainees" who might follow his path, "until we end the nightmare of administrative detention."
Al-Qiq was released by Israel after being held without charge or trial – a practice known as administrative detention – since his arrest at his home in the West Bank city of Ramallah last November.
Days after his arrest, al-Qiq launched his protest, demanding his release. He ended his 94-day hunger strike in late February after Israel agreed to release him one month before the expiration of his six-month detention order.
Administrative detention orders are issued by Israeli military courts based on secret evidence withheld from prisoners and their lawyers, and are indefinitely renewable.
Human rights groups Amnesty International and B'Tselem called Israel's detention of al-Qiq unlawful and demanded his release.
Verge of death
Al-Qiq was on the verge of death in the days before a deal to end his strike was reached. He rejected salts and supplements and refused medical treatment during his protest.
Even when his lawyers feared his death was imminent, Israel denied visits by al-Qiq's wife, Fayha Shalash, and their two young children.
Shalash, also a journalist, released a video message thanking her husband's supporters shortly before his release.
"We don't love death, we don't love hunger, we love life and life with dignity," Shalash says in the video.
Shalash emphasizes the media's role in bringing international attention to her husband's case.
"Muhammad's strike was never individual," Shalash says, noting the support al-Qiq received from across the Arab world, especially North Africa.
"Muhammad's victory was for all Palestinians, and all Palestinian journalists," Shalash adds.
Israel is currently holding more than a dozen Palestinian journalists.
Israel has leveled accusations of incitement at journalists and writers who were arrested after new phrase of increased direct confrontation between Palestinians and occupation forces began last October. More than 200 Palestinians and 30 Israelis were killed before the deadly violence ebbed earlier this year.
"I was arrested for expressing my opinions, for practicing my job as a journalist, and for defending human rights, and particularly the rights of journalists," Omar Nazzal wrote from Israeli prison earlier this month on the occasion of World Press Freedom Day.
"My arrest is a clear attack not just against the freedom of the press, but also against union organizing and the freedom to work in general. It is an attack against the entire Palestinian Journalists' Syndicate."
Nazzal, a member of the general secretariat of the Palestinian Journalists' Syndicate, was arrested by Israeli forces in March at the crossing between the West Bank and Jordan as he was about to travel to Bosnia to attend a conference of the European Federation of Journalists.
Hunger striker to face charges
On Thursday the Palestinian Prisoners Club stated that Israel intends to charge Sami Janazreh, a 43-year-old father of three from Fawwar refugee camp near Hebron, with incitement.
Janazreh has been on hunger strike since 3 March to protest his detention without charge or trial.
Of the several Palestinians who have undertaken lengthy, high-profile hunger strikes in the past few years in protest of administrative detention, Janazreh will be the first to be formally charged, according to Amjad al-Najjar of the Palestinian Prisoners Club.
Janazreh refused a visit from the Red Cross on day 60 of his strike because Israel would not unshackle his hands and feet from his bed in Soroka hospital in the south of present-day Israel, where he is currently being held.
Israel unshackled one of his hands and one of his feet after he refused to take water for four days to protest the use of the restraints.
The Israeli prison authorities have moved Janazreh among different facilities 14 times since he began his strike, putting him in isolation in an attempt to pressure him to end his protest, and refused to transfer him to a hospital until he reached the 50-day mark.
Children in administrative detention
Israel is currently holding approximately 750 Palestinians in administrative detention, according to the human rights group Addameer.
Those being held without charge or trial include eight children.
The youngest administrative detainee is Hamza Hammad, a 16-year-old from Silwad village near Ramallah.
Hammad was arrested during a late-night raid on his home, during which Israeli soldiers pointed their guns at his family.
Hammad was beaten by intelligence agents and prison guards, his mother reported to Addameer.
"Targeting children and holding them under administrative detention gravely affects the lives of these children, their education and intellectual development," Addameer stated.
Tags