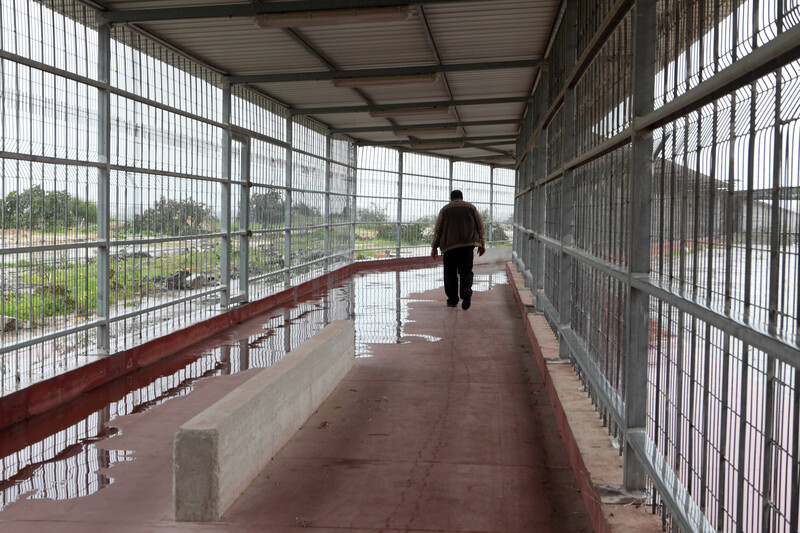 Israel systematically denies human rights workers entry to the occupied Gaza Strip, according to a new report by Human Rights Watch.
The group says the travel ban, which has been enforced for almost a decade, has significantly impeded the work of international, Palestinian and Israeli human rights groups, which document violations by the Israeli military and Palestinian armed groups.
The Israeli government told Human Rights Watch that the travel restriction is imposed for security reasons. It regularly informs applicants for travel permits that the Israeli government is only obliged to allow passage in "exceptional humanitarian circumstances."
Since Israel withdrew its military and settlements from Gaza in 2005, it has maintained that it no longer occupies the territory and is therefore not subject to the law of occupation which requires it to allow travel.
But this position has been rejected by the United Nations, the International Committee of the Red Cross, the United States and the European Union, which all maintain that Gaza remains occupied because Israel still exercises "effective control" over the territory despite the redeployment of its forces to the perimeter.
On Twitter, Emmanuel Nahshon, the spokesperson for Israel's foreign ministry, responded to Human Rights Watch's report by tweeting, "Given the number of terrorists employed by intl orgs, that's right policy!!"
Hampering investigations
In February, on advice of the foreign ministry, Israel's interior ministry refused to grant Human Rights Watch's new Palestine director Omar Shakir a work permit, saying the organization produces "Palestinian propaganda."

Israel's military bureaucracy that runs the occupation, known by the acronym COGAT, denied any blanket ban on human rights workers, claiming it does coordinate the passage of rights groups, listing Doctors without Borders as an example.

But Human Rights Watch says the travel restrictions cast further doubt on the credibility of Israel's internal investigations of alleged crimes, a mechanism which Israel hopes will stave off international legal accountability.

The International Criminal Court must determine whether Israel carries out credible investigations that satisfy the court's standards before opening a formal investigation into possible war crimes.

While claiming that it carries out thorough investigations, Israel says its relies on information provided to it by the very human rights groups it heavily restricts.

The reports states: "These restrictions hamper what is, by the Israeli government's own acknowledgement, a significant source of information and evidence about potential [international humanitarian law] violations, raising questions not just about the capability of the Israeli authorities to investigate potential violations of the laws of war but also their willingness to do so."

Human Rights Watch, which has been granted access to Gaza only one time since 2008, recommends that the International Criminal Court immediately open a formal investigation into the situation in Palestine.

The court opened its preliminary examination in January 2015, which could take years to complete.
Humanitarian aid, not human rights
The refusal to let human rights workers in and out of Gaza is part of Israel's comprehensive blockade on all movement in and out of the small territory that is home to two million Palestinians.
These restrictions have been reinforced by Egypt, which has kept the Rafah crossing mostly closed since July 2013, when Egyptian president Muhammed Morsi was deposed in a military coup.
In 2012, Israel said its so-called "separation policy" is meant to prevent the transfer of a "human terrorist network" from Gaza to the West Bank, where Israeli settlers live.
However, there are notable exceptions.
Israel allows hundreds or merchants, some medical patients and employees with humanitarian aid organizations to leave Gaza.
It also gives travel privileges to employees of humanitarian aid or UN organizations, but never to those who work for human rights groups.
Israel has defended this policy in court by explaining that humanitarian groups help Israel fulfill its commitment "not to harm the humanitarian minimum that residents of the Strip need – including giving travel permits in appropriate humanitarian circumstances."
Impeding work
Palestinian human rights groups say the travel ban isolates them and weakens their work.
Jaber Wishah, deputy director of the Palestinian Center for Human Rights, says the limitations can be costly, both financially and in terms of getting their work international exposure.
Staff at PCHR and Al-Mezan Center for Human Rights are consistently denied permission to leave Gaza to attend trainings, workshops and conferences with colleagues in present-day Israel and the occupied West Bank.
Amnesty International has not been granted access to Gaza since June 2012. Human Rights Watch was granted access for the first time since 2008 in September 2016 on a one-time, exceptional basis to advocate for Israelis detained by Palestinian groups in Gaza.
Though these international groups hire local Gaza researchers to collect evidence, they were unable to hire an independent weapons expert to fully assess evidence following Israel's 2014 assault on Gaza.
Israel began limiting the movement of Palestinians in Gaza in the mid-1990s, but implemented dramatic restrictions in 2007, when Hamas took control inside Gaza after the group won the 2006 Palestinian elections.
In 2016, the average number of crossings from Gaza to Israel or the occupied West Bank was about 12,000 a month. That compares with half a million crossings in September 2000, the eve of the second intifada, the Palestinian uprising against Israel's military occupation – a drop of about 98 percent.
Tags