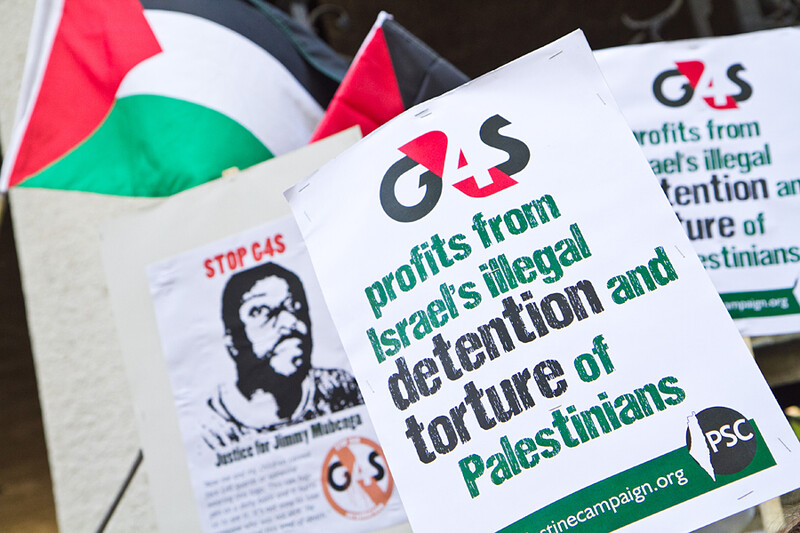 One of the UK's biggest unions on Friday called for controversial security firm G4S to pull out of Israel. The British-Danish security giant has been a major target for activists because of its involvement with several Israeli prisons.
Dave Prentis, general secretary of UNISON, wrote to G4S arguing:
I understand that your activities in Israel and the occupied Palestinian territories only account for approximately one percent of G4S profits.

However, I believe that the reputational risks that these activities pose for your company are far greater [than profit] and I would urge you withdraw now from doing business in Israel and the occupied Palestinian territories.
In the press release announcing Prentis' letter to G4S's chief executive Ashley Almanza, UNISON listed the giant firm's complicity.
It provides security for Ketziot and Megiddo prisons in Israel, to which Palestinians are transferred in breach of the Geneva convention's stipulation not to detail prisoners outside an occupied territory. It runs the central command room at Ofer prison in the occupied West Bank, and runs security systems at Kishon and Jerusalem detention centers, where there is evidence that Palestinians are tortured.
1.3 million workers
UNISON is the UK's second-largest trade union, with a listed membership of 1.3 million. It represents mostly public sector workers, such as in the health care, social services, local government and voluntary sectors. Two-thirds of UNISON members are women, says their website.
Like all the major British unions, UNISON has fairly strong policies of support for boycott, divestment and sanctions against Israel.
The Palestine Solidarity Campaign welcomed the news in a press release. Their chairman Hugh Lanning said:
G4S must be under no doubt that servicing Israel's violations of the fourth Geneva Convention is not only wrong but deeply unpopular. Shareholders raised their opposition to G4S' activities with Israel at the AGM. The Palestine Solidarity Campaign, together with other groups committed to peace, justice and human rights, have been protesting against G4S' servicing of Israeli prisons and detention centers. Other major trade unions have also made representations to G4S.
The campaign's Sarah Colborne said today that other unions had made similar calls to G4S in private: "we are aware that there are are important representations being made behind the scenes by other unions too."
"A union publicizing this is very significant. It's a ground-breaking move: I'm not aware of this happening before within British trade unions," she told me on the phone.
"G4S is head over heals complicit in grave breaches of the Geneva convention," said Greg Dropkin, a UNISON member active in Palestine solidarity campaigning. "They are in it up to their eyeballs," he told me on the phone, welcoming Prentis' letter.
As I reported last month, UNISON is the same union being sued by Israeli Lt. Colonel (res.) Moty Cristal. Cristal went to a London court last month seeking tens of thousands of pounds in damages from the union and the National Health Service for what he claims is "indirect discrimination." A workshop of his was cancelled in 2012 when union members objected to the presence of an Israeli soldier.
"Pervasive racism" in G4S
As a huge global corporation with more than 620,000 employees, Palestine solidarity activists are not the only campaigners critical of G4S.
In October 2010, 46-year-old Angolan Jimmy Mubenga was killed after G4S guards used "unreasonable force" to pin him down during deportation.
Last year the Crown Prosecution Service concluded there was "insufficient evidence to bring any charges for Mr. Mubenga's death." But an inquest in August found he had been "unlawfully killed," and that there was a climate of "pervasive racism" among G4S guards at Heathrow airport.
G4S guards were found during the inquest to have exchanged racist and Islamophobic jokes with each other on their phone. The Crown Prosecution Service is reported to be reconsidering its decision not to press criminal charges.
G4S was also in the media spotlight for its failure to fulfil a contractual obligation to provide enough guards for the 2012 London Olympics.
A Norwegian union recently terminated its contract with G4S in protest of the firm's role in Israeli prisons and settlements.
Tags