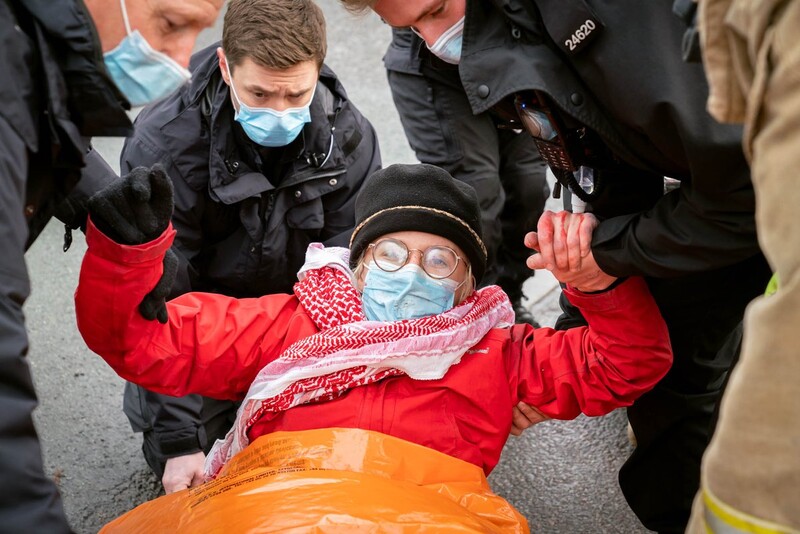 Solidarity campaigners shut down an Israeli drone parts factory in the UK for several hours last week.

Three activists from Palestine Action were arrested outside the Elbit Systems factory in Shenstone in the Midlands on 18 January. This is the third time the factory has been hit in five months.

Red paint symbolizing the deaths of Palestinians was also sprayed across the factory front yard.

In a Palestine Action video, an unnamed activist said she was "here today because Britain has been complicit in the colonization of Palestine since over 100 years ago with the Balfour Declaration."

Elbit is Israel's largest private arms company and markets its weapons as "battle tested" on Palestinians in Gaza. It has 10 factories and offices in the UK.

Palestine Action was founded in the summer last year to take nonviolent direct action against companies complicit or directly involved in the Israeli occupation.

The group has at least one celebrity endorsement: Pink Floyd's Roger Waters – who has also been a Palestine solidarity activist for more than a decade.

But its founders say police are cracking down on their campaign.

Co-founders Huda Ammori and Richard Barnard told The Electronic Intifada in an interview that they had even been stopped under Schedule 7 of an infamous British "counterterror" law.

In November the pair were interrogated for several hours and then arrested, after refusing to hand over laptop passwords.

They had been pulled aside while returning to Britain in what they initially thought was a random security check. But the mood quickly changed when they were asked for access to their phones and computers.

"They said to Richard straight away, this is because of your activism with Palestine Action," Ammori said.

Schedule 7 of the draconian Terrorism Act of 2000 removes most of the normal rights that apply under arrest.

Detainees can be questioned for hours, and refusal to answer questions can lead to criminal charges. The usual right to remain silent is suspended and detainees can be denied access to a lawyer.

The pair were made to answer some personal questions, but tried to remain as vague as possible without running afoul of the law.

Ammori was explicitly interrogated on the basis of her Palestinian and Iraqi origins: "I got a lot about what were my religious beliefs, whether I was Shia or Sunni. I think they were confused when I said that my dad comes from a Sunni background and my mum comes from a Shia background."

They even asked about the Labour Party: "I think they mentioned at one point, what do you think about Jeremy Corbyn's suspension?"
Repression
Co-founder Richard Barnard says he has also been involved in the climate action group Extinction Rebellion (XR) since it was founded and has been arrested over 30 times.

XR has also been targeted by Britain's draconian "counterterror" police.

But Barnard says he was never stopped at any border in all his time active with XR. He says that during his interrogation, in a separate room from Ammori, "I never got asked once about environmental activism, despite the fact I have three outstanding cases."

XR and a whole host of other left-wing groups – including even the relatively conservative Palestine Solidarity Campaign – were listed on a "counterterror" document, it was revealed last year.

After the interrogation, they were arrested for refusing to hand over their passwords. They were then taken to a police station and detained for a further seven hours before being released.

The pair say they were held for 17 hours in total.

They have not yet been charged with any offense, but investigations have been kept open – as an intimidation tactic, the pair say.

"I had emphasized that what we had done was nonviolent direct action," such as is done by other groups like Extinction Rebellion, Ammori said.

Since the pair's interrogation, other Palestine Action activists have been called in for questioning and had their laptops seized.

Several activists are awaiting trial for a sit-in on the roof of the Shenstone factory in September.

But the only similar UK case involving an Elbit factory was dropped at the last minute in 2015, after managers decided to go back on previous commitments to testify against the nine.

Both those activists and Palestine Action have the same political legal strategy. By aiding Israeli war crimes, they say, Elbit and its UK subsidiaries are breaking international law.

Therefore nonviolent direct action and sabotage is a reasonable and lawful action to prevent far greater crimes.

The group has also protested Elbit's London headquarters.

Co-founder Huda Ammori is defiant: The campaign will continue.

"If they're going to these lengths to try and harass activists," she says, "the establishment is running scared of what ordinary people can do by taking direct action."

Britain's foreign minister Dominic Raab met with Israeli ministers in Jerusalem in August, promising to crack down on Palestine Action's campaign.

Orit Farkash-Hacohen, then "Strategic Affairs" minister, complained that "The de-legitimization campaign against Israel has become widespread throughout Europe and the world, including in England… Only last weekend, the offices of an Israeli security company were vandalized, for the fourth time in the last month."

According to Israeli media, "Raab replied he and the British government were committed to stopping such events."

The Ministry of Strategic Affairs is a semi-covert Israeli agency dedicated to fighting the BDS movement, the Palestinian-led global campaign for boycott, divestment and sanctions against Israel.

In December, Israel's new strategic affairs minister Michael Biton fired his ministry's director-general and said he may close it down altogether.
Tags