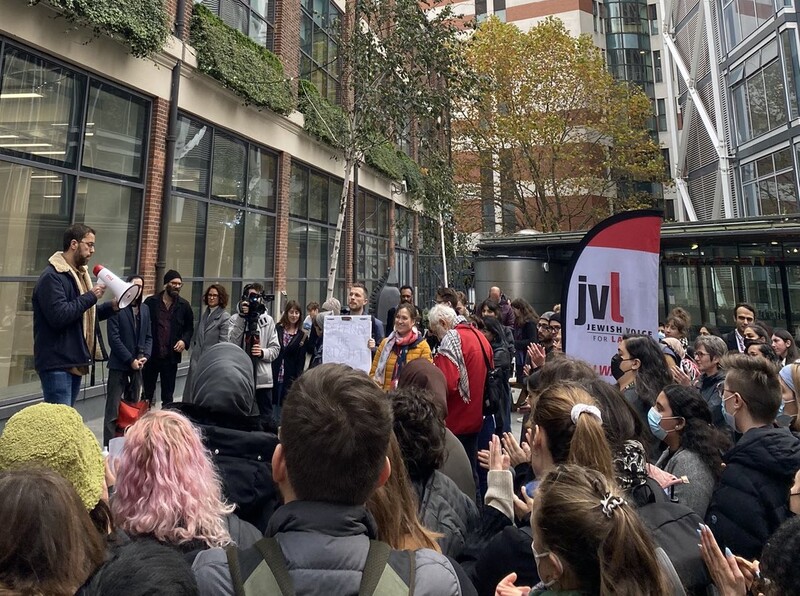 Management at UK university the London School of Economics (LSE) have exonerated the students who protested against the Israeli ambassador last month.
In a letter to some 200 LSE academic staff made public last week, the LSE management committee wrote: "We see no evidence whatsoever of protesters having broken the law at last week's event and no further action is being considered."
The protest in November was entirely peaceful, but still caused outrage among some political and media elites. Conservative home affairs minister Priti Patel and Labour Party opposition leader Keir Starmer both condemned the students.
LSE management wrote the letter last month in response to an internal petition signed by more than 200 LSE staff members. The group urged LSE to make a public statement "immediately affirming our students' right to protest on campus without fear of police investigation."
Despite this, LSE did not publish its reply to the academics. Instead it was finally posted online by the left-wing campaign group Jewish Voice for Labour last week.
The group said that they published both the original academics' letter and the LSE reply in the public interest, since LSE "declined" to publish it.
LSE did not reply to a request for comment from The Electronic Intifada.
The letter from LSE management also said that "the Metropolitan Police confirmed everyone went home safely without incident or arrest."
The home secretary at the time ordered police to investigate the protest, despite there being no legitimate reason to do so.
Patel was in 2017 forced to resign from government after exposure of secret meetings she had held with Israeli ministers, organized by pro-Israel lobbyists in violation of ministerial rules.
Former Conservative minister Alan Duncan accused her of being "compromised" and an example of Israel's "disgusting interference in our public life."
Government racism
The students were also attacked by foreign minister Liz Truss in thinly veiled racist terms.

Truss said that: "We in Britain believe in freedom of speech," falsely implying that they had somehow censored the far-right Israeli ambassador.

Her tweet also seemed to be a coded reference to the fact that many of the protesters were students of Palestinian, Arab and Muslim origins.

LSE for Palestine, the group that organized the protest, later condemned the racist incitement of both Conservative and Labour politicians against them.

"The continued characterization of people of color as an 'angry violent mob' when expressing solidarity with our siblings in Palestine … represents dehumanization by the political elite," they said in a statement.

"The virulent harassment and racism we have received the past few days for exercising our democratic right to protest for Palestine have been despicable," they wrote.

"The fear that politicians have attempted to instill in organizers and attendees is part of a long history of suppression of any Palestinian resistance and activism. We refuse to be intimidated by war criminals and their enablers. We refuse to be threatened and silenced for speaking up for Palestine."

The group told The Electronic Intifada this week that they were "wholly unsurprised" by LSE management's lack of public response.

They said they were "extremely grateful for the hundreds of staff that stood behind us and our right to protest" and that staff-student solidarity was growing, including during recent university union strikes.

Tzipi Hotovely, who arrived in the UK last year, is an extremist even by Israeli standards.

She has claimed that there is "no Palestinian people" and last year described the Nakba – the well-documented 1948 expulsion of 800,000 Palestinians in order to establish Israel – as "a popular Arab lie."
Tags