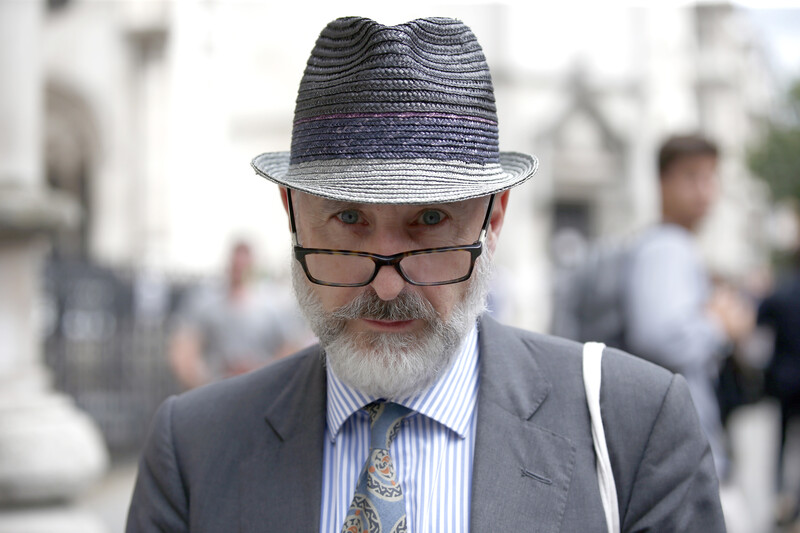 A millionaire donor to the UK's Labour Party has been suspended by party officials after lashing out at supporters of left-wing leader Jeremy Corbyn as Nazis.
The BBC reported on Sunday that Michael Foster had been suspended for breaching party rules prohibiting abuse.
Foster is a supporter of Israel, and last year heckled a speech where Corbyn urged a lifting of Israel's blockade of Gaza.
A letter from general secretary Iain McNicol notifying Foster of his suspension cited an article written by Foster in the Mail on Sunday, the BBC reported.
In that article, published in August, Foster raged against Corbyn and his Nazi "stormtroopers."
Foster had been so outraged at Jeremy Corbyn's history of Palestine solidarity activism that he attempted to use his millions to fix this year's leadership election against him.
Foster took the Labour Party to court in July in an effort to force Corbyn off the ballot.
Backlash
Foster received some backlash for his article, even among other anti-Palestinian propagandists.

One member of the executive of the Jewish Labour Movement – a pro-Israel group of party members – wrote that Foster's remarks were "regrettable, and there is a strong case to argue that he should retract them." Nazi analogies should not be made, Jay Stoll wrote in a Times of Israel blog post.

One of the concluding recommendations of the Chakrabarti Inquiry into allegations of anti-Semitism in the Labour Party states that Labour members should "resist the use of Hitler, Nazi and Holocaust comparison."

But Foster doubled down instead of apologizing.

In a second article in the Tel Aviv daily Haaretz, Foster wrote that "Corbyn, like all tyrants … will fall" and that "the Holocaust is my history … I will use it when I see an analogy in front of me."

Foster's suspension comes amidst mounting evidence of thousands of politically motivated suspensions of Labour Party members and supporters – most of whom are pro-Corbyn.

In August, shadow chancellor John McDonnell accused Labour headquarters of a "rigged purge" against Corbyn, after it suspended Ronnie Draper, the head of the bakers' union.

Draper is a noted pro-Corbyn figure and the union he is elected to lead has been one of Corbyn's most active supporters.

McDonnell said that "Labour party members will not accept" the purge, and cited Labour headquarters' inaction over Foster's "stormtroopers" article as evidence that McNicol's team is biased against Corbyn.

The suspension of Foster on Sunday probably represents a concession by party officials towards the leader's office. Draper's suspension was also lifted last week.
Showbiz agent
Michael Foster made his millions as a show business agent for actors including Sacha Baron Cohen and Hugh Grant. Foster apparently still represents radio host Chris Evans.

He has donated more than $533,000 to the Labour Party over the years. This includes tens of thousands to Liz Kendall, the Blairite leadership candidate in last year's election contest (she came last with 4.5 percent).

He tried his hand at politics by running as a Labour parliamentary candidate in Cornwall during last year's general election, but was beaten by his Conservative rival.

During that campaign, Foster reportedly harassed a female rival candidate as a "cunt" and threatened to "destroy" her.

At a Labour Friends of Israel reception last year, Foster drew attention to himself by standing on a chair and heckling Corbyn by screaming "Oi! Oi! Say the word 'Israel!'"

Freshly elected leader, Corbyn had told the assembled audience that the siege of Gaza must end.

In his recent Haaretz article, Foster wrote that he was a supporter of former Labour leader Tony Blair. Blair has been a staunch supporter of Israel's military attacks on Lebanon and Gaza that inquiries by the UN and independent organizations found involved large-scale war crimes.

The Haaretz article also notes in a postscript that Foster "works with Shaharit" – an Israeli think tank which openly operates in settlements built on stolen Palestinian land in the West Bank.

All Israeli settlements are illegal under international law.
Court case
Foster's contention that Corbyn needed the nomination of 51 Labour lawmakers to run for party leader again was rejected by the High Court in July.
A majority of Labour's national executive had ruled that Corbyn, as the incumbent leader, did not need MPs' nominations.
Corbyn is the run-away favorite to win an election contest for party leader, which was triggered in July.
An attempt by Labour MPs to oust Corbyn in June failed after party members and activists rallied behind Corbyn.
But in a separate case, in which Foster was not involved, the Court of Appeal ruled that almost 130,000 new Labour members who had joined since January could not vote in the current leadership election.
Corbyn's leadership has brought an influx of new activists and supporters. Labour is now thought to be the largest political party in Europe, with more than half a million members.
Tags