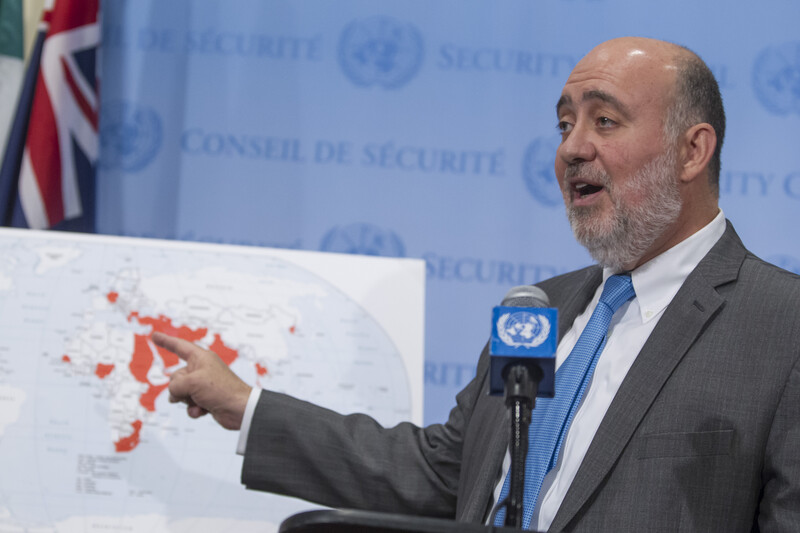 The Palestinian Return Centre revealed on Friday that it had initiated a lawsuit against Israel for defamation.

Israel's United Nations mission in June opposed the PRC being granted special consultative status, claiming it had "known links to terrorism" and was "affiliated to Hamas."

PRC is a civil society group aimed at promoting the right of Palestinian refugees to return to historical Palestine. It says it is not affiliated to any particular Palestinian faction.

In a statement, PRC said its lawyers had given the Israeli foreign ministry until 29 July to retract its claims and apologize.

A letter to the Israeli embassy from the PRC's representatives at Westminster Law Chambers names Israel's UN envoy Ron Prosor and demands statements defaming the PRC be removed from Israeli government websites.

Despite Israeli objections, the committee in June voted to recommend the PRC for special consultative status.

And today, the 54-nation UN Economic and Social Council narrowly voted to approve the recommendation. Sixteen member states voted against an Israeli motion to reject the PRC and 13 voted for, with 18 abstaining.

A PRC spokesperson told The Electronic Intifada this was "the first time in Palestinian history that an NGO [non-governmental organization] standing for the right to return gets the status."

Update: I am told that Badil, a Bethlehem-based NGO supporting Palestinian refugee rights has had the special consultative status since 2006.
Attack on right of return
Israeli spokespersons and lobby groups closely linked to Israel had been responding to the prospect of the PRC receiving UN recognition with predictable alarm.
In a 2011 interview with The Electronic Intifada, the PRC said they are "a lobby group communicating with British officials, British [Members of Parliament] … [we are] trying to make the right of return some sort of mainstream theme for the British public and British officials."
This is something Israel wants to avoid at all costs.
Prosor responded to the June vote by lashing out at PRC, members of the UN committee that recommended them and at the UN itself: "the UN [today] … gave Hamas a welcoming celebration at its main entrance." The PRC "supports the right of return of refugees to Israeli territory," Prosor complained.
Prosor, previously the Israeli ambassador in London, was busy today opposing the deal between the US and other nuclear-weapons powers to allow Iran to have nuclear energy. He was telling the press his theory about Iran being an "empire of terror."
But a new report by transparency watchdog Spinwatch, commissioned by PRC, found that "the allegations against the PRC are not evidentially supported in any of the published materials that are most frequently referenced."
Hearsay
Its authors Sarah Marusek and David Miller wrote in an article about their findings today on the Israeli news site Ynet that a report by an Israeli "terrorism center" frequently offered in evidence of Israeli claims about PRC "is not based on primary sources and relies on hearsay."
The authors of the Meir Amit report admit they are offering "large amounts of circumstantial evidence" to argue their case, but nevertheless argue that PRC has received Hamas and/or Muslim Brotherhood funding, "even if it cannot be proved."
Furthermore, the main agents of the Israeli attack against PRC in recent weeks have been NGO Monitor and UN Watch. These two Israel lobby organizations have close ties to the Israeli government and are funded by extreme Islamophobic groups in the US.
NGO Monitor is listed by the Jerusalem Center For Public Affairs as one of its publications. Until June, the Israeli think tank was run by Dore Gold (a former advisor to Ariel Sharon) who is now director general of Israel's foreign ministry.
Sabotage and attack
Although the PRC was founded by members of the Palestinian diaspora in 1996, it was not until December 2010 that Israel began attacking PRC, with a ban on the group in Israel – an empty gesture since the PRC does not operate there.
Israeli spy agencies claimed that the PRC was involved in unspecified "organizing [of] violent activity against Israel in Europe."
Earlier that year, influential Israeli think tank the Reut Institute recommended a new strategy of "attack" and "sabotage" against so-called "delegitimizers" – supporters of Palestinian human rights.
Soon before Israel outlawed the PRC, Reut slammed London, in brazenly Islamophobic terms, as the "Mecca of delegitimization." Weeks later, this was followed by a Jerusalem Center for Public Affairs report claiming that "Britain has become the main leader of an international effort to deny Israel's right to exist in its current form."
Years later, the Reut Institute sabotage plan seems to have become Israel's blueprint.
Tags