During the 2019 UK general election, Labour Party staff worked to undermine their party's own candidates who were supportive of then leader Jeremy Corbyn.
That's the revelation contained in a confidential document newly obtained by The Electronic Intifada.
A Labour report leaked in April 2020 showed how the party's entrenched right-wing staff undermined the leftist leader from within, possibly costing the party the 2017 election.
But the new information suggests that such sabotage continued right up to the 2019 general election – despite pro-Corbyn staff ostensibly being less marginalized than in 2017.
The document accuses Labour staff from the South East regional office of undermining candidates in Kent, in the southeast of England, as well as in several other constituencies.
Labour's candidates in both the Thanet North and Thanet South seats were pro-Corbyn and staff systematically undermined them, the document alleges.
Activists and one of the pro-Corbyn candidates "received emails from Region instructing them to abandon campaigning in their own constituencies and to campaign in Dover and Deal and in Canterbury."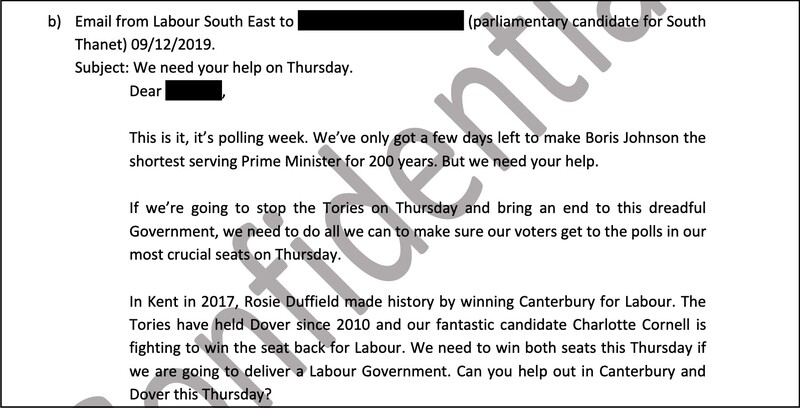 Although most names are redacted in the document, the Canterbury seat was being defended at the time by Rosie Duffield, an anti-Corbyn Labour MP who recently admitted she has contemplated joining the ruling Conservative Party.
The document was submitted to the Forde Inquiry by former Labour Party activists and candidates in June 2020, although it appears to have been ignored.
Last month the inquiry finally published its report, after a two-year delay. It conceded that the Labour right was guilty of "weaponizing" anti-Semitism against the pro-Corbyn faction. But it also came under fire from left-wing activists – including Corbyn himself – for a misleading "both sides" narrative.
The new claims in the Forde Inquiry submission mirror details revealed in the leaked April 2020 report, and confirmed in the Forde report. These were that Labour staff in 2017 ran a secret project to divert as much as $280,000 in electoral funds away from pro-Corbyn candidates and towards anti-Corbyn Labour candidates. This was the so-called "Ergon House operation."
The 2019 instructions from South East regional Labour staff for activists to stop campaigning in Thanet South and to shift their efforts to Dover came despite the fact that the incumbent Conservative lawmakers in both seats had similar sized majorities for Labour to overcome.
Thanet South's Labour candidate in the 2019 election was Rebecca Gordon-Nesbitt, a left-winger.
Right-wing blogs
Only a week after being selected by local members in April 2018, Gordon-Nesbitt was smeared as anti-Semitic by right-wing website Guido Fawkes.
Her main "crime" was to be supportive of Jackie Walker, a Black and Jewish anti-racist activist falsely accused of anti-Semitism. A local Thanet Labour member until she was expelled in 2019, Walker was one of the most high-profile targets of the incessant anti-Semitism witch hunt against Corbyn and his supporters since he became Labour leader in 2015.
Party emails obtained by The Electronic Intifada show that Labour officials snitched on Gordon-Nesbitt to the compliance unit – the Labour department then responsible for expulsions – the same day the Guido Fawkes smear was published.
"We have a problem with our candidate in South Thanet," the official wrote. "[Name redacted] has passed it onto compliance to look at." The message included a forward of an email containing a link to the Guido Fawkes piece.
Ironically, this forwarded email was from Gordon-Nesbitt herself. It had been an attempt to warn the party of the incoming smears and how they could be refuted. But Labour staff's main advice to her was to shut up: "If Rebecca agrees to send all queries your way and not respond to anything else online that would be ideal."
The smear ultimately led to Labour's ruling National Executive Committee removing Gordon-Nesbitt as the Labour candidate.
Local activists waged a long struggle struggle to ensure she was reinstated. Meanwhile Gordon-Nesbitt was subjected to investigation by Labour for 16 months until she was finally reinstated as the candidate in October 2019.
The candidate selection process had been run in early 2018 as it was thought that there could be a by-election in Thanet South at any moment.
The incumbent Conservative lawmaker Craig Mackinlay, a former member of the far-right UKIP party, was in court accused of knowingly falsifying election expenses. He was ultimately acquitted in January 2019, although his campaign manager was found guilty on two counts.
Thanet South had initially been highlighted by Labour officials as a "target" seat, the Forde Inquiry submission states. But after Gordon-Nesbitt's selection, this was overturned.
The document alleges that Guido Fawkes was "seemingly acting on information supplied by" the second-place candidate in the selection, who was also a member of Labour's South East regional board. This person's name is redacted in the document, but reporting on the selection contest identifies her as Karen Constantine, a local councillor.
It is possible that Guido Fawkes got its information from The Weekend Furlough – a short-lived right-wing blog apparently run by Samuel Armstrong, a disgraced former aide of Mackinlay, the Conservative MP.
The same day as the Guido Fawkes smear piece, the The Weekend Furlough began posting its own series of pieces attacking Gordon-Nesbitt in similar terms to Guido Fawkes. One of these posts included details of a 30-minute phone call it said it had had with "a senior Labour source."
The author strongly hinted this source was Karen Constantine.
Constantine apparently took to Facebook to deny having talked. This in turn prompted the blogger to explicitly reveal that he "did speak to Cllr. Constantine and did so at length. She was indeed 'generous' with her knowledge."
Local party sources told The Electronic Intifada that Constantine had held a grudge against Gordon-Nesbitt. The councillor had initially asked Gordon-Nesbitt to help her secure the nomination as her campaign manager. Constantine had put herself forward to be Labour's parliamentary candidate in 2017, but lost.
The sources claimed this was partly down to a February 2017 scandal in which Constantine took cosmetic products from a charity intended for homeless people and sold them to fund her own election campaigns. Constantine later admitted to local press this had been a "mistake."
Running again in 2018, Constantine was narrowly rejected by local members in favour of Gordon-Nesbitt, losing by only 17 votes.
Constantine told The Electronic Intifada: "I have had no contact with Sam Armstrong although I may have met him working as Mackinlay's aide in 2015 at a [Women Against State Pension Inequality] public meeting … I have never had or sought contact with Guido Fawkes."
Dirty tricks and racism
The document alleges that Gordon-Nesbitt was "verbally abused" by an unnamed member of Labour's South East regional board.
Local activists also alleged to The Electronic Intifada that Keith Veness – one of Constantine's supporters – objected to Gordon-Nesbitt on the basis that "she had never made a statement condemning the Iranian regime." Gordon-Nesbitt is of Iranian descent.
Via a Facebook chat, Veness did not deny making the comment, but stated that "opposing the murderous regime of the ayatollahs doesn't make you anti-Iranian."
Gordon-Nesbitt was ultimately cleared by Labour's National Constitutional Committee. But her re-selection as candidate came only shortly before the 2019 general election was announced, leaving the local party with little time to mount a fightback.
Constantine had put herself forward to be the candidate for a third time in 2019. But by then it seems she had alienated the local party – she was soundly defeated with 72 percent of the vote going to Gordon-Nesbitt.
The submission to the Forde Inquiry alleges that Labour staff systematically undermined the 2019 Thanet South campaign in more ways than just the emails promoting other candidates.
The local party which had selected Gordon-Nesbitt was blocked from using Labour's communications system Organise. Thanet South "was therefore without essential organizing capacity for 11 months prior to the election," the document states.
This left the local party unable to email its own members.
Canterbury lawmaker Rosie Duffield is so far to the right of the Labour Party that even right-wing leader Keir Starmer does not satisfy her.
In February she told a Telegraph podcast that she has considered defecting to the Conservative Party.
"It's tempting," she said of joining the ruling right-wing party led by Boris Johnson. "They've been really nice."
A few months before the 2019 election, Duffield said it was "probably" correct that the Corbyn-led Labour Party was institutionally anti-Semitic.
The Forde Inquiry submission alleges that Duffield's team "recommended on social media and in broadcast media that people in Thanet and elsewhere should vote Liberal Democrat if they wished to remain in the EU. She was not sanctioned for effectively offering support to Labour's opposition."
Encouraging a vote for other parties is against Labour rules and often results in expulsions of left-wingers.
The Labour Party did not respond to a request for comment.
Tags