A UK Labour Party councilor in West London has come under fire from members after making anti-Palestinian and Islamophobic comments and postings.
The party has so far refused to take any substantive action against her.
Miriam Rice of Ealing Council last month posted an article on Twitter published by the notorious anti-Muslim think tank the Gatestone Institute.
The headline of the article claimed that "Arabs in Israel do not want to live in 'Palestine' ".
After several Labour members in Rice's local constituency complained to party officials about Rice's tweet linking to the site, the councilor deleted it.
But Rice has so far not apologized. Members said she remains the administrator of the Ealing Labour Twitter account.
She did not reply to emails requesting comment.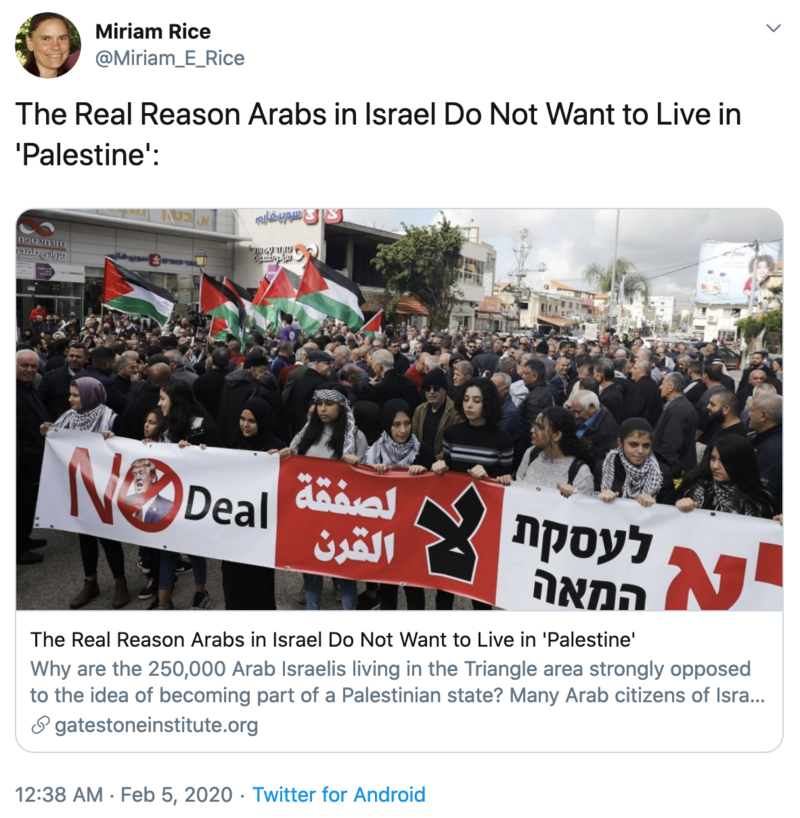 Labour members in Ealing told The Electronic Intifada that Rice has a long record of anti-Palestinian racism.
One Ealing Labour activist, who spoke on condition of anonymity, told The Electronic Intifada that at a 2018 party meeting, Rice went on a racist "tirade" against unarmed Palestinian protesters in Gaza calling them "terrorists."
Rice's tirade was particularly horrific, since it came as a victim-blaming response to the massacre of some 60 unarmed Palestinian protesters in Gaza by Israel on a single day, 15 May 2018.
The massacre led to widespread international condemnation, including from Labour leader Jeremy Corbyn, who said it was "an outrage that demands not just international condemnation, but action."
The local meeting was debating a motion on the massacre, seen by The Electronic Intifada. It welcomed Corbyn's statement and called for "an end of arms sales to and from Israel."
"Tirade against Palestinians"
The Labour activist told The Electronic Intifada that the meeting "witnessed what can only be described as her tirade against Palestinians."
The activist, who was at the meeting, said Rice had "referred to the Palestinian demonstrators and victims as 'terrorists.'"
A second Ealing Labour member who was also in the meeting said that Rice's "extreme" outburst had been particularly shocking, because it had come after a talk from a Palestinian member of the party.
"He gave a heartfelt contribution about what happened to him and his family growing up in Palestine," said the member.
"Right wing doesn't even describe it," the member said of Rice's views. "I definitely think she's in the wrong party."
A third Labour member described Rice's anti-Palestinian rant as "incredible." According to Rice, "They were all terrorists," implicitly including women and children. "She knew who she was talking about," the member said. "I was shocked."
A fourth member, a Palestinian, said Rice's tirade made him angry. However, she was totally isolated and the motion passed.
Rice's Islamophobia will be particularly concerning to Muslim parents at Willow Tree Primary School in Northolt, in the borough of Ealing.
Rice is a school governor there, according to her declaration of interests registered with Ealing Council.
Almost 70 percent of pupils at the school do not have English as their first language.
No Labour action
Asked on 6 February to comment on Rice's now-deleted tweet, a Labour Party press officer, who did not give their name, claimed that "we have not received any complaints about this tweet."
The press officer insisted we publish this information as "it is understood."
Several followup emails sent in February were ignored. They had asked Labour for comment on official complaints about Rice from party members, seen by The Electronic Intifada.
On Thursday, in response to a new request for comment on the deletion of the tweet, and asking why Labour was not taking the issue seriously, an unnamed Labour press officer claimed the party "takes all complaints of this nature extremely seriously" and claimed they would be "fully investigated in line with our rules and procedures."
The email then continued, requesting that the rest of its contents be kept "on background."
It stated that they "cannot comment on individual cases on the record because our disciplinary procedures are confidential and we must uphold our legal responsibilities for data protection."
Nonetheless, the email continued, "We can confirm, to be reported as 'it is understood,' that Miriam Rice has been reminded of the values and standards we expect of Labour Party members, which may be taken into consideration in the event of any future complaints."
The press officer did not specify whether this apparent warning to Rice was in relation to the Gatestone tweet, or to her anti-Palestinian tirade in 2018.
The Electronic Intifada had made no undertaking to the unnamed Labour Party official to keep their statements on the affair as "on background" or as otherwise secret or off the record.
Islamophobic conspiracy theories
The Gatestone Institute is one of the world's leading anti-Muslim think tanks.
It promotes conspiracy theories about the "Islamization" of Europe, and has a particular hatred for Palestinians.
According to Washington DC's Georgetown University, "Gatestone's pieces have been cited by far-right politicians to justify their anti-Muslim policies."
It has published such notorious far-right Islamophobes as Dutch politician Geert Wilders, anti-Muslim writer Robert Spencer, former Donald Trump aide Sebastian Gorka, and Steven Emerson, who has promoted the "jihadi no-go zones" hoax.
Emerson in 2015 was forced to apologize after a particularly preposterous lie that the UK city of Birmingham was "totally Muslim" and that non-Muslims were forbidden to enter.
According to The Intercept, Gatestone is "infamous for its role in publishing 'fake news' and spreading hate about Muslims."
Until he was ousted last year, Trump's national security adviser John Bolton came under fire for his leading role in Gatestone. He was for years the group's chairperson.
Hypocrisy
The article promoted by Rice was by Gatestone fellow Khaled Abu Toameh.

The article attacked Palestinian citizens of Israel for their opposition to Trump's recent "Peace to Prosperity" plan, which could potentially displace many of them if implemented.

Other tweets by Rice attack Labour activists for expressing solidarity with Palestinians, and imply endorsement of the common Zionist myth that Palestine was a "land without a people" before their settler-colonial project arrived from Europe.

In common with the rest of Labour's right wing, Rice has promoted the false notion that anti-Semitism has been allowed to "flourish" in Labour since Jeremy Corbyn became leader in 2015. Rice's supposed concern for anti-Jewish racism stands in stark contrast to her open promotion of anti-Palestinian and anti-Muslim racism.

The Labour Press office's supposed concern for Rice's "data protection" rights is also hypocritical.

Over the last five years, it has consistently and systematically released and leaked the private details of Labour members smeared with false claims of anti-Semitism, including those of this writer.

More often than not, such members have been suspended or expelled at the same time.
Tags