The "anti-Semitism" witch hunt in the UK Labour Party against leftist supporters of Palestinian rights is continuing to claim new victims.
The latest is Marlene Ellis, a Black activist within the Momentum grouping, who was suspended on Friday. Ellis told The Electronic Intifada her suspension was an attack on free speech.
But campaigners have scored the first win in pushing back.
A Jewish activist expelled from the Labour Party for referring to the transatlantic slave trade as an "African holocaust" was cleared of anti-Semitism and readmitted to the party at the end of May.
Jackie Walker told The Electronic Intifada on Monday she had yet to receive an explanation for her suspension.
Walker said that Labour's Compliance Unit had written to her saying she had "no case to answer."
The vice-chair of the Momentum grouping within Labour, Walker is a long-time organizer with the Kent Anti-Racism Network.
She was suspended on 4 May after anti-Palestinian groups reported one of her Facebook conversations to party officials.
Momentum is a left-wing group established in the wake of Jeremy Corbyn's victory as Labour leader last year, attempting to capitalize on the wave of popular support generated in the campaign.
Walker had said in a thread debating the boycott of Israel that, as a person with Black and Jewish heritage, her ancestors had been involved in the trade in enslaved Africans "on all sides."
She described the slave trade as an "African holocaust."
The Jewish Chronicle reported it "brought her comments to the party's attention," which then subsequently suspended her.
The pro-Israel newspaper said that a group calling itself the Israel Advocacy Movement had "uncovered" the comments.
A Labour Party spokesperson declined to comment on whether the Compliance Unit had seen the full context of Walker's comments before suspending her.
"Following the outcome of an investigation, Jacqueline Walker is no longer suspended and remains a member of the Labour Party," a party statement emailed to The Electronic Intifada said.
Response
Walker's suspension was met with outrage by Labour left-wingers, who cited it as evidence of how absurd the media-orchestrated witch hunt of alleged anti-Semites had become.

Party members campaigned to have the suspension lifted.

Walker spoke about the harassment she had faced as a result of her suspension at a public meeting earlier this month:

Left-wing activists have welcomed Walker's readmission to Labour as part of a fight back against the witch hunt.

A North London branch of Momentum responded to Walker's reinstatement by passing a motion calling "for the establishment of an open and democratic disciplinary process that should be under the control of the elected bodies of the Labour Party."

For much of 2016, there has been an ongoing media-manufactured "crisis" within the Labour Party around allegations of anti-Semitism.

As The Electronic Intifada's investigations showed, most of these allegations were fabricated.

The furore peaked in the lead up to May's local elections in the UK, which were seen as Corbyn's first major test as leader.

Corbyn responded by ordering an independent inquiry into anti-Semitism within Labour, chaired by lawyer and civil liberties campaigner Shami Chakrabarti.

She will report by the end of the month and the deadline for submissions is Friday.
Ongoing witch hunt
But the right-wing and pro-Israel factions within the party have not abandoned this strategy as a means to attack Corbyn's leadership. Suspensions of left-wingers after trumped-up accusations of anti-Semitism continue.

Marlene Ellis, leader of a Black activist group within Momentum, was suspended on Friday after writing an open letter criticizing the suspension of former London mayor Ken Livingstone as a "totally unjustifiable knee-jerk reaction."

Livingstone was suspended in April after talking to BBC Radio London about historical support by the Nazi Party for the German Zionist movement.

Ellis told The Electronic Intifada that the letter party officials sent her specifically cited her open letter defending Livingstone as reason for her suspension, claiming it "could bring the party into disrepute." Similar letters suspending left-wingers have alluded vaguely to "comments made."

In May another left-winger, David White, was suspended after saying Livingstone's remarks were "largely accurate" but unfortunately put.

Ellis told The Electronic Intifada that her suspension represented "dismissal of meaningful discussions on racism and therefore the direct dismissal of our Black communities."

"If justice prevails and if the Labour Party really cares about a deeper discussion on racism, then my suspension will be lifted," she added.

Ellis joined the calls for democratic accountability of the party's Compliance Unit, which she said had originally been set up to "monitor obvious indiscretions such as frauds."

But now, she said, the unit is "acting far beyond what their powers were originally intended."

"They appear to be functioning as an unofficial inner organization, working either for themselves or for others in order to de-select Jeremy Corbyn supporters that appear in any way to be a threat to the Blairite legacy," Ellis added.

Jackie Walker told The Electronic Intifada that her readmission was one victory but cautioned that Ellis' suspension proved the attacks were far from over. She said, "the response to me has if anything been worse since my suspension was lifted … the vitriol from some sections within the Labour Party has increased."

Right-wing and pro-Israel elements within the Labour Party have been extremely hostile to Walker.

Labour lawmaker Michael Dugher called for an "explanation" as to why "this person" was readmitted.

Dugher is an officer and former vice-chair with Labour Friends of Israel.

He was sacked as a shadow minister in January by Labour leader Jeremy Corbyn for disloyalty, in what critics said was a media campaign against Corbyn.

Shadow women's minister Cat Smith said there had been people in Corbyn's initial shadow cabinet who spent "more time attacking the Labour Party leadership than the Tory benches opposite us."

Walker told The Electronic Intifada that right-wing lawmaker Tristram Hunt and Labour Friends of Israel chair Joan Ryan had also criticized her readmission.

Hunt has been on at least one Labour Friends of Israel delegation, a 2013 trip to meet with Israeli military leaders and spy chiefs.
Wrong kind of Zionist
The case of Momentum candidate Rhea Wolfson is also instructive.
A left-wing Scottish Young Labour and GMB union activist, Wolfson has been blocked from running in elections for Labour's ruling body, the National Executive Committee.
In May, Wolfson was added to the center-left slate of candidates for the NEC in place of Ken Livingstone. The slate has been endorsed by Momentum.
Wolfson's campaign was thwarted last week when, according to Wolfson, the former leader of Scottish Labour, Jim Murphy, managed to convince her local Labour Party not to nominate her for NEC. Candidates need the backing of their local party to make it on to the NEC ballot.
Wolfson said in a statement that "a faction of the party are trying to" take the option of voting for her away.
According to Wolfson, Murphy "argued that it would not be appropriate to nominate me due to my endorsement by Momentum, which he claimed has a problem with anti-Semitism."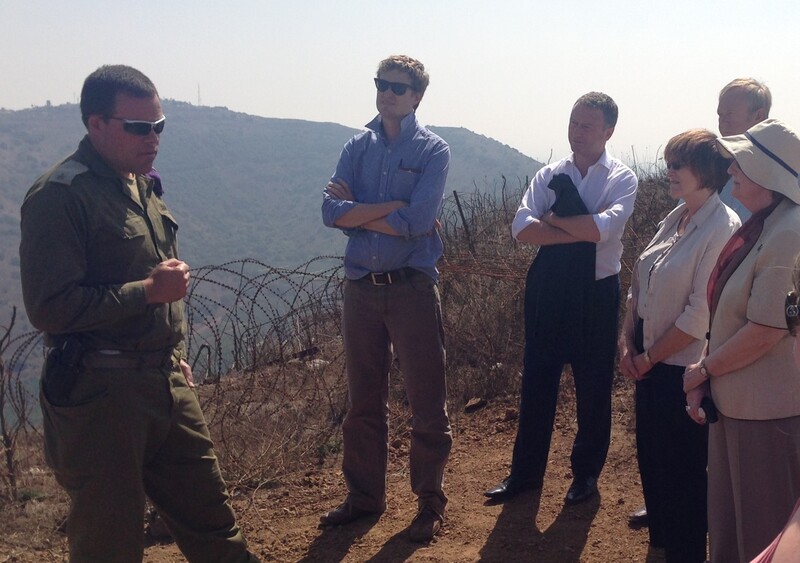 A former shadow defense minister, Murphy has long been a leader in the pro-Israel wing of the party, acting as both vice-chair and chair of Labour Friends of Israel at various times over the years. He led the 2013 delegation to meet Israeli military leaders that Hunt joined.
Walker told The Electronic Intifada that Rhea Wolfson's suspension "tells you everything about what's going on."
Wolfson is a former manager with the New Israel Fund, a liberal Zionist organization.
While, in contrast to Corbyn, she opposes the boycott of Israel, she backed Corbyn for leader.
Walker said that Wolfson had lost the support of her local party "on the basis that she's not the 'right kind' of Zionist, in other words, she's not a right-wing Zionist."
"So now it's not enough that you're a Zionist you have to be a Zionist who does not support in any way Jeremy Corbyn," Walked added. "That in itself reveals what is going on."
Momentum, she said, "has a Jewish chair [Jon Lansman], a Jewish vice-chair [Walker], and has a candidate who is Jewish, [and yet it] can then be smeared with this title anti-Semitism."
In a new statement on Thursday, Wolfson said, "I have transferred my membership to my other address and will seek nomination from my" new local Labour Party."
She added that "if successful, I will be an officially nominated candidate for Labour's National Executive Committee."
Tags