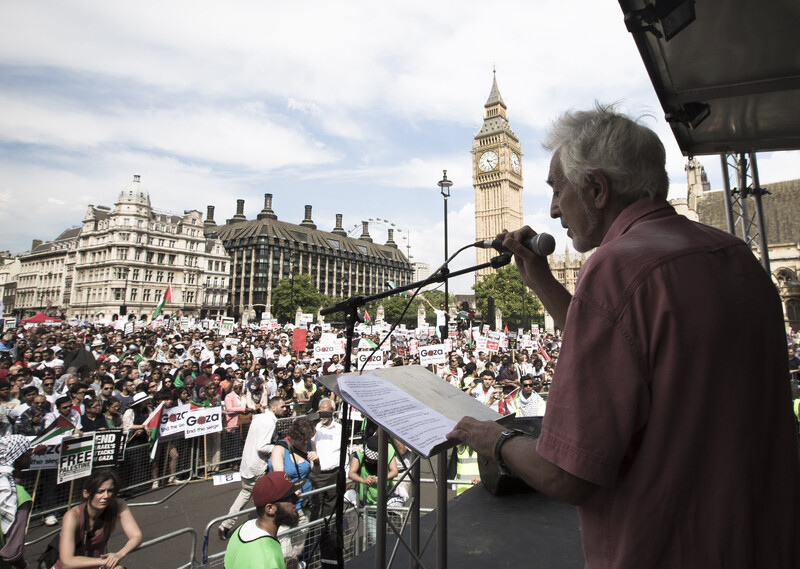 The Jewish Chronicle has apologized and agreed to pay damages to a Labour Party councillor in the UK over claims of anti-Semitism.
In a series of articles published last year, The Jewish Chronicle writer Lee Harpin claimed that Nada al-Sanjari, who is Muslim, had invited an "anti-Semitic activist" to speak at a Labour Party event.
But the activist was Jewish Voice for Labour secretary Glyn Secker – who al-Sanjari had never invited in any case.
In an apology published online and in print, The Jewish Chronicle withdrew its claims against al-Sanjari. It also agreed to pay her "a substantial sum" in libel damages as well as her legal costs, her lawyers said.
"I am very pleased that The Jewish Chronicle has apologized for what it accepts are completely unfounded allegations," al-Sanjari stated via her lawyers.
But the paper has not retracted its claims against Secker, who was not part of al-Sanjari's legal action.
Secker told The Electronic Intifada: "It's good that The Jewish Chronicle has been forced to apologize for these libelous articles, but it's a shame they haven't gone the next logical step and withdrawn their false claims about me."
Deleted
The articles containing the false claims against al-Sanjari were deleted from the paper's website. Harpin and his editor Stephen Pollard have also apologized to her, according to al-Sanjari's lawyers.
The paper falsely claimed that the councillor had launched "a vicious protest" against Jewish lawmaker Luciana Berger "in terms suggestive of anti-Semitism," al-Sanjari's lawyers said.
Berger, a former director of Labour Friends of Israel, was at that time one of Jeremy Corbyn's staunchest critics in Parliament.
Like most of the rest of the Labour right, she falsely alleged that the party under Corbyn – a veteran Palestine solidarity campaigner – had become anti-Semitic.
In February last year, Berger quit Labour in protest along with other "friends of Israel."
"It closes us down"
Although The Jewish Chronicle's libelous articles have been deleted, two contemporaneous responses written by Labour activists are still online.
They indicate that Glyn Secker was the activist the paper had claimed was invited by al-Sanjari to speak.
The anti-Palestinian and right-wing publication has frequently attacked Secker and Jewish Voice for Labour – a left-wing, pro-Corbyn group with Palestine solidarity activists and anti-Zionist Jews among its members.
Secker told The Electronic Intifada that Labour activists in Reading had discussed with him the possibility of inviting a Jewish Voice for Labour activist to speak there, but that he had not communicated with al-Sanjari.
After the fuss caused by The Jewish Chronicle's articles smearing al-Sanjari, the local Labour group withdrew and no event was held.
"That's the effect they want," Secker said. "[It] closes us down. It frightens the people on the ground in the groups."
Secker called this a "relentless tightening of the net around free speech" as well as an infringement on "the right of Palestinians and their supporters to talk about the increasing oppression that they're being subjected to."
False allegations
Secker, who is Jewish, was suspended from Labour in 2018 after false allegations of anti-Semitism.

He was only reinstated after "a chorus of angry voices" campaigned for a reversal.

A spokesperson for the Muslim Council of Britain said the stories smearing al-Sanjari are only "the latest in a long line of appalling articles by The Jewish Chronicle related to Muslims."

The paper has also published numerous stories attacking Palestinians and their supporters, as well as the pro-Corbyn Labour left.

In February, The Jewish Chronicle apologized and paid damages to Labour activist Audrey White after a series of articles attacking her over supposed anti-Semitism in the Labour Party in Liverpool.

In September 2019, the paper agreed to pay $60,000 in damages to Interpal, a British charity which aids Palestinians.

The paper had falsely claimed the group was involved in terrorist activity – a charge frequently made against Interpal by Israel and its supporters.
Tags