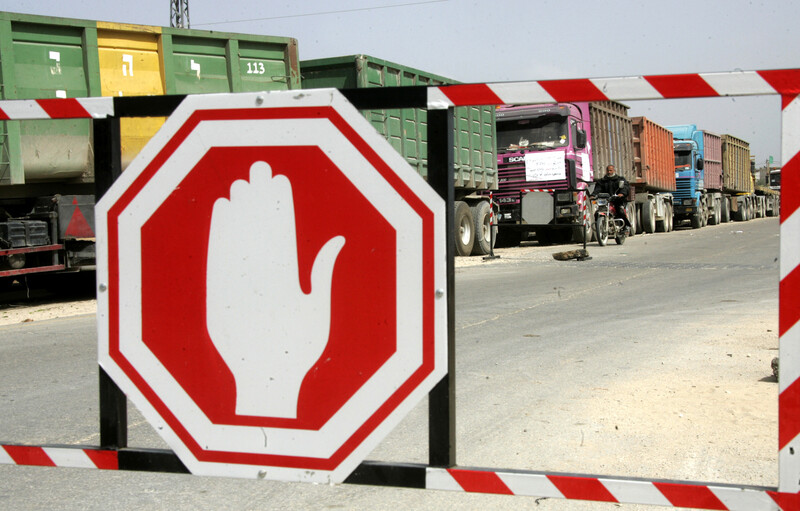 A campaigning research group says Israeli companies are making healthy profits from the siege their government has imposed on the Gaza Strip since 2006.
In a new briefing document published last week, Corporate Watch details its conclusions based on a recent research trip to Gaza. The Electronic Intifada published an interview with the team while they were there.
Gaza is a "captive market" for Israeli pharmaceutical companies, the report says, based on interviews with Palestinian health professionals there.
Palestinians are effectively forced to buy Israeli products, since Israel dictates almost all the products that enter.
In addition, the terms of the Paris protocol of 1994 opened the floodgates for Israeli products – tax free. In practice, Palestinian exports are heavily curtailed, as well as imports from other countries.
Israel bans many medicines from entering Gaza, and shortages abound. "We have a shortage of drugs, especially for chronic illness," one doctor from the Union of Health Work Committees told Corporate Watch. A Ministry of Health spokesperson told the researchers that 141 out of a list of 470 essential drugs cannot be found in Gaza.
A complex system of Israeli "coordination" and hurdles means that basic medicines and medical equipment can be delayed for months. For example:
When health services in Gaza purchase drugs from the international market they come into Israel through the port of Ashdod but are not permitted to travel the 35 km to Karam Abu Salem [crossing, in the south] directly. Instead they are transported [80 km] to the Bitunia checkpoint into the West Bank and stored in Ramallah, where a permit is applied for to transport them to Gaza, significantly increasing the length and expense of the journey.
In addition, transport and storage costs with Israeli companies also have to be paid for – increasing the profits to Israeli companies.
Egypt's military regime has been a junior partner in the siege, intensifying its involvement since the military coup of July 2013. Not long after, it destroyed many tunnels under the Egypt-Gaza border, which had been a vital lifeline.
The Ministry of Health in Gaza told Corporate Watch that 30 percent of its medicines used to be brought in via the tunnels.
Boycotting where possible
Despite all this, Palestinian health workers in Gaza told Corporate Watch they "were uniformly enthusiastic about the movement for boycott, divestment and sanctions against Israel … All of the health workers that we spoke to told us that their organizations had a policy of boycotting Israeli medicines except where they needed that medicine in order to protect life and were not able to procure it from another source."
The Palestinian heath workers suggested action that could feasibly be taken by those outside Palestine. These ideas included boycotting the Israeli Medical Association. "If they see that there is a growing campaign in Europe maybe they will think twice about launching new military operations in Gaza," explained Dr. Bassem Zaqout of the Palestine Medical Relief Service.
Another idea was for Europeans in general, and British citizens in particular to work on a boycott of Teva, a giant Israeli drug corporation – the largest company on the Tel Aviv Stock Exchange.
Corporate Watch says Teva is the world's largest supplier of generic drugs. As such, it would be safe to ethically advocate a boycott of Teva, since its products can easily be replaced, the group argues. Palestinian professionals they interviewed were in favor of a boycott of Teva.
You can read the whole report on the Corporate Occupation website.
Tags