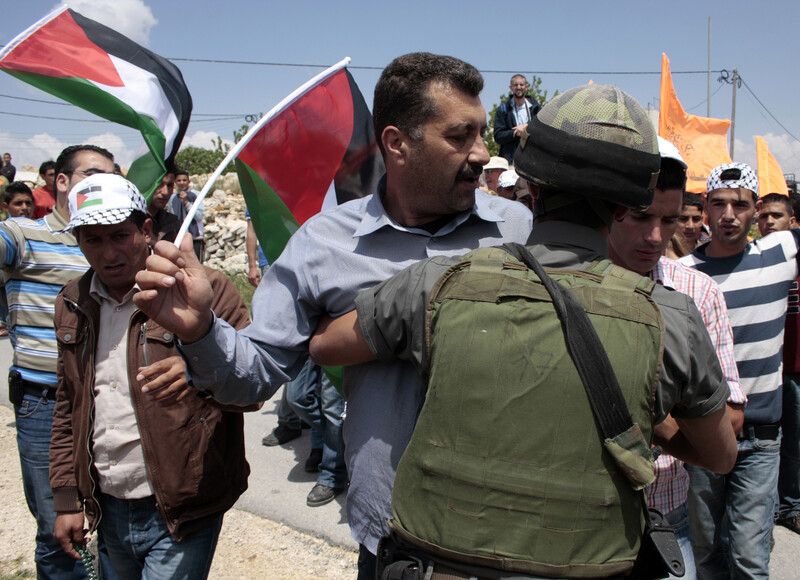 Increased international support for Palestinian activists in the West Bank has led Israel to take more repressive action, a recent report says.
The Addameer report titled Courageous Voices, Fragile Freedoms, published last month, details how Palestinians have resisted the building of Israel's apartheid wall since 2003 – and the many ways Israel has tried to stamp out such protest.
In 2009 there was a shift in Israeli tactics, the report details. The occupation army increased its use of a military law against Palestinian protesters, thus criminalizing dissent, and almost any Palestinian expression of protest.
Israel's response to increasing expressions of international support for such protest "has been to escalate its campaign of arrest and detention of human rights defenders, along with other repressive and violent measures."
The boycott, divestment and sanctions (BDS) campaign, formally launched by Palestinian civil society in 2005 has been a particular target for Israel repression, the report says.
Worried about growing numbers of boycotts around the world, Israel has cracked down on its Palestinian leaders: "advocates of the [2005] BDS call have been subjected to arrest and movement restrictions, particularly at border crossings when travelling abroad to mobilize the international community behind the campaign."
Addameer is a Palestinian prisoner rights organization.
Military dictatorship
One law, titled Military Order 101, is as old as Israel's 1967 occupation. But the report details how Israel's tyrannical regime in the West Bank has been making increasing use of it since 2009.
The decree "prohibits any assembly, vigil, procession, or publication relating to 'a political matter or one liable to be interpreted as political' yet does not define such content."
Any gathering of ten or more people requires a permit from an Israeli military commander – even in private homes. This technically outlaws even large family gatherings that contain any hint of "political" discussion.
The report details some of the many ways this is used to give Israeli repression a legalistic veneer.
Adeeb Abu Rahme, an organizer with the Popular Committee against the wall in the village of Bilin, was the first Palestinian to be sentenced on charges of "incitement" under Military Order 101, the report says.
"He was arrested on 10 July 2009 and charged with incitement, activity against public order and being present in a closed military zone," it recounts.
Bilin is renowned around the world for its years of campaigning and regular demonstrations against the Israeli apartheid wall built on the village's land.
The film 5 Broken Cameras, which recounts the struggle of the village, won an Oscar nomination, and an International Emmy for best documentary last year.
Adeeb (who is featured in the film) "was finally released on 12 December 2010 after serving an 18-month sentence."
International action, Israeli repression
Other Palestinian-led international campaigns to hold Israel to account have been met with Israeli repression too. Another anti-wall organizer from Bilin was arrested after testifying in a court case in Canada.
"Not long after his return from testifying in a Canadian court following the petition made by Bilin Village Council against the Canadian corporation Green Park International," the report recounts, "Mohammed Khatib, co-coordinator of the Popular Struggle Coordination Committee, was arrested on the night of 3 August 2009, along with three youths and two American and Israeli activists."
House raids at the dead of night, including those targeting Palestinian children, are another favorite method of the Israeli occupation forces.
Kangaroo courts
Israel's apartheid system of injustice in the West Bank is already well documented.
The Israeli settlers who colonize the West Bank are subject to a separate, civil legal system of Israeli law. Palestinians living in the same place area are prosecuted under military law – this is the very definition of apartheid law.
The extent to which Israel's military courts amount to a kangaroo court system was well illustrated in 2011, when it was revealed by Haaretz that there is farcical conviction rate of 99.7 percent in Israeli military courts in the West Bank. These are show trials.
The report documents what this has meant for Palestinian protesters organizing against the wall: "In cases of Palestinians arrested near the Wall, charges are regularly exaggerated and sometimes even fabricated."
Lawyer Limor Goldstein gave an example (insertions from the report):
The evidence used against people is never verified, for instance, all the [Palestinians] who touched the microphone [at a protest in the village of Al-Masara] were charged with incitement to violence – there was no mention of what they had said [and how this was incitement.] This is a very typical example.
The report concludes with detailed recommendations for various international bodies and groups. It also summarizes the meaning of this crackdown on unarmed Palestinian resistance against the wall:
It is testament to the increasing recognition of the Popular Committees and their peaceful actions aimed at ending the construction of the Wall and the wider regime of occupation that Israel now appears to be responding with increasingly draconian measures, particularly the use of Military Order 101. Although this order was used against Palestinians during the First Intifada, a new policy aimed at imprisoning members of the Popular Committees appears to have emerged since 2009, a landmark year for the Palestinian popular resistance against the Wall and settlements in terms of advocacy successes and increased international recognition. This recognition was cemented by the acknowledgement of both the EU and UN that some of those Palestinians arrested in accordance with Military Order 101 were human rights defenders and thus subject to added protection and safeguards.
You can read the report in full on the Addameer website (PDF). It is also embedded in the viewer below.
Tags