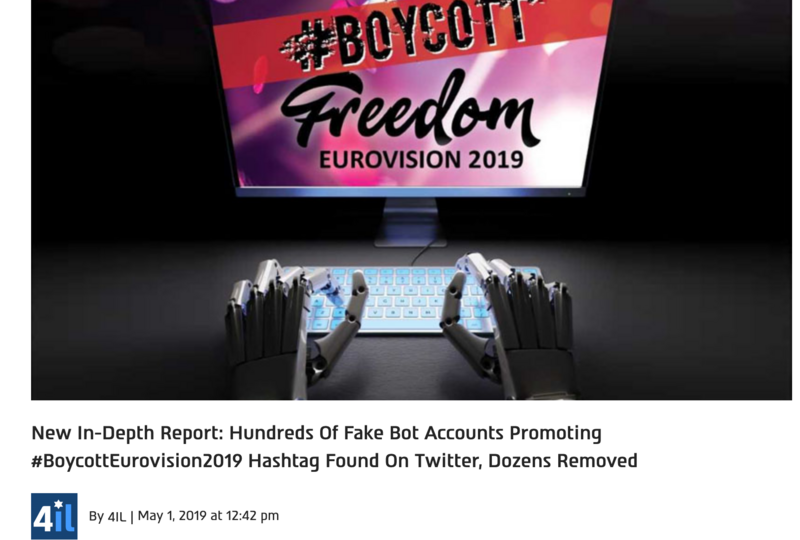 Last month, Israel's Ministry of Strategic Affairs released a report titled "The Big Scam."
In it, the ministry claimed to have exposed "bots" and "fake accounts" allegedly used by Palestinians and their supporters during the boycott campaign against the Eurovision Song Contest in Tel Aviv.
Staffed by former Israeli spies, the ministry leads Israel's "war" against BDS, the Palestinian boycott, divestment and sanctions movement.
The report describes BDS campaigners' supposed methods as "coordinated inauthentic behavior," aiming "to create the appearance of an authentic and widespread campaign while hoping to manipulate public opinion."
The ministry says that as a result of its reporting to Twitter, "dozens" of the accounts have been deleted.
But the report is a classic case of projection.
The description above would more accurately apply to the reality of what the ministry is doing around the world – a well-funded effort to fabricate the appearance of "grassroots" campaigns online.
In reality, the BDS movement's websites have been attacked by botnets – networks of infected computers. Experts have traced such cases back to Israel.
Dodgy definitions
The "Big Scam" report does not even get the basics right. Its definitions of "bot" and "troll" are so broad that they could be applied to almost any genuine Twitter account.

Rather than being entirely automated, bots "can also be an authentic person who 'volunteers' his or her profile for automated activity," the report claims.

As the screenshots below show, this definition would actually apply to users of Act.IL – an app used by anti-Palestinian activists. The app has financial and operational links to the Ministry of Strategic Affairs.

Their definition of "bot" also refers to when multiple comments are posted simultaneously to Twitter.

But that could apply to any Twitter account using third-party scheduled tweet services such as Hootsuite, or even Twitter's own official tools.

The report gives an example of a pro-Palestinian account with "five tweets released by the bot in a 60-second period."

The claim that such activity defines an account as a "bot" ignores the fact that Twitter's own "add another tweet" button allows any user to instantaneously send a linked thread of unlimited tweets.

Israel's definitions of "troll" and "fake account" are even more imprecise.

Despite all that, the report claims to have found only 166 "bots" and 42 "trolls" tweeting against Eurovision in Tel Aviv.

Bizarrely, it claims this handful of accounts had a "potential reach" of more than 9.7 million Twitter users – a fantastical figure arrived at using a stunningly inaccurate methodology.

The report is a typical example of the dishonesty behind Israeli propaganda.

Israel and its lobby can be assured that no amount of spin will stop BDS campaigners from carrying on the struggle against Israeli oppression and racism.
Tags