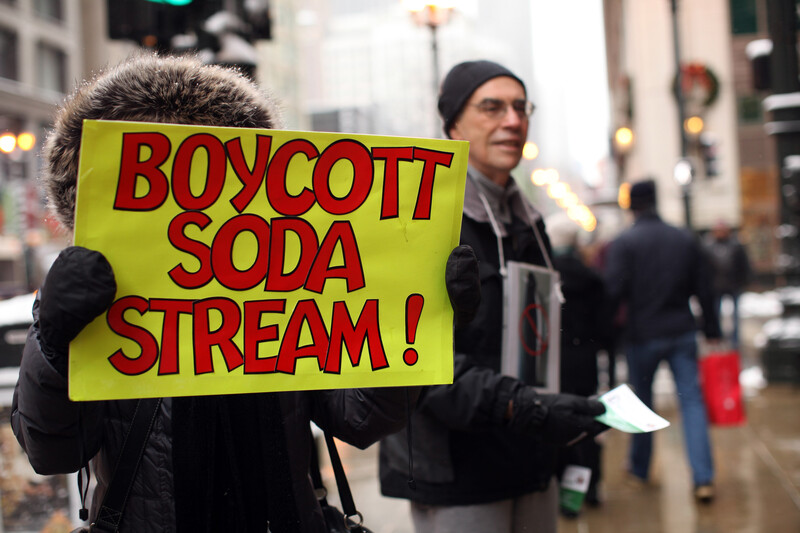 Israeli drink machine company SodaStream announced yesterday that it will close its settlement-based factory in the occupied West Bank in 2015. The move was instantly hailed as a victory by campaigners for the boycott of Israel, who said they would continue to target SodaStream for its other human rights violations.

In a press release, Rafeef Ziadah, a spokesperson for the Palestinian Boycott, Divestment and Sanctions National Committee (BNC), said the announcement "shows that the BDS movement is increasingly capable of holding corporate criminals to account for their participation in Israeli apartheid and colonialism."

She added that "BDS campaign pressure has forced retailers across Europe and North America to drop SodaStream, and the company's share price has tumbled in recent months as our movement has caused increasing reputational damage to the SodaStream brand."

The announcement was also welcomed by the US Campaign to End the Israeli Occupation and, in the UK, the Palestine Solidarity Campaign.

"Today's news is just the latest sign that these global BDS campaigns are having an impact on changing the behavior of companies that profit from Israeli occupation and apartheid," said Ramah Kudaimi of the US Campaign in a press release.

Sarah Colborne of the Palestine Solidarity Campaign told me: "SodaStream is a toxic brand. They have already been de-shelved. They might think by doing this that the pressure will come off them, but while they still profit from Palestinian dispossession they will still be a [BDS] target."

Cambridge activists today occupied the rooftop of SodaStream's UK headquarters, posting a photo to Twitter this morning:

In a press release, Dave, one of three protesters on the roof said: "SodaStream claims to build bridges between Israel and Palestine, when in fact they've been involved in the exploitation of a captive workforce on stolen Palestinian land." According to the group, Leslie, a local resident in support of today's action, said: "Cambridgeshire may feel a long way from the occupation, but we have a key player on our doorstep. The less financially viable the occupation, the shorter it will be. Together we can beat them."
Real money
SodaStream's share price fell dramatically recently as sales dried up, particularly in North America. Analyst Doug Henwood wrote earlier this month that the boycott movement "may well" have cost this "real-world company real money."
SodaStream responded to Henwood by underplaying the impact of the BDS campaign, dismissing it as merely a "nuisance." Yet at the same time, their spokesperson admitted the company had a strong ideological motivation: "We are not giving in to the boycott. We are Zionists."
Perhaps this is part of the reason why the Israeli government is strongly backing SodaStream. In the same announcement that it was shutting its Mishor Adumim settlement factory, the company revealed that the government has put $20 million in grant money towards the opening of a new SodaStream factory in the Naqab (or Negev) desert.
The move from a factory in an internationally-condemned settlement to the south of present-day Israel would seem to be intended to help protect the company from global criticism, which peaked in January with the controversy over Scarlett Johansson.
The A-list Hollywood actor had undertaken a lucrative advertising contract for the company, while remaining as an "ambassador" for poverty and development charity Oxfam. Johansson ultimately quit Oxfam after pressure mounted on the charity to dump her.
While SodaStream's PR flacks – including Johansson – claimed that the company has "brought jobs" to Palestinians in the area, the fact remained that Palestinians were only brought to such desperate straits because Israeli settlements had dispossessed and displaced them. And speaking anonymously to The Electronic Intifada, for fear of company reprisal, one worker said SodaStream "treats us like slaves."
Despite her choice of SodaStream money over charity work, the whole affair brought far more bad publicity for the company than boycott activists likely ever dreamed of.
Still a BDS target
While SodaStream downplayed their move out the occupied West Bank as done for "purely commercial" reasons, the record of the impact of the BDS campaign against the company is clear.
In July in the UK, the company's flagship "EcoStream" store was forced to shut down in Brighton after a sustained campaign by local Palestine solidarity activists. Just one day later John Lewis, one of the country's biggest department store chains, announced it would be taking SodaStream off its shelves. Activists in London had run regular protests outside the Oxford Street John Lewis.
Grassroots boycott activism also saw SodaStream dropped by Macy's, a major department store chain in the US.
But activists are now emphasizing that SodaStream will continue to be a BDS target, despite its move out of the West Bank.
With the building of the new factory in the Naqab, the company is likely to be complicit in the ethnic cleaning of Bedouin Palestinian citizens of Israel, as reported by Andrew Beale for The Electronic Intifada in February.
Ziadah of the BNC said: "Even if this announced closure goes ahead, SodaStream will remain implicated … Its new Lehavim factory is close to Rahat, a planned township in the Naqab desert, where Palestinian Bedouins are being forcefully transferred … Sodastream, as a beneficiary of this plan, is complicit with this violation of human rights."
Tags