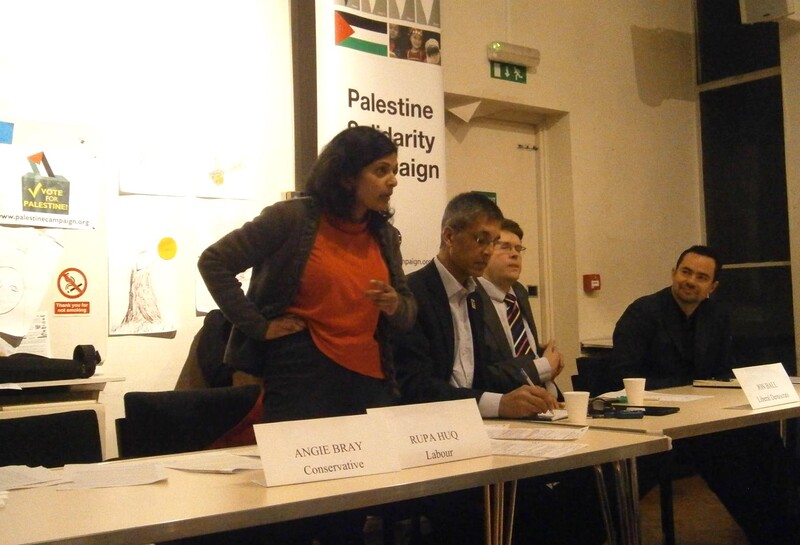 Labour's leading Israel lobby group lost another of its supporters on Tuesday.
"I am no longer listed as a parliamentary supporter of LFI," Rupa Huq, a Labour member of Parliament in West London, told local party members.
Her name has indeed been removed from Labour Friends of Israel's list of supporters. She was still listed as recently as three weeks ago.
In an emailed update to Labour members in her constituency, Ealing Central and Action, Huq wrote that she had "long been uneasy about some of the positions" LFI takes.
She gave the example of the group's "reluctance to support any action against settlement construction on occupied Palestinian land." You can read her full statement below.
Huq also cited how the chair of the group now belongs to a rival party.
In February, LFI chair Joan Ryan quit Labour to join the new "Independent Group" of former Labour and Conservative MPs, citing Labour leader Jeremy Corbyn's alleged "hatred for Israel."
A multi-millionaire Labour Friends of Israel funder donated to the new breakaway faction. Most of the ex-Labour MPs who joined the new group were listed LFI supporters. All six remain listed on LFI's website.
LFI does not have a membership structure, but MPs and other parliamentarians agree to be listed on their site as "supporters."
The new party is standing in next month's local and European Parliament elections as "Change UK - The Independent Group."
Activist victory
Huq's withdrawal from LFI comes after years of activist pressure.
It also comes at a time when LFI seems to be slowly losing its supporters.
Almost a year ago, after Israeli snipers killed dozens of unarmed protesters in Gaza on a single day, LFI lost the support of two Labour MPs after a notorious Tweet blaming the Palestinian victims of the Israeli massacre.
Catherine West and Tulip Siddiq have not rejoined LFI, according to the group's website.
A Labour Party activist in Ealing told The Electronic Intifada that Huq's decision was "an important victory."
They said that "Rupa has been questioned about her membership of LFI at constituency Labour Party meetings" as well as behind the scenes.
Ahead of the 2015 general election, Huq suggested to Palestine Solidarity Campaign supporters that a future Labour government could apologize for the ethnic cleansing of Palestinians in 1948 – which happened during the end of British occupation of Palestine when a Labour government was in power.
It was reported that she had said: "1948, that happened under a British government. To my mind, an apology – yes. You could do one. A Labour government could probably get that through."
Huq had been seeking her first ever election victory at the time, and needed the support of grassroots campaigners.
Changing positions
Under pressure of the fabricated Labour anti-Semitism crisis in 2016, she recanted her comment on 1948, telling newspapers, "I have supported Labour Friends of Israel events and am a signatory to the We Believe In Israel charter."
She had joined LFI as a supporter in 2016.
The 2015 document she boasted of signing opposes the boycott, divestment and sanctions movement for Palestinian human rights, attacking "boycotts against Israel in any sphere" and endorsing Israel's supposed "inalienable right to exist."
But around about the same time, she wrote to the Council for the Advancement of Arab-British Understanding appearing to endorse an arms embargo on Israel – a key demand of the BDS movement.
"British weapons should not be sold in such circumstances," she wrote.
"Labour" Friends of Israel?
In her update to Labour members this week Huq justified her former involvement with LFI "as a friendship group, following the shadow foreign secretary's line in order to have reasoned and constructive dialogue."
Shadow foreign minister Emily Thornberry's "line" is to be a "supporter" of both Labour Friends of Israel and Labour Friends of Palestine.
In 2017 Thornberry defamed the nonviolent BDS movement to end Israeli occupation and apartheid as "bigotry" and repeated the common racist claim that there was no civilization in Palestine before Israeli "pioneers" arrived and supposedly "made the deserts bloom."
Huq concluded that "I supported LFI for its contribution to the Labour Party – I do not wish to be associated with 'the Independent Group Friends of Israel.'"
Tags