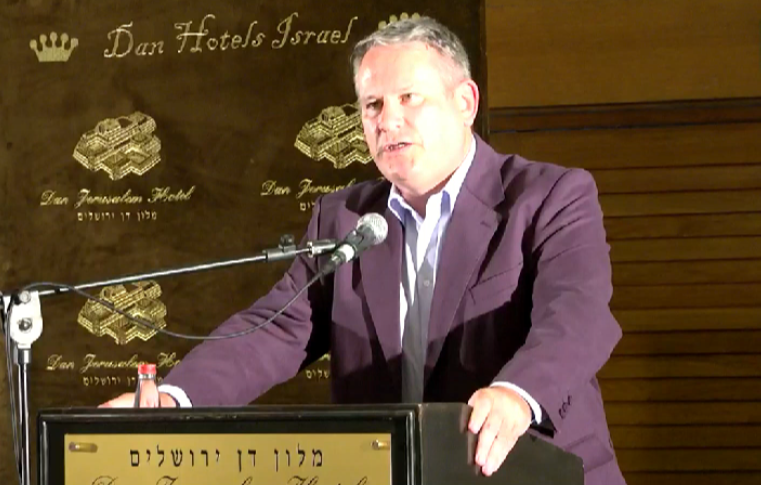 Former British army officer Colonel Richard Kemp was described by a leading anti-Palestinian lawyer as "one of the Jewish state's greatest allies" at a conference in Jerusalem last week.
At that conference, Kemp argued for Israeli impunity from war crimes accusations. He also described himself as a "thug" who liked to fight and had disobeyed army rules of engagement.
He argued that the laws of wars and the rules of engagement for "democratic armies" should be loosened to allow "maximum possible freedom of action."
"As a former commander myself, I liked nothing better than to be given no orders, so I could carry out the mission any way I liked," he said, speaking at a panel on 5 May.
He said that "rules of engagement are for the guidance of wise men and the obedience of fools … on many occasions, I have – I say on many, on some occasions – I have disobeyed the rules of engagement."
Kemp seemed a star of the show during the two-day "Towards a new law of war" conference. He used his ample platform to advocate for Israel, the US and the UK to be given more freedom to inflict "collateral damage" – a euphemism for killing civilians.
Nitsana Darshan-Leitner – the anti-Palestinian lawyer who introduced Kemp's keynote speech – leads the Mossad-linked group which organized the conference, Shurat HaDin.
Darshan-Leitner also described Kemp as "an officer, a gentleman." Kemp responded jokingly that he'd never been called a gentleman before, later explaining: "you join [the British army] because you want to fight … you're a bit of a thug, such as me. That's why I joined the army."
Human shields calumny
Throughout the conference, particularly during Kemp's contributions, the constant justification for Israel's long record of killing Palestinian civilians was that they were "human shields" who were in many cases forced by Palestinian resistance factions, such as Hamas, into playing that role.
In fact, despite the constant refrains of "human shields" from anti-Palestinian propagandists, there has never been any evidence of this (something The Electronic Intifada has reported on many occasions and with which Amnesty International concurs).
With one exception: Israel uses Palestinians, including children, as human shields to protect their soldiers. This is a war crime, and its practice by Israel has been documented by groups including Amnesty International and Human Rights Watch.
"Political warfare"
Kemp justified this killing of civilians, saying that "attacks do go ahead … and human shields very often die as a consequence."
Kemp said there was an increase of "political warfare against western powers" including Israel, and that such "warfare" was often sponsored by Hamas and al-Qaida, "but also by enemies from within our own countries."
He said that to stop the supposed use of human shields "commanders would need to be more willing to apply military force, even when it risks the lives of the human shields."
In other words, armies have to kill civilians in order to save civilians.
But he cautioned this would need a legalistic veneer: "a more robust approach to human shields of course needs to be legally permissible. I'm not in any way advocating the unlawful slaughter of civilians on the battlefield."
He claimed that some "human shields" were volunteers and "therefore liable to be attacked and killed" although "in practice it is really hard, often – sometimes impossible – to distinguish."
"Civilian casualties will ensue"
He argued for a "more modern definition of proportionality" which would give greater scope "undesirable though it may be – but for inflicting collateral damage, because it [the new definition of proportionality] refers to 'clearly excessive' in relation to the concrete and overall military advantage."
"I don't advocate the callous butchery of civilians," he repeated, "but on the real battlefield, often … civilian casualties will ensue."
But later, during another panel, on the rules of engagement for militaries, Kemp specified some concrete ways ways that soldiers in Afghanistan had decided who they were allowed to shoot and kill.
In 2009, new rules for when NATO forces in Afghanistan could get into a fight and when they had to withdraw were put in place by General Stanley McChrystal. They were summarized as putting the protection of the civilian population above killing the enemy. "Given the choice between killing the enemy or risking civilian lives, they have been willing to let the enemy go," reported NPR at the time.
Speaking on the panel, Kemp said he disagreed with McChrystal on this policy. He said that troops "tried to overcome the policy … by using themselves as bait for the Taliban, to lure the Taliban to attack them, and then they could fire back."
Christian Zionist
Colonel Richard Kemp was a British army commander in Afghanistan, based in Kabul, in 2003. He retired from army life in 2006. Since then he has been a UK government adviser, an author and a public speaker.
But his most prolific role in the last few years has been as a leading propagandist for Israeli war crimes.
His website states that he is a board member of the Friends of Israel Initiative and NGO Monitor, a propaganda group well-known for its anti-Palestinian advocacy.
Kemp's virulent propagandizing for Israel seems to be motivated in part by religious extremism. In 2013, I reported on a speech he made at the Christians United For Israel annual summit. There, he described the late British occupation army officer Orde Wingate as "the greatest Christian Zionist in Britain."
Wingate infamously led the Special Night Squad, a sectarian militia used to crush Palestinian rebels who fought against the British occupation in the 1930s.
The Shurat HaDin conference where Kemp spoke was closed by a speech in which Israeli Defense Minister Moshe Yaalon threatened to kill more Palestinian and Lebanese civilians "in any round of hostilities in the future," and implied Israel might nuke Iran "in certain cases" when "we feel like we don't have the answer by surgical operations."
I captured Kemp's comments on video via the conference live stream. Shurat HaDin this week begun uploading video from the conference to their YouTube channel, though the Kemp speech is not yet there.
Update, 19 May: Videos of the two panels Kemp spoke on along with his keynote speech have now been uploaded.
Tags