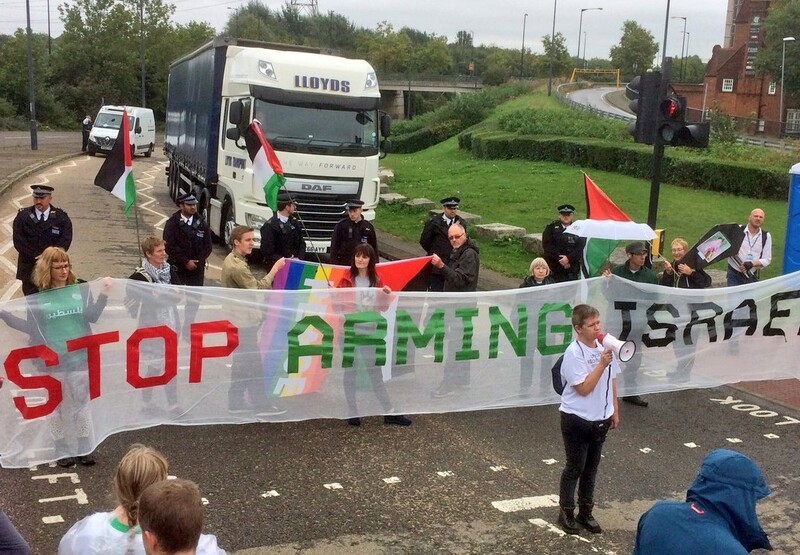 Protesters attempted to stop Israeli weapons entering a massive arms fair in London on Monday.
Activists are this week protesting the event as it sets up shop. The conference showcases the arms industries of countries all over the world, including notorious human rights abusers like Saudi Arabia and Israel.
The Defence and Security Equipment International exhibition, or DSEI – which advertises itself as "the world leading" arms industry fair – opens for business next week.
Amnesty International and London Mayor Sadiq Khan have both called for the event to be scrapped.
On Monday, activists carrying Palestinian flags and banners delayed the entry of trucks into the ExCel Centre, where the event is held.
"Illegal and immoral"
The Campaign Against the Arms Trade, or CAAT, reported that some activist even boarded one of the trucks, attempting to stop it proceeding.

According to CAAT, the truck was carrying a military vehicle know as a SandCat, made by the Israeli company Plasan.

The group said police arrested eight people on Monday. The activists were released later in the day but it is not clear if they will be prosecuted.
Protester Sarah Wilkinson told The Electronic Intifada that she had been supporting Palestine for nearly 40 years. She said the British government should "stop supporting Israel" and its "illegal and immoral" actions. "It's our duty to be there to protest for Palestine," she said.
On Tuesday, disruptions continued, with some activists suspending themselves from a bridge, intending to block a road leading to the arms fair.
CAAT said that 15 more protesters were arrested on Tuesday.
"Shut it down"
Andrew Smith of the Campaign Against the Arms Trade said of the the arms fair that it was "time to shut it down for good."
The London fair "will bring many of the world's most appalling regimes together with the biggest arms companies," Smith added. "Right now UK fighter jets and bombs are playing a central role in the destruction of Yemen; what will be the next atrocity they are used in?"
According to the Campaign Against the Arms Trade, past DSEI events have attracted military delegations from abusive regimes including Saudi Arabia, Pakistan, Kazakhstan, Egypt, the United Arab Emirates, Afghanistan and Bahrain.
Like other Israeli arms firms, Plasan advertises its weapons as "field proven" – in other words they have been tested on Palestinians.
The firm is based in Sasa, a kibbutz established on the land of a destroyed Palestinian village in the Galilee.
In 1948, Zionist militias attacked the village, forcing out the population in an orgy of destruction that killed dozens.
According to right-wing Israeli historian Benny Morris, the Israeli forces committed "atrocities" against the civilian population.
Kibbutz Sasa – named after the Palestinian village it erased – was established in 1949 as a Jews-only colony by the supposedly "socialist" Hashomer Hatzair Zionist movement.
Tags